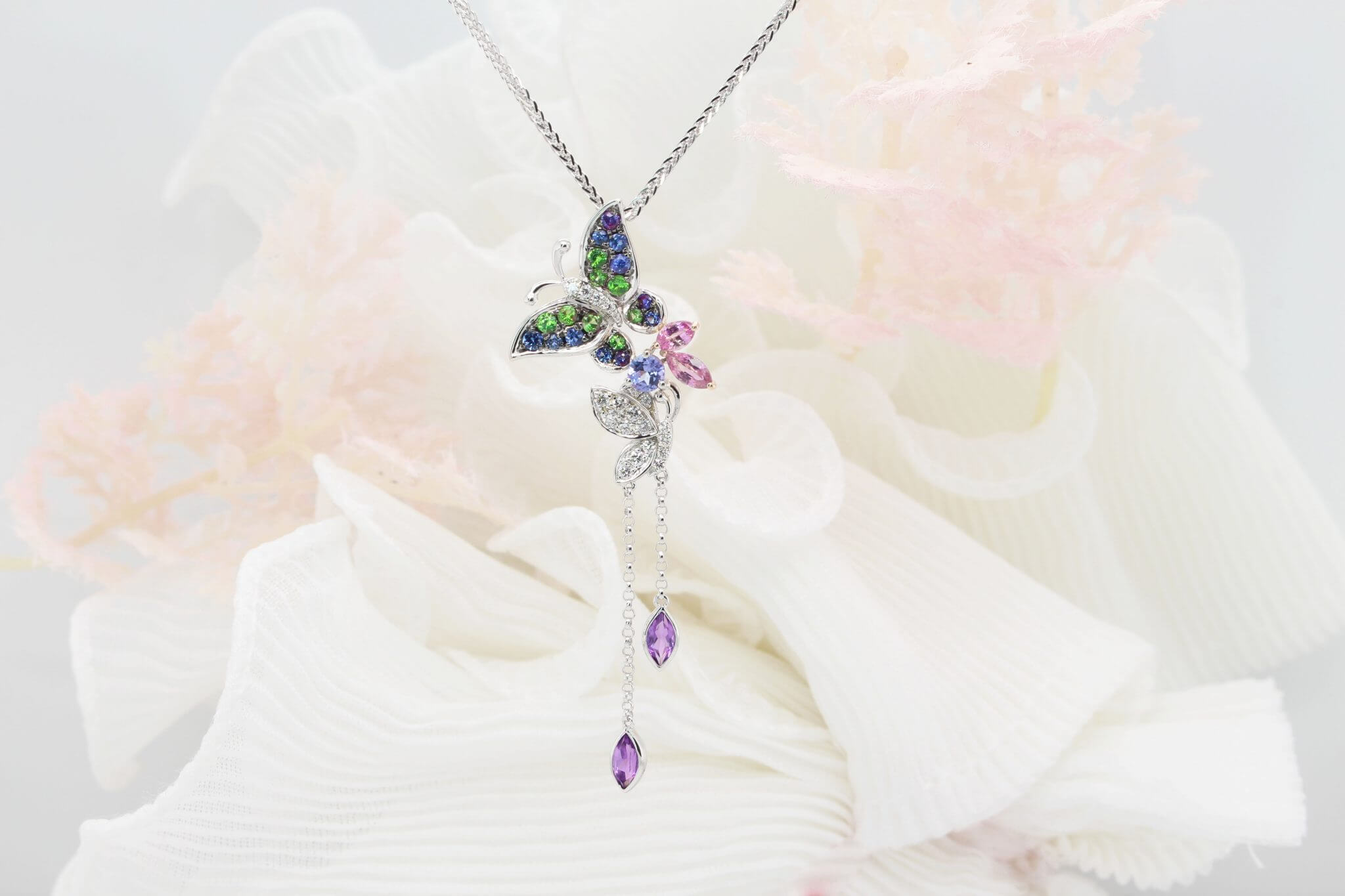 Butterfly Fine Jewellery with natural inspired design
Nature herself would envy the colour and glimmer rendered to this butterfly fine jewellery. Butterflies symbolise transformation in life and are believed to bring serenity and happiness to life. This delicately designed butterfly pendant is a classic example of modern art jewellery. It has well-balanced colours of tsavorite green garnet and blue sapphire. This lively design includes black plating on the periphery of the colourful gemstones set in the frame. The fluttering wings denote the desire to soar. The custom design captures the essence of the lively spirit of the individual it has been designed for.
It comes with another butterfly in a graceful motion set with glittering pave diamonds. This adds brilliance to the entire piece of jewellery and will surely prove to be an eye-catcher statement piece jewellery.
Customised Design Pendant & Ring
This set of customised pendant and ring bearing a butterfly theme symbolises feminism and the inherent beauty of the person it has been intended for. This fine jewellery design was inspired to create a natural art piece with playful butterflies symbolising the onset of spring. The design has intricately captured the love of butterflies towards flowers as presented by amethyst and the marquise sapphires. Meticulous designing and intricate craftsmanship has breathed life into this customised design jewellery.
Birthstone Fine Jewellery
It has been designed for a lady with a lively spirit for her birthday. Design with a personalised touch, the well balance colour gems on this butterfly fine jewellery was chosen according to the family members birthstone. Selection of Sapphire birthstone for the month of September, Tanzanite birthstone for the month of December, Amethyst birthstone for the month of February and Tsavorite green garnet birthstone for the month of January.
Butterfly Fine Jewellery with Family Birthstone & Hertiage
The fine detailing and delicate design make this natural butterfly inspired jewellery special and one of a kind. This outstanding creation has been skilfully handcrafted and will be cherished for a lifetime. This enchanting butterfly jewellery design has a splendid amalgamation of precious gemstones and personalised birthstone jewellery.