The subtle styling of this open bangle bracelet is demure as well as enthralling with its arrangement of clustered gemstones and Akoya pearls. It has been customised from a gentleman for his beloved wife as a push present. At GIOIA, we went to the selection of coloured gem and design discussion, with different ideas and design concept, we manage to conclude the final design swiftly and custom made as a surprise push present.  The coloured gems included in the design are aquamarine and unheated ruby. Both of these have been designed in a bezel setting with a modern arrangement. The gemstones and pearls represent the birthstones of the members of the family.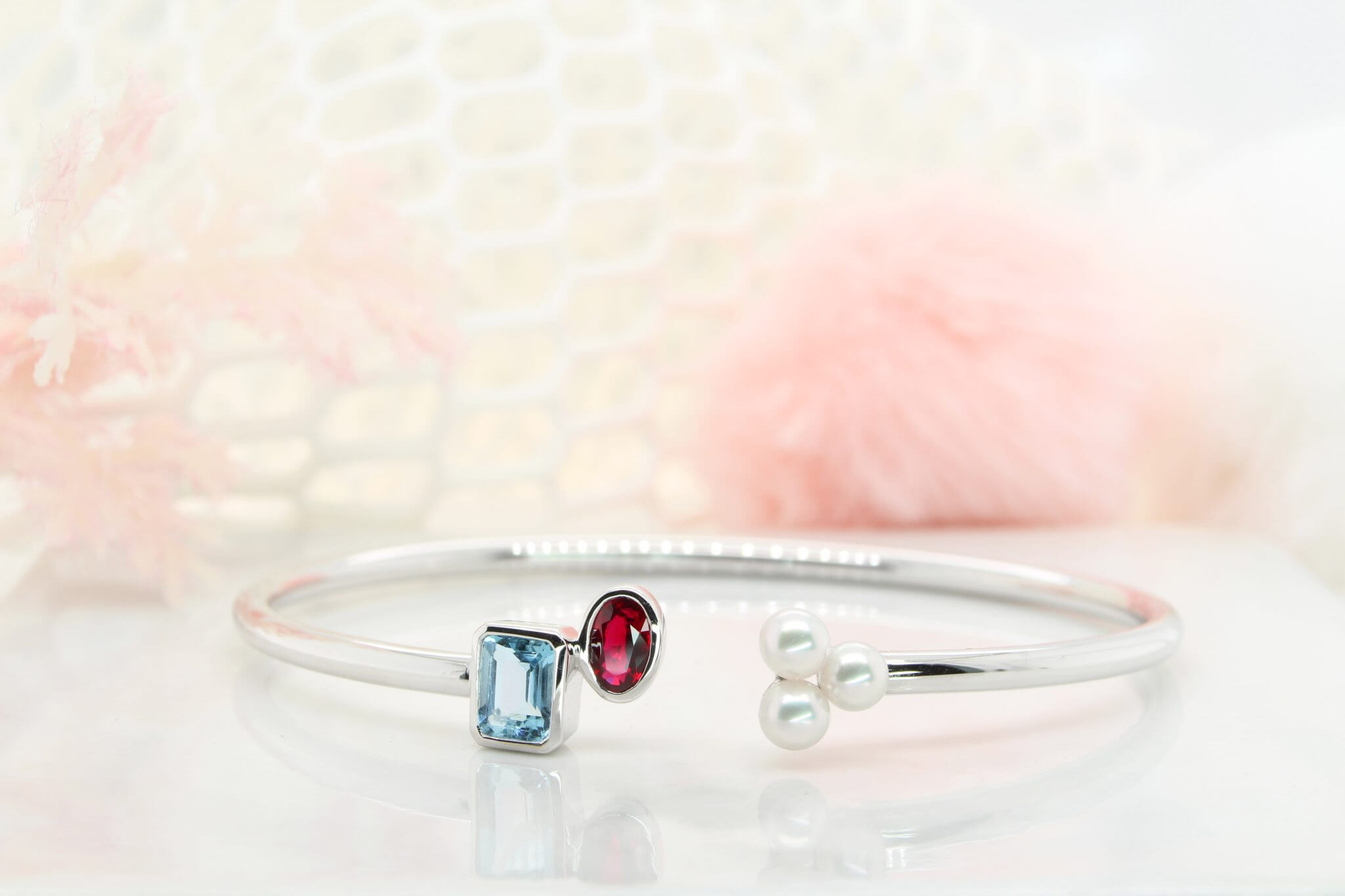 This refreshing design adorns the wrist with an elegant touch of colour and comes personalized with family birthstones. The bangle is slender, solid, and has been crafted in white gold rendering it ideal for daily wear. It is stylish and will pair well with different outfits. It has been designed to feature a minimalist design. This statement piece represents the love and devotion that the gentleman has for his wife. It shows how much he appreciates and cherishes her presence in his life.
Personalised Family Birthstone Bangle
This eye-catching elegant design exudes a colourful look and has been finished with a bright polished shine. It will add some sophisticated spunk to any evening wear with its fashion-forward pearl and multi-stone gemstone arrangement. This fabulous detailing is sure to grab the attention of the lady it has been designed for. It would certainly make a fabulous present for the woman who is bearing the children of the man who is deeply in love with her. It would also mark the beginning of an incredible journey towards parenthood for the couple. Each time the lady would wear the bangle on her wrist, it would constantly remind her of the amazing connection she has with her husband and their beloved children.