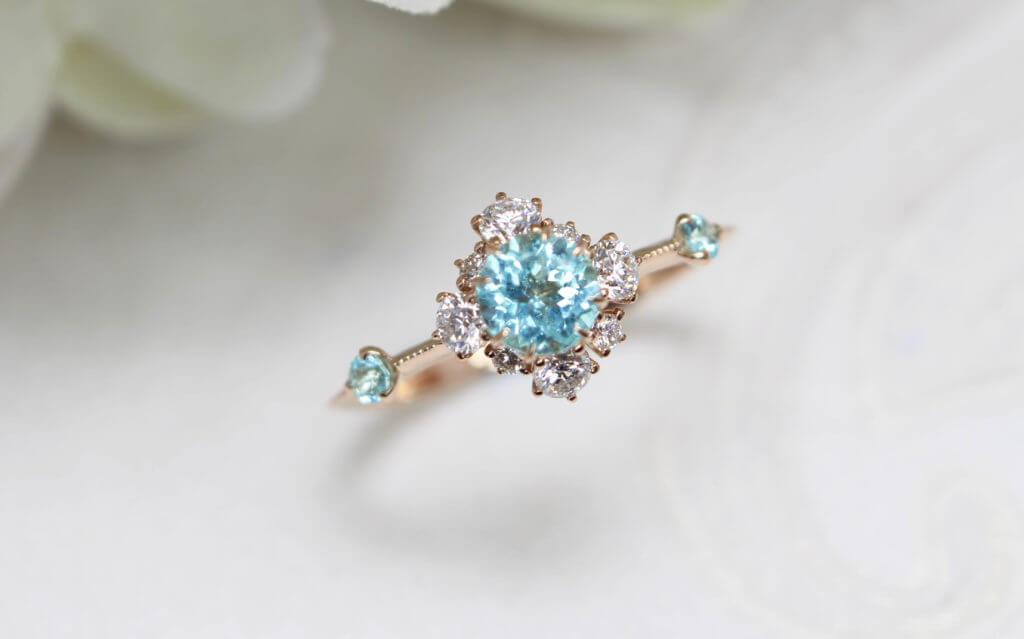 Wedding engagement is a memorable and grand day, that is why every girl deserves what is extraordinary. For this, we are honoured to present this Paraiba engagement ring, customised for the couple on their engagement day. It is a unique feminine and exclusive jewel, a real treasure for a lifetime. This is worth it an excellent quality of finish. In a way that is both one-of-kind and dazzling, this engagement ring is custom made in 18k(750) rose gold, decorated with an outline of round brilliant cut diamonds. The centre Paraiba tourmaline gemstone is inlaid on the top of the alliance woman. And to make it even more special, the sides of the ring bands are adorned with single-small Paraiba tourmaline gemstone to make it look more enticing. The design is dainty and perfect for everyday wear.
Congratulation to Zhi Jie and Valeria! Wishing you both the best with the engagement and beyond! Lots of love.
Customised Jewellery
At GIOIA, the jewels are hand drawn from sketch and handcrafted elegantly to lend it a unique touch with ultimate precision. So, looking for a one of a kind design, without winking an eye come to us and we will craft an exclusive piece of fine jewellery for you. Each piece of coloured gemstone is unique in their colour, take Paraiba tourmaline as an example, the vivid ocean shade is one-of-a-kind!