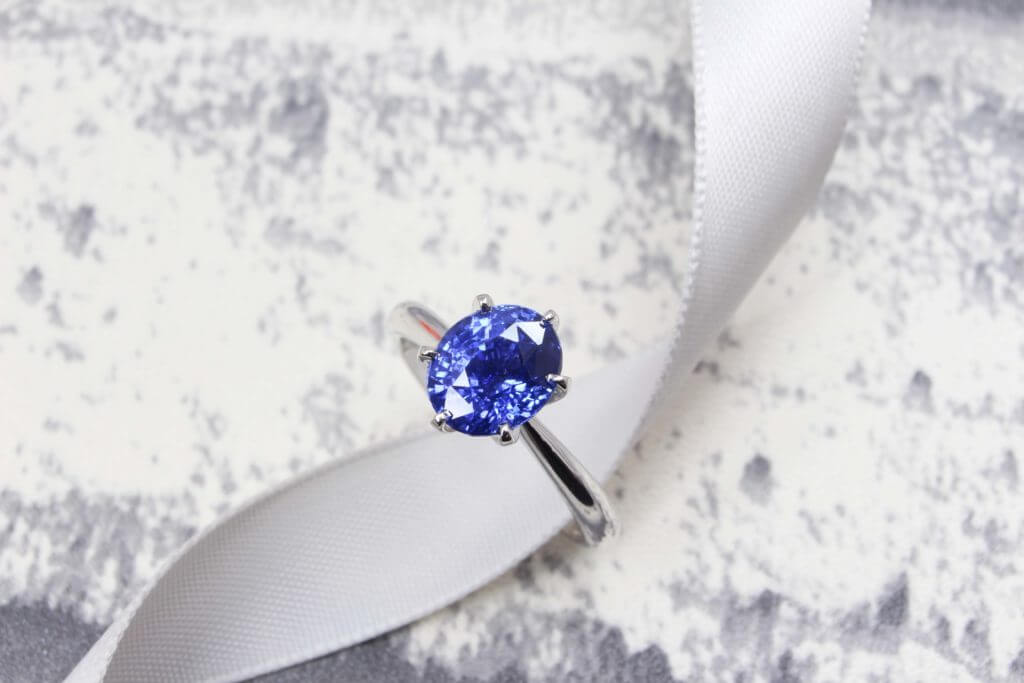 This sublime proposal ring features a velvety unheated blue sapphire set in solid platinum. What is so unique about the sapphire featured in this ring is its rare sparkle. Sheer brilliance is exuded from each corner of this oval shaped blue sapphire. This iconic sapphire proposal ring does not fail to make a statement with its deep blue hue which very well makes a beautiful alternative to a diamond ring.
Our heartiest congratulations to the newly engaged couple Kevin and Ainisha! May every day be happy and beautiful for the lovely couple. We are so glad to be part of your wedding proposal!
This proposal ring has been customised for the couple, as they looking for a simple yet elegant six prong design ring. It is customised in such a way that the ring looks tapered from the top view. This offers a fresh perspective to the main sapphire. The side band has been rounded to ensure comfortable everyday wear. 
Sapphire Gemstone Proposal Ring
If you are looking for an extra dose of sparkle and sophistication, you can consider stacking the proposal ring with a eternity diamond wedding bands. Gracefully designed, this sapphire ring make a stunning statement jewelry.
If you are always looking to own a unique customised jewellery, we have a selection of precious gemstone, similar brilliance, vivid colour shade which would become a fast favourite of yours. Unheated blue sapphire has been utilised in designing this alluring proposal ring. If we consider the ratio, the market supply is 20% unheated and 80% heated. Every possible effort has been put in to retain the original condition of the gemstone after mining, cutting and polishing it.