A "Big Three" Jewel
Emerald, along with ruby and sapphire, form the "Big Three" Jewels—coloured fine gemstones that can be sold at a higher price per carat than a diamond. Trace quantities of vanadium and chromium make up its unique chemical composition, which is not found in any other precious gemstone. It is what imparts its beautiful famed royal green colour. However, quantities of iron at varying oxidation states can result in several emeralds being a slight blue or yellowish-green. A bluish-green to pure green emerald commands the highest premium.
Our customised emerald ring service in Singapore will ensure your customised emerald ring is a cherished quality investment that you will love in generations to come.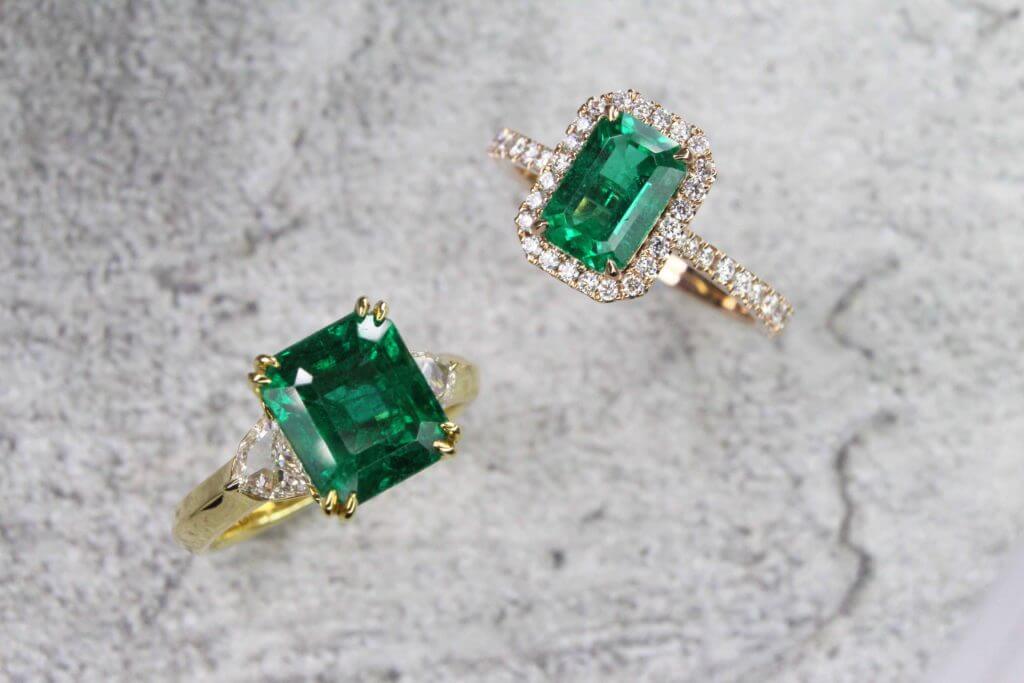 Emerald Ring Setting
The unique and elegant brilliance of a customised emerald ring is unparalleled. Most of the time, emeralds are considered the hexagonal crystals that can offer beautiful and flat-topped faceted stones, commonly known as an "emerald-cut". You will be impressed by how a customised emerald ring can enhance your overall physical appearance and help you stand out in a crowd.
In addition to that, its excellent carat weight makes emeralds one of the most expensive gemstones used to create your finest customised emerald ring at GIOIA Fine Jewellery.
Emerald Enhancement (Oil) Treatment
Emerald is a naturally brittle precious gemstone. Naturally harvested emeralds with minimal to zero inclusions are extremely rare and valuable. The dynamic forces in emerald formation underground frequently result in many inclusions and fissures. Small pockets of fluid or other minerals are also "trapped" within the emerald as it grows, and all of these minor inclusions can be easily picked up by the naked eye.
The Emerald Enhancement (Oil) Treatment helps to resolve "none", "insignificant", "minor", "minor to moderate", "moderate" and "significant" inclusions within an emerald. As such, 95% of emeralds sold on the market undergo a unique heated oil treatment that allows other materials to flow in and fill the inclusions up, thus making them less obvious.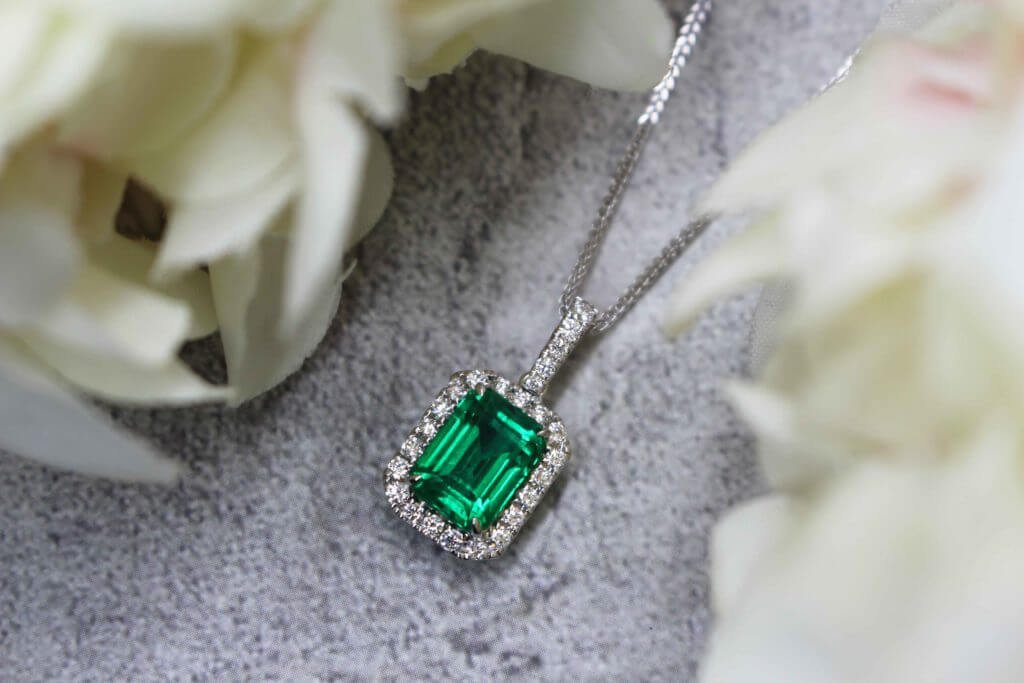 Investment in Emerald
It is not surprising to know that more people these days are choosing these as a part of their jewellery, or wedding engagement ring. Emerald jewellery is essential, especially for those people who are really fond of wearing jewellery as they go out of their house. Emerald, ruby and sapphire, well known as the "Big Three Jewel", could be priced per carat higher than diamond. In addition, emerald gemstones play an essential role in the jewellery industry. Due to the various benefits that it can offer, you are most assured that this is worth a jewellery investment.
Bespoke Fine Jewellery
Many colour gemstones are used for wedding engagement ring settings and beautiful bespoke jewellery. Nevertheless, why do most preferred emeralds compared to the rest of the gemstones? As far as emerald jewellery are concerned, there is something to find in emerald stones that make your jewellery more brilliant and shinier as compared to others.
Emerald Colour – you will be impressed as to how green is the colour of emerald. This will also make your look and appearance more attractive. It is also a unique shade that you could never obtain from other gemstones that allows you to stand out from the crowd. Most of the time, emeralds are considered the hexagonal crystals that can offer beautiful and flat-topped faceted stones, commonly known as "Emerald-cut".
In addition to that, it has its excellent carat weight that makes it one of the most expensive gemstones used to create fine jewellery by many top fine jewellery brands.
Customised Engagement Ring
When it comes to setting an emerald within an emerald ring, supporting the coloured precious gemstone effectively is of utmost importance. Emerald rings are often more prone to abrasions and blemishes from any kind of impact. During your customisation and design setting process, we can customise your emerald ring to ensure it will properly withstand any kind of fall or impact.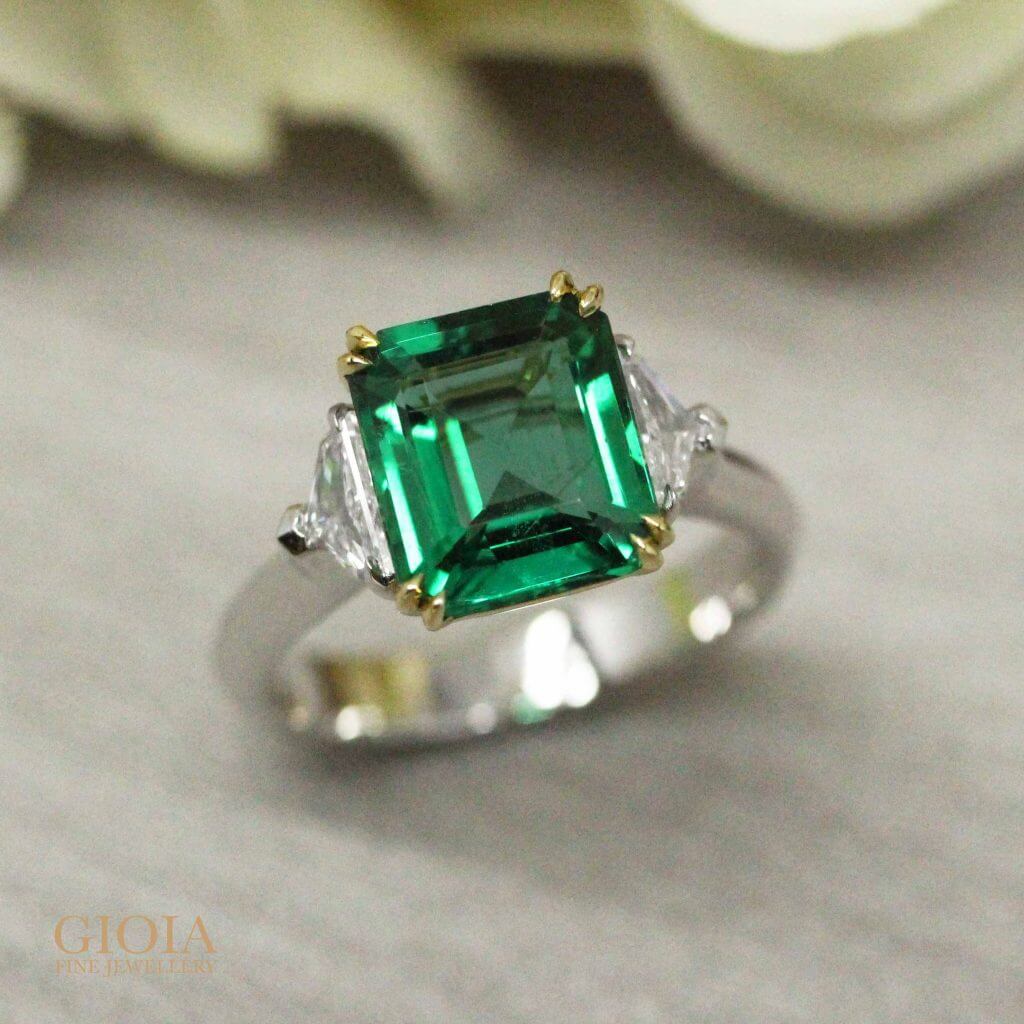 Family Cluster Earring – Birthstone Jewellery with Emerald
Instead of fine luxury jewellery or engagement ring for proposal, emerald can be incorporated into part of the family cluster jewellery. Personalised earring stud designed with family birthstone from emerald: May, Sapphire; September and Amethyst: February. A unique way to connect with your loved ones with personalised coloured birthstone jewellery.