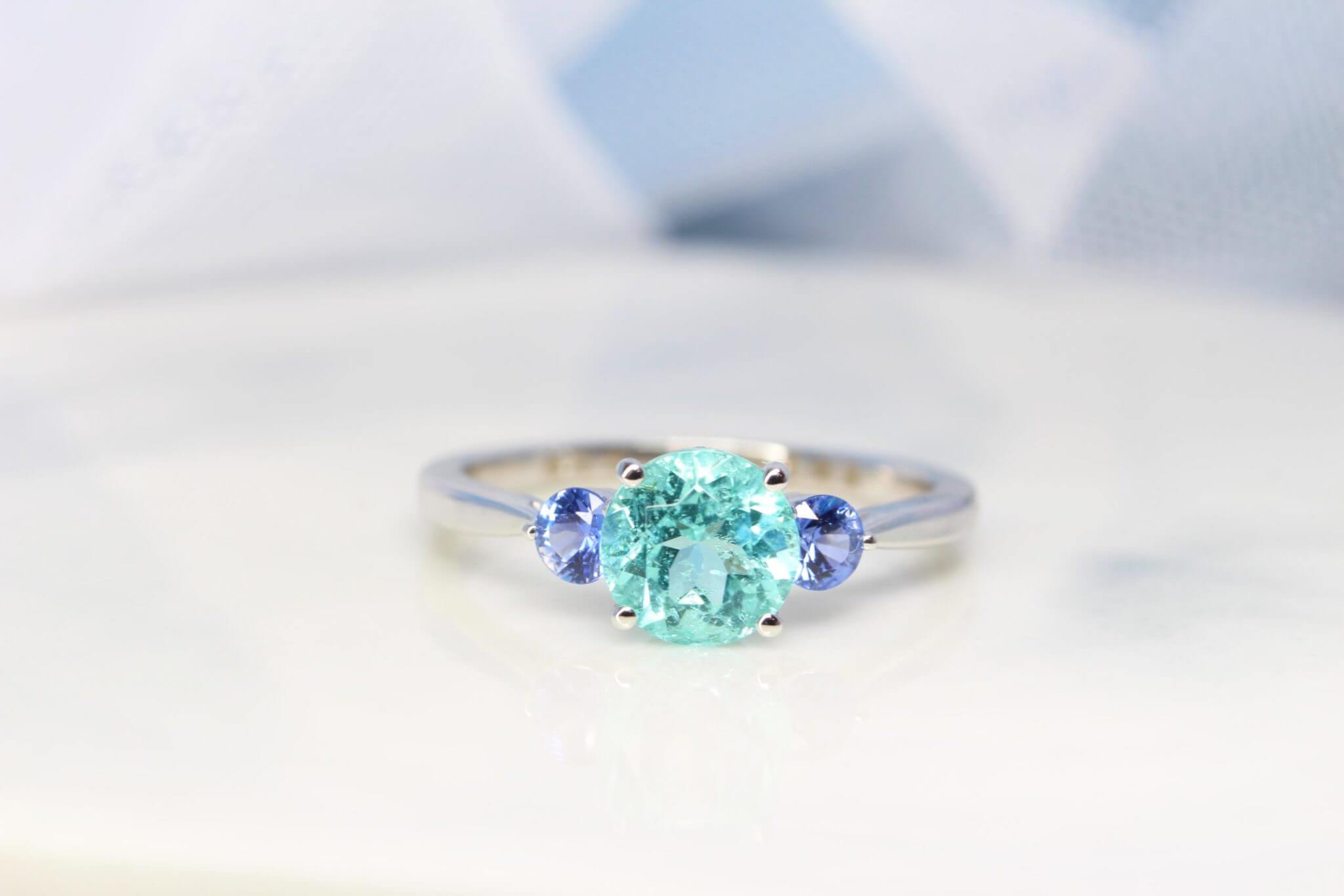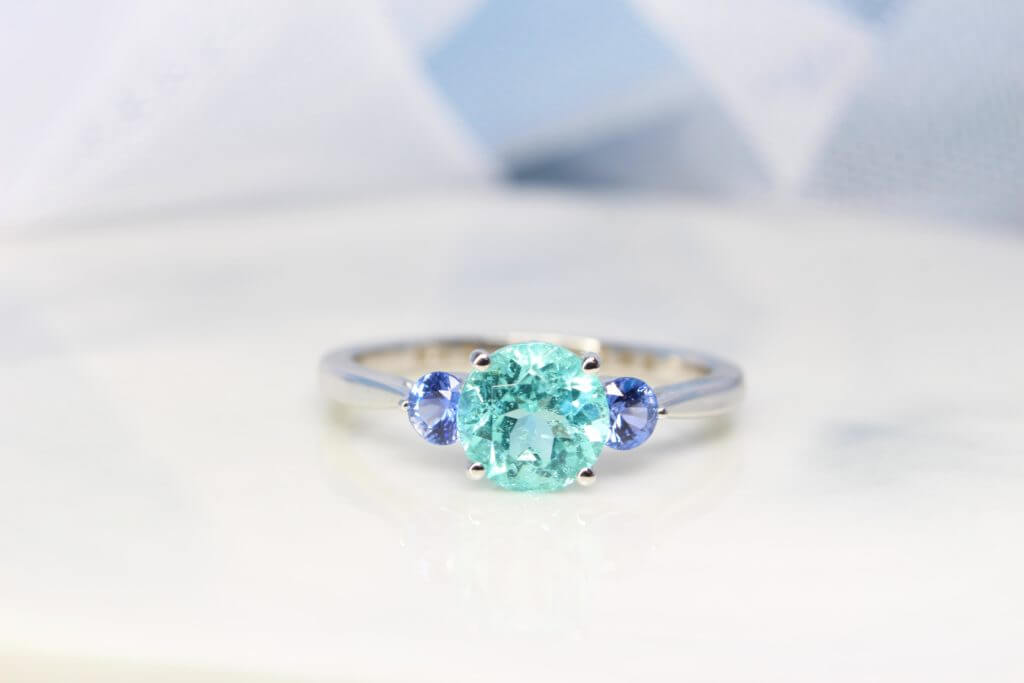 Customised Engagement Ring – Paraiba Tourmaline Sapphire
This Paraiba sapphire engagement ring was meticulously created for a couple who engaged in a thoughtful consultation with us regarding their proposal ring. Right from the outset, they expressed a strong desire for a one-of-a-kind, personalised proposal ring. In this design, a round Paraiba tourmaline takes center stage and is gracefully accompanied by soft, pastel blue sapphires on either side. The gentle pastel hue beautifully enhances the focal gem, resulting in a truly magnificent ring.
The side of the ring bands feature leaves detailing making this design more exquisite and one of a kind. The lovely couple has a truly personalised and exclusive overall design for this engagement ring. Non-traditional proposal ring without diamond, this exceptional paraiba tourmaline sapphire ring is simply unique. 
Paraiba Tourmaline
Classic simplicity defines this delicate design which features three beautiful gemstones exuding vivid bluish-green amalgamation. People have been undoubtedly obsessed with Paraiba tourmaline for its unique neon-ish glow since its discovery 30 years ago. The intense saturation is what brings out the extreme rarity of the tourmaline featured in this design. The central gem is more of a treasured piece for many jewellery collectors all over the globe.
Its vivid colour and origin such as Brazil or Mozambique determine the value in Paraiba tourmaline. Unlike diamonds, which price according to the 4Cs: Carat, Colour, Clarity, and Cut. In addition auction house, renowned for its exquisite fine jewelry, frequently showcases Paraiba tourmaline fine jewelry. Among these, the highly saturated electric neon and those with greenish-blue hues stand out as the most sought-after and prized variations of this rare gemstone.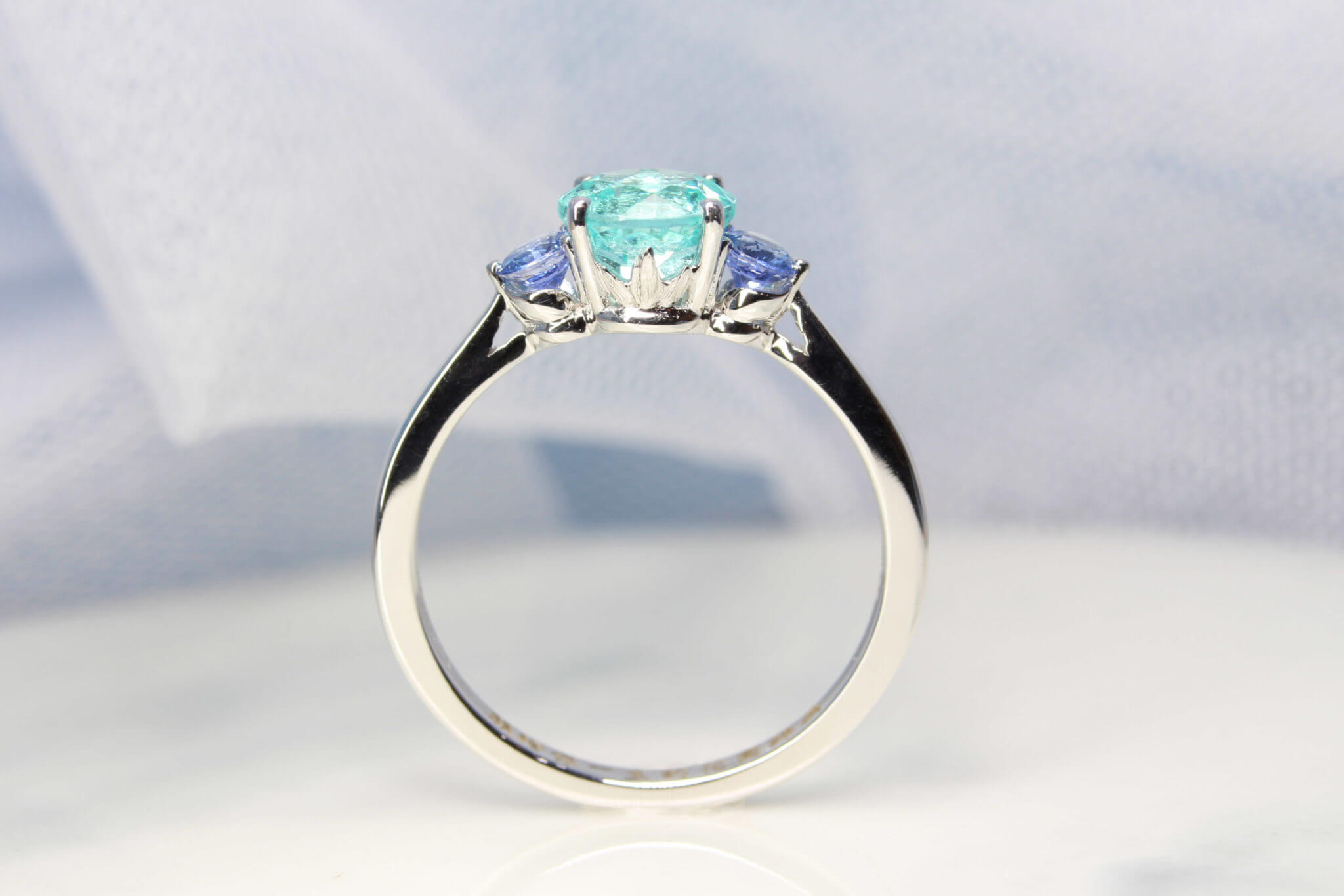 Engagement Ring with Wedding Bands
Engagement Ring Paraiba Tourmaline & Wedding Bands Stackable Set
Exquisite wedding bands, artfully designed to stack seamlessly with the Paraiba tourmaline engagement ring. These one-of-a-kind wedding bands embrace the spirit of your love story with a captivating "V" tiara design. Crowned by a brilliant center Paraiba tourmaline, inspired by the heart of proposal ring.
Together, Paraiba Tourmaline wedding bands and engagement ring weave a seamless and harmonious tapestry. These enchanting works of art not only represent the unity and love you both cherish but will also be cherished for a lifetime.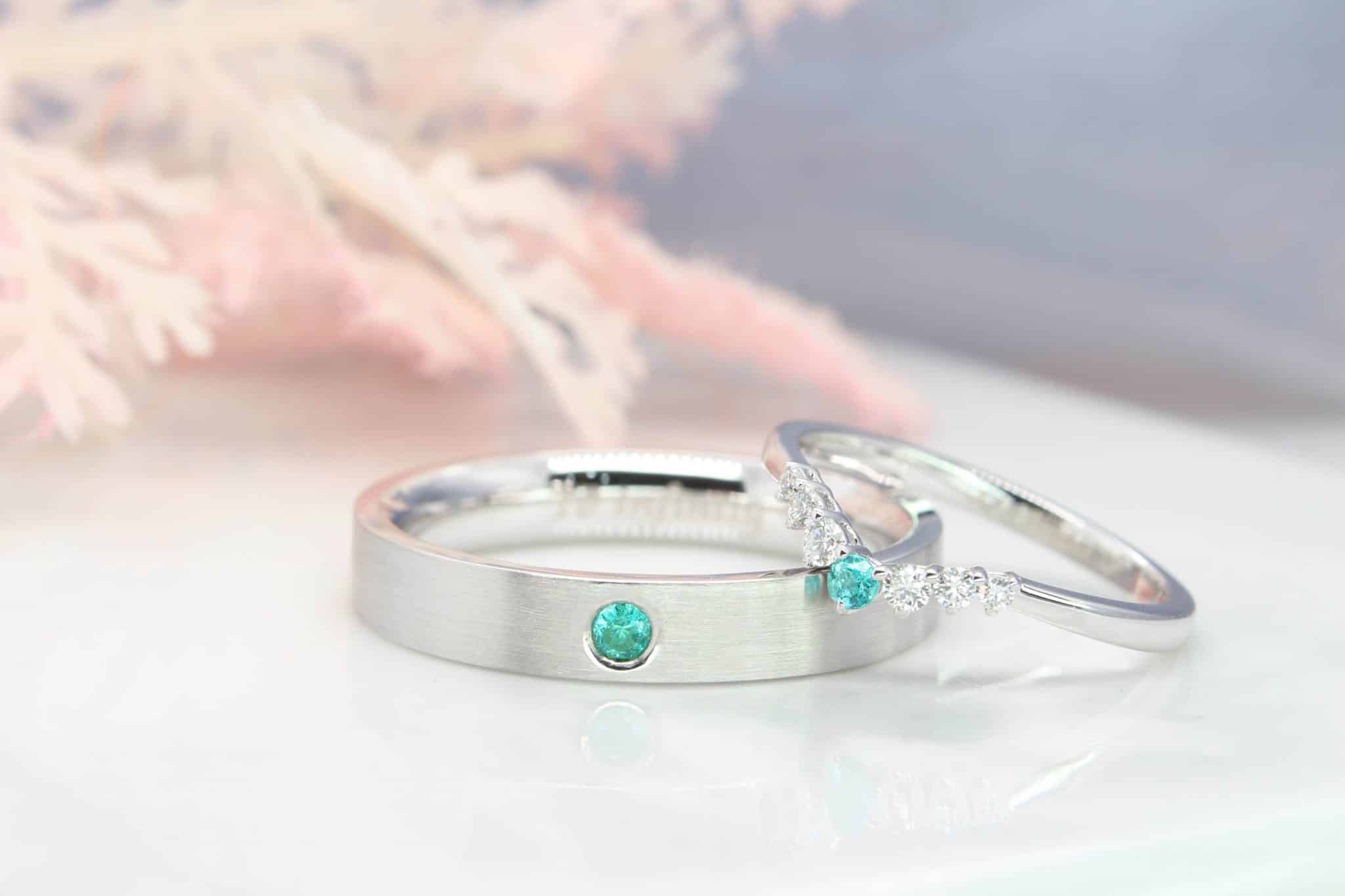 Unique Wedding Bands
As this extremely rare paraiba tourmaline, gems gain popularity in many young couples. We have Brazil Paraiba tourmaline designed on an engagement ring or wedding bands. These personalised wedding bands were designed with the couple's favourite characters "Rabbit & Bear". The exceptional vivid greenish-blue Brazil Paraiba Tourmaline stands out from all angles. Additionally, the multi-row micro paves diamond enhances its brilliance and sparkle, resulting in personalised and unique bespoke wedding bands.