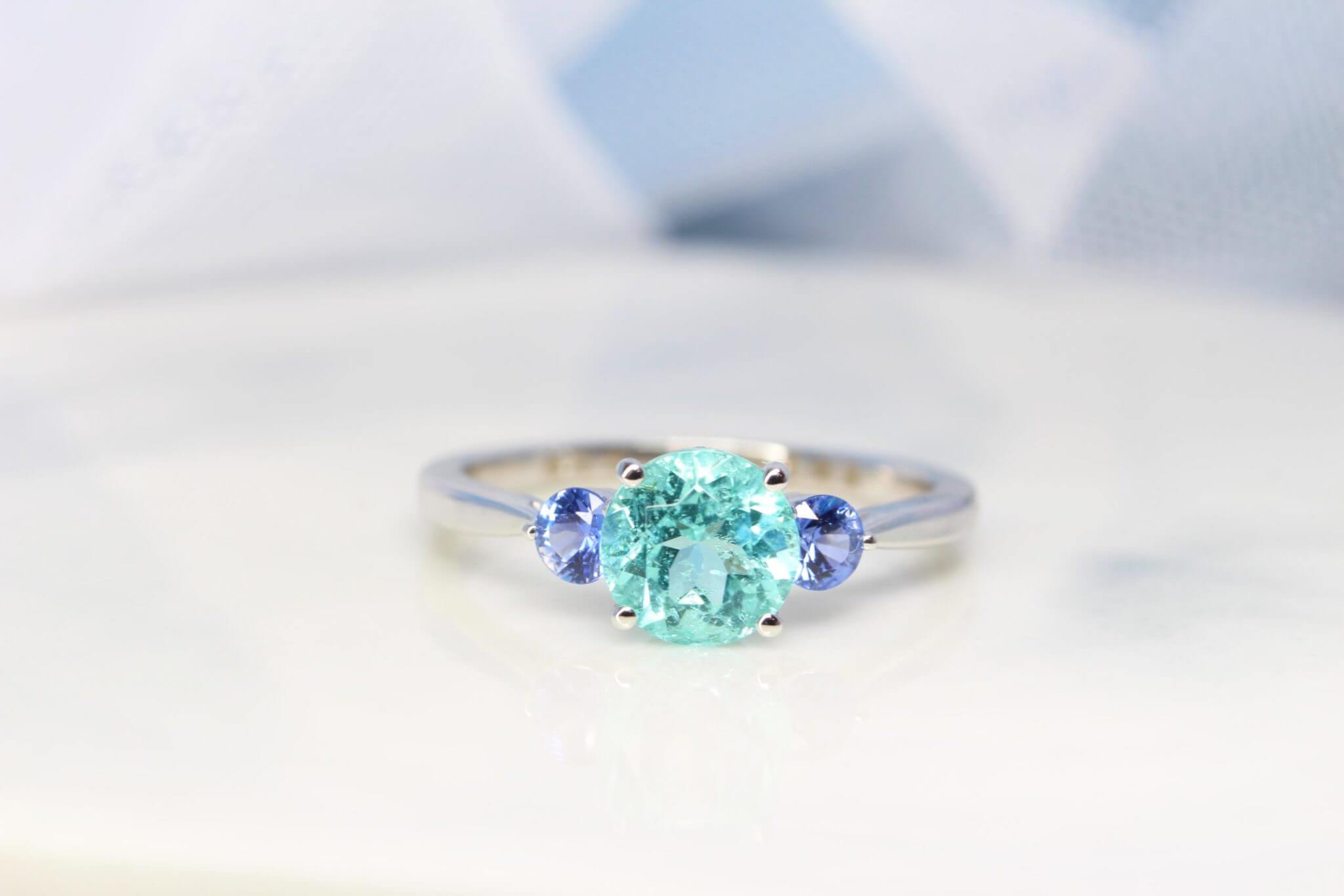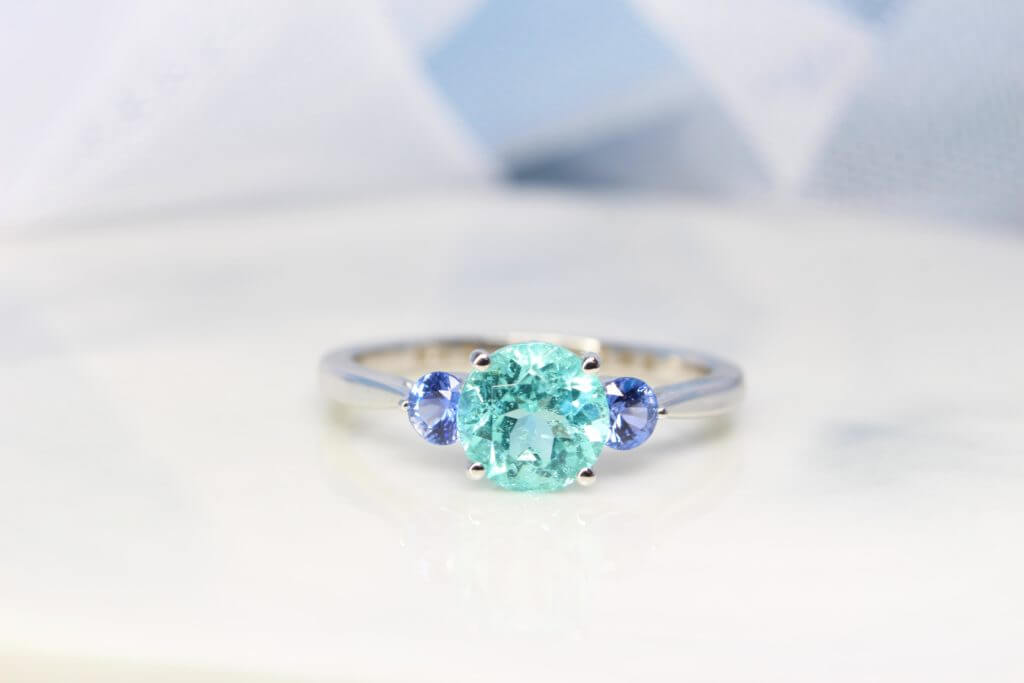 Customised Engagement Ring – Paraiba Tourmaline Sapphire
This Paraiba sapphire engagement ring was crafted for a couple who sat with us to have a discussion about their proposal ring. They were very clear in their mind from the start that they were looking for an unusual customised piece. The round paraiba tourmaline in this design is accented with blue pastel sapphires on both sides. The light pastel shade complements the main gem which makes this ring truly spectacular.
The side of the ring bands feature leaves detailing making this design more exquisite and one of a kind. The overall design of this engagement ring is truly personalised and exclusive to the lovely couple. Non-traditional engagement ring without diamond, this exceptional paraiba tourmaline sapphire ring is simply unique. 
Paraiba Tourmaline
Classic simplicity defines this delicate design which features three beautiful gemstones exuding vivid bluish-green amalgamation. It is no wonder that people are obsessed with the central gemstone which is a beautiful Paraiba tourmaline since its discovery 30 years ago. The intense saturation is what brings out the extreme rarity of the tourmaline featured in this design. The central gem is more of a treasured piece for many jewellery collectors all over the globe.
The value of Paraiba tourmaline is estimated by its vivid colour unlike diamonds which are priced depending on 4Cs: Carat, Colour, Clarity and Cut. Paraiba tourmaline is often featured in exquisite fine jewellery. Highly saturated electric neon and the ones with greenish-blue hues are the most popular and treasured shades of this rare gemstone.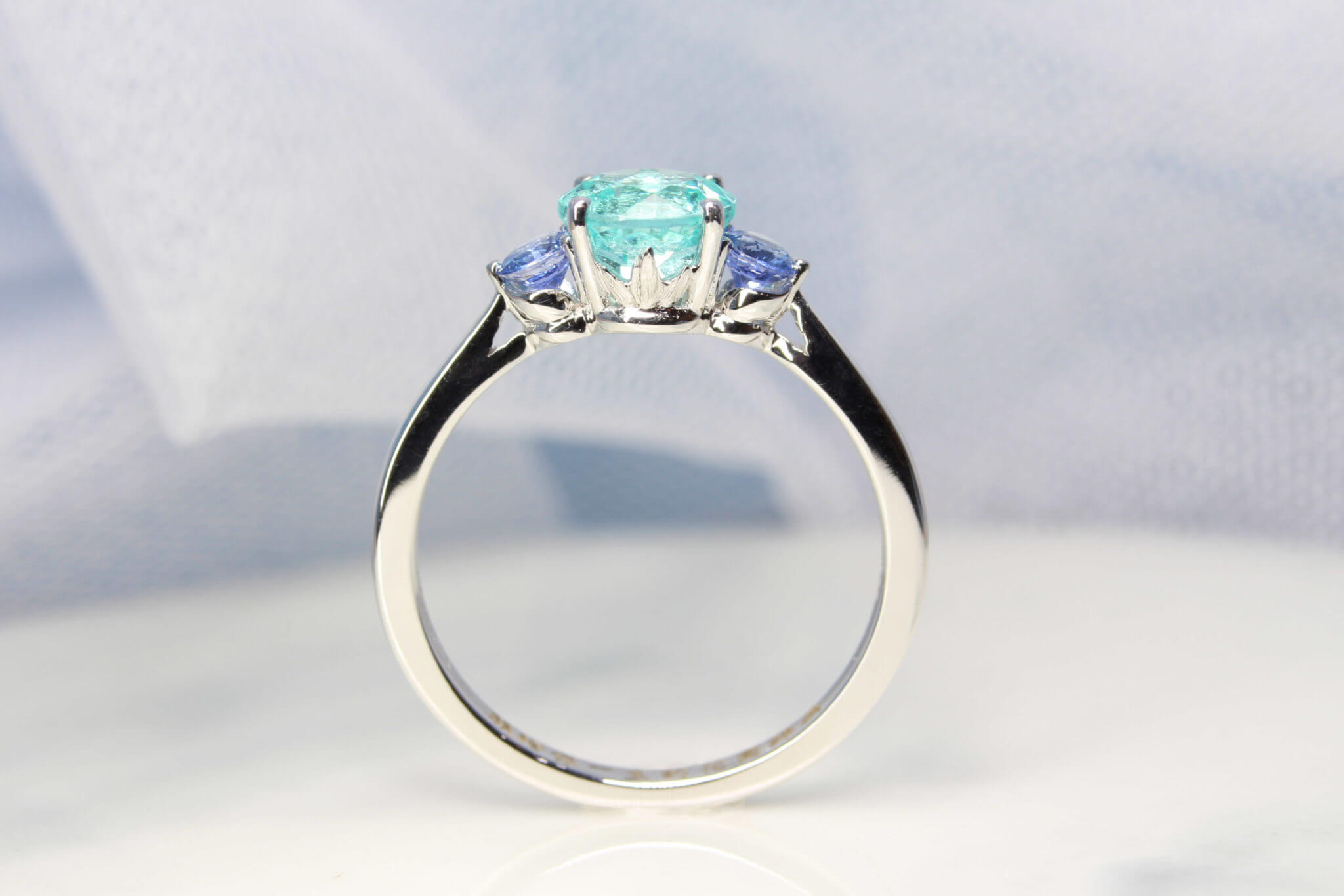 Unique Wedding Bands
As this extremely rare paraiba tourmaline, gems gain popularity in many young couples. We have Brazil Paraiba tourmaline designed on an engagement ring or wedding bands. These personalised wedding bands were designed with the couple's favourite characters "Rabbit & Bear". The exceptional vivid greenish-blue Brazil Paraiba Tourmaline stand out from all angles. The multi-row micro paves diamond extracts brilliance and sparkle, personalised and unique bespoke wedding bands.