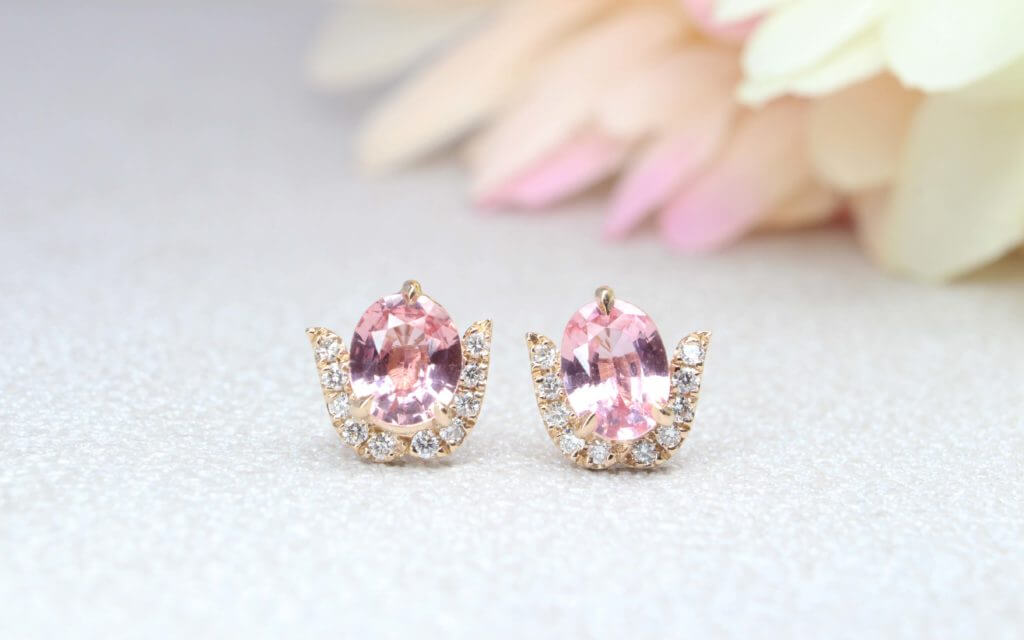 If owning one of the rarest gemstones is your deepest desire, then you would not be disappointed by this unique pair of flora earrings. This design features a pair of Padparadscha sapphires that are not well known to the common masses. This rare gemstone is treasured by gem collectors for their beautiful colour. The word Padparadscha is derived from a Sinhalese word which means "aquatic lotus blossom". The colour of this sapphire gemstone can vary from salmon colour with an orange or pinkish hue. These stones tend to be of even colour, a good mix of colour with orange and pink hints.
Padparadscha Sapphire
This pair of earring features the rarest of the rare gemstone that symbolizes love and energy. Pink sapphires usually have a mix of purplish hues. However, Padparadscha is a unique blend of orange and pink. This pair of earring has been customised into a floral design. It features flower petals with round brilliant diamonds. Subtle in design, these sapphire floral stud earrings sport vintage-inspired detailing with a distinctive feminine flair. The beautiful gemstones glow in the rose gold 18k (750) base metal, surrounded by micropavé brilliant diamond frame. It might not be the perfect matching in term of shape and carat weight, with detailed planning in customised jewellery, we can have the earring design couture to the sapphire.