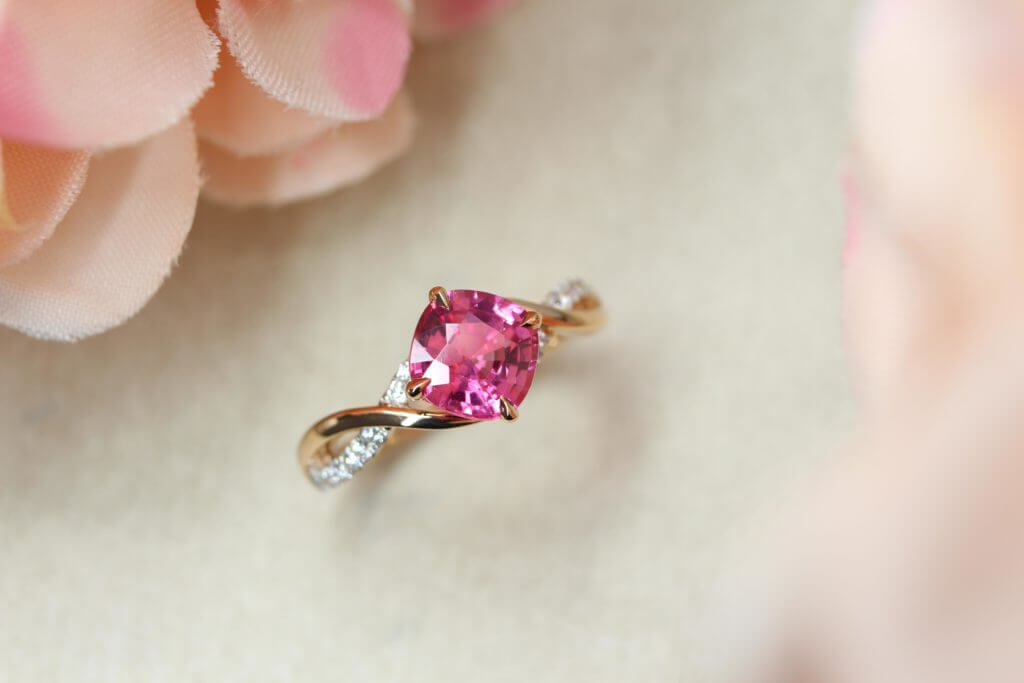 This proposal ring features a hot pink spinel as it dominated the world of pink gems. The hue of this gem creates an enticing atmosphere around its wearer. The radiance and luminosity attract even the indifferent eye. Hot pink is one of the few colours that never run out of trend due to its spiritedness. The assertiveness of the colour boosts the possessor's confidence and spreads positivity all around. In contrast, the subtle setting of the ring in rose gold leaves a mellow feeling.
Best wishes on your engagement Yi Hui and Samantha! May you both be filled with love, joy, peace and romance.

Customised Proposal Ring
Its rarity lies in being a Mahenge spinel, with a unique pink and orangy hue in the gemstone. The singularity is further enhanced by handcrafted rose gold (750) 18k sharp crawl setting, which are set in a different positioning than the classic design setting. The twisted bands of the proposal ring put forth a pleasantly quirky appearance. Round brilliant diamond with white plated based is customised on one of the two twisted bands. The four prong setting grasps the focal gemstone in its place. The overall design of the proposal ring resembles a feminine, rebellious youth.