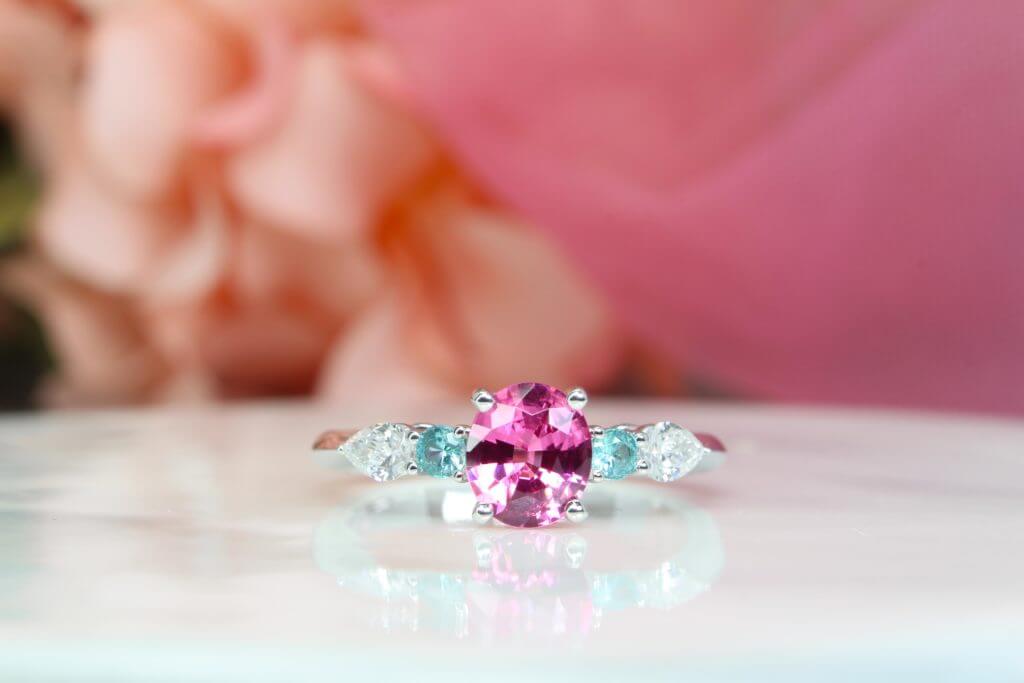 This enchanting ring demonstrates a wonderful vintage charm. This wedding ring features a vibrant pink spinel as the main gemstone. The neon bluish green shade Brazil Paraiba tourmalines used in the sides makes a perfect match for the feminine pink spinel. The colour combination in this wedding ring is beyond perfect. This gorgeous ring has brilliant cut accents staggered on either sides of the central gemstone, thereby enhancing the striking magnificence of the centre stone. This delicate two-tone master piece has a vivid colour combination. The white gold band adds a touch of wonderful detail to this utterly breath-taking design.     
Bespoke Wedding Ring
Spectacularly crafted, this bespoke designed ring was chosen as a proposal ring signifying the loving bond shared by the couple. Exquisite and modern design ring, customised to be unique from the commercial rings available in retail stores. The brilliant colour combination along with the exceptional sparkle makes this design truly standout. Shine bright with this elegant beauty. The soothing colour of this delicate beauty is certainly going to capture the attention of those around you. This stunning and unique design is all you need to create an eye-catching statement no matter where you go.