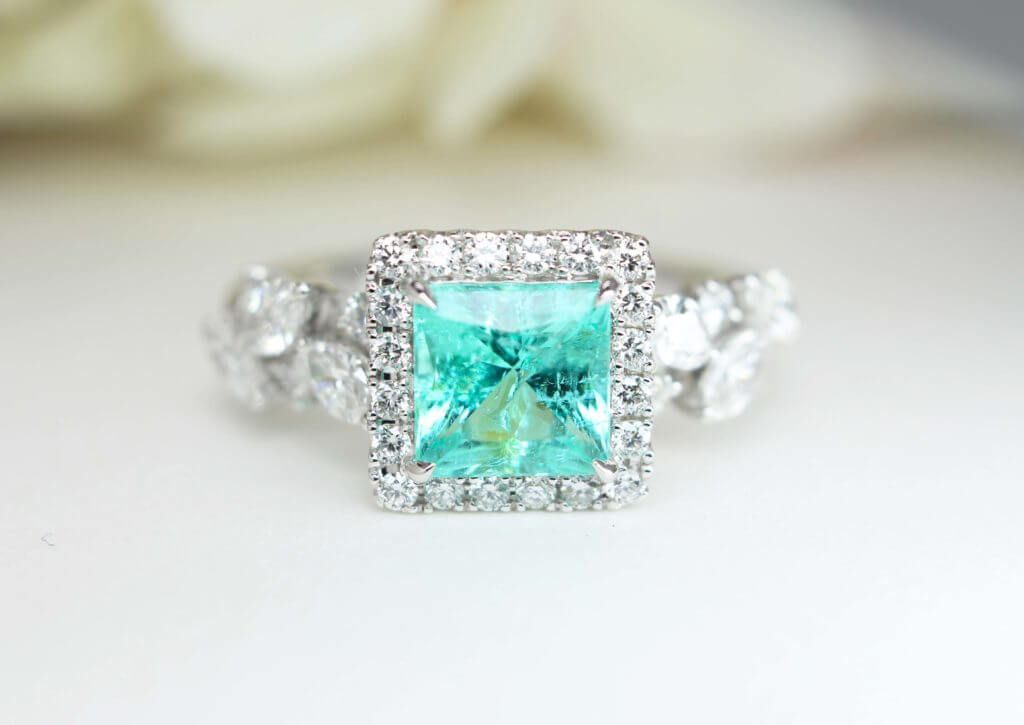 Rare and radiant, Paraiba tourmaline ring attract all eyes. Definitely not new in the world of gemstones, Paraiba tourmaline has a bright shades from neon bluish green and greenish blue, a lovely balance between the two. Customised with halo round brilliant diamond around, and along the ring bands are marquise diamond bringing a majestic appeal to this unique bespoke ring, which was designed from sketch to our client.
Coloured Gemstone
The popularity of coloured gemstone jewellery opens up a rainbow of options. Many customers who are proud owners of a beautiful classic white diamond solitaire, confess that if they had a new opportunity, they would almost certainly choose an unique ring or pendant jewellery set with coloured gemstones. The increased popularity of coloured gemstone means that there is now a wide variety of options to choose from, with precious gems in shades ranging from blue, red, pink or violet. 
Paraiba Tourmaline
However, before getting lost in this rainbow world of fine coloured gemstones, we would like to introduce you to one of a kind Paraiba tourmaline gem. With the copper and manganese content, it stands out from the different variety of colours in the tourmaline gemstones. The intense glow from inside out makes the Paraiba tourmaline incomparable to any other precious gemstone in the world. This ocean liked shade Paraiba simply unique and rare gems, made them a hot favourite in luxury fine jewellery.