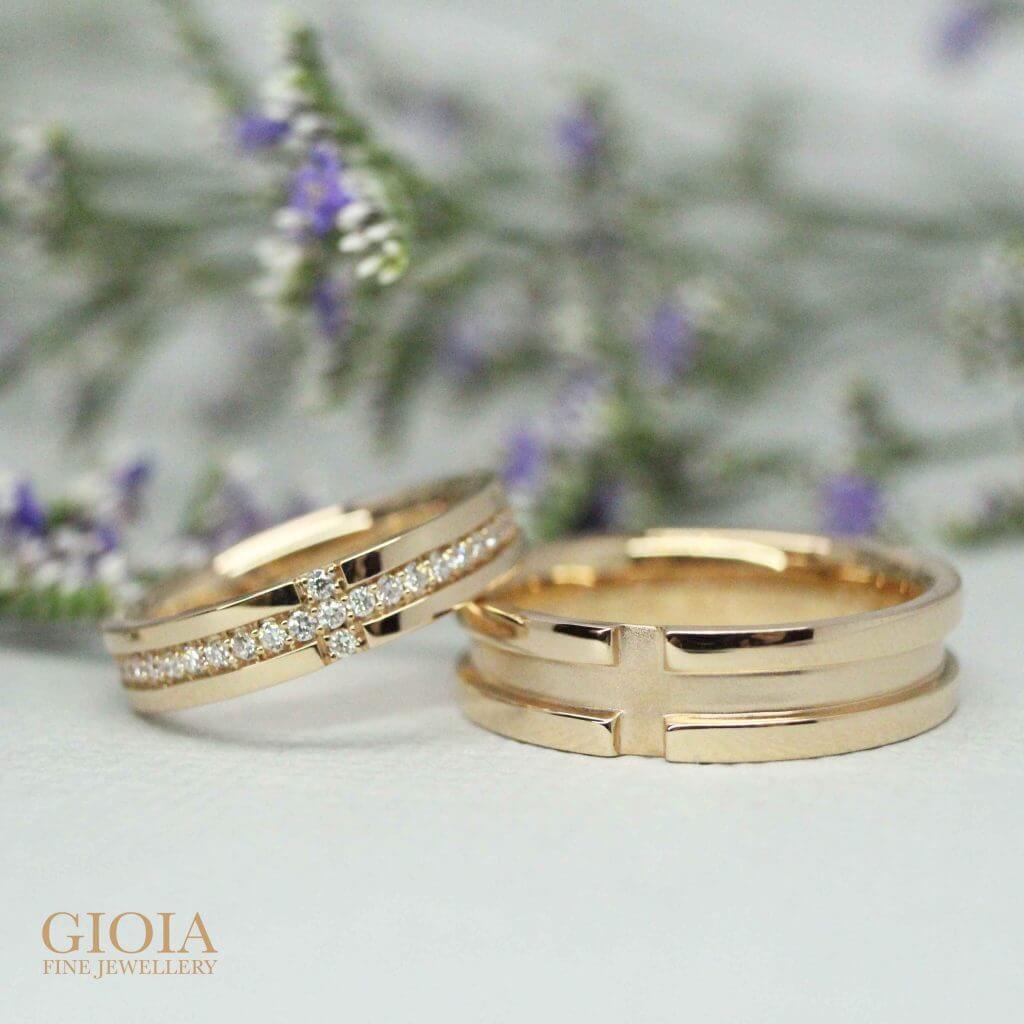 These custom made wedding bands for a couple reflect GIOIA's savoir-faire. The beautiful rose gold rings assert that the dreams do come true! For centuries, rose gold has been desired for its beauty, worth, and timeless class. Even the simplest of rose gold wedding bands. bring out the golden brilliance of this luxurious element.
At GIOIA, we work effortlessly on the precious metal to enhance its magnificent lustre. The dedicated craftsman in our ateliers work their magic to shape gold into beautiful designs. These custom made wedding rings are much heavier, and hence much more exclusive than the usual, off-the-shelf, casted wedding bands.
Personalised Rose Gold Wedding Bands
Bonding of two souls brought together in love
The personalised rose gold wedding bands are a stunning testament to the couple's unique love story. Crafted from beautiful, warm rose gold, these bands exude a sense of timeless elegance. The ladies' ring is a true masterpiece, featuring a delicate pave of diamonds that intricately resembles the Christian cross. The diamonds gracefully follow the contours of the cross, symbolising the couple's shared faith and devotion.
The men's ring, on the other hand, showcases a captivating design that combines both a matte and polished finish. This duality creates a captivating contrast, representing the union of two distinct individuals coming together as one. The matte sections of the ring exude a refined, understated charm, while the polished areas add a touch of sophistication and brilliance.
When these two rings are brought together, they symbolize the harmonious blend of faith, love, and individuality shared by the couple. The rose gold's warm hue signifies their deep affection and the eternal nature of their commitment. These customised wedding bands are not only visually captivating but also hold profound sentimental value, reminding the couple of their love and the sacred bond they share.
These one-of-a-kind wedding bands are proud proclamation of love for each other. One look at the GIOIA wedding bands and you will definitely think C'est ça l'amour! More of our unique jewellery collection, watch this space at "Highlights"