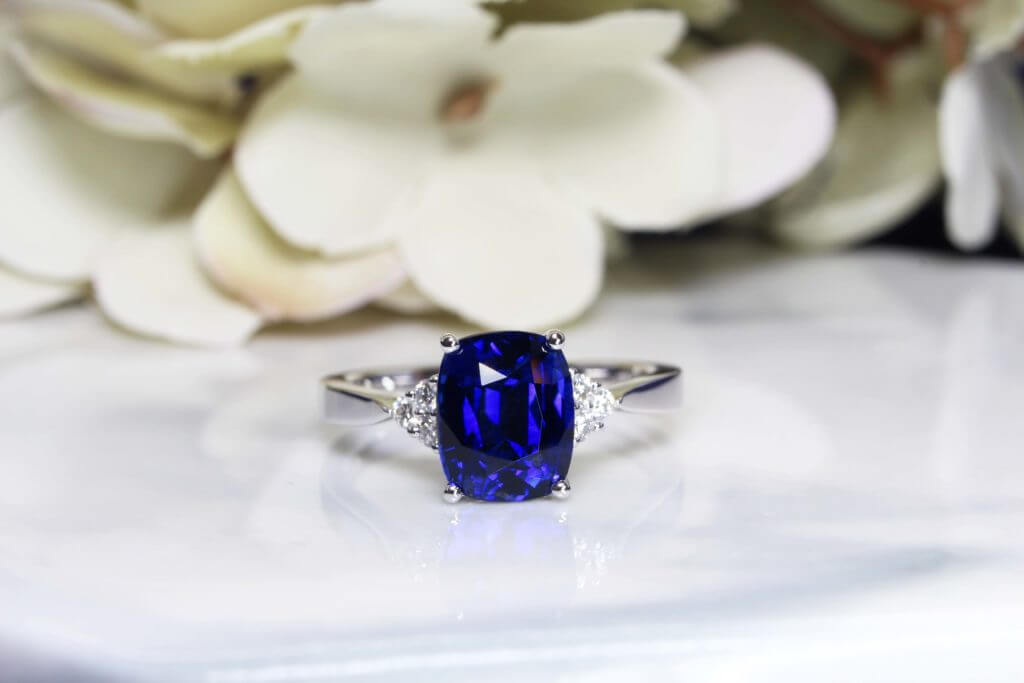 Royal Blue Sapphire Most Sought-after shade in Sapphire
This extraordinary wedding ring features one of the rarest shades of vivid blue with a slight violet hue in it. The picture fails to do justice to the actual brilliance of this rare royal blue sapphire. Elegantly refined, this sapphire diamond ring showcases a unique blue sapphire complemented by two diamonds set in white gold. The cluster round brilliant diamond brings out the overall look of the mesmerising gemstone.
Nicholas took all the initial efforts at our shop to pick the right gem and then let Wenlyn make the final decision pertaining to the coloured gemstone. He certainly nailed it with the right coloured shade of royal blue sapphire.
Sapphire Diamond Ring
Graceful in every sense, this deep royal blue sapphire wedding ring is a great engagement option. The stunning cluster diamond ring is truly a vision of colours. Gone are the days when women just wanted diamond rings for their engagement or proposal. Sapphire diamond ring allows you to have different options of side fancy diamonds from round brilliance to diamond shape. 
Bespoke Wedding Ring
Today, women look for an exquisite, customised design featuring unique coloured gemstones. This simply stunning design is all you need to make heads turn no matter where you go. As such, this wedding ring is unmatchable as a token of love that the gentleman has for his lady love. Add this to your accessory collection if you have a thing for collecting rare designs.