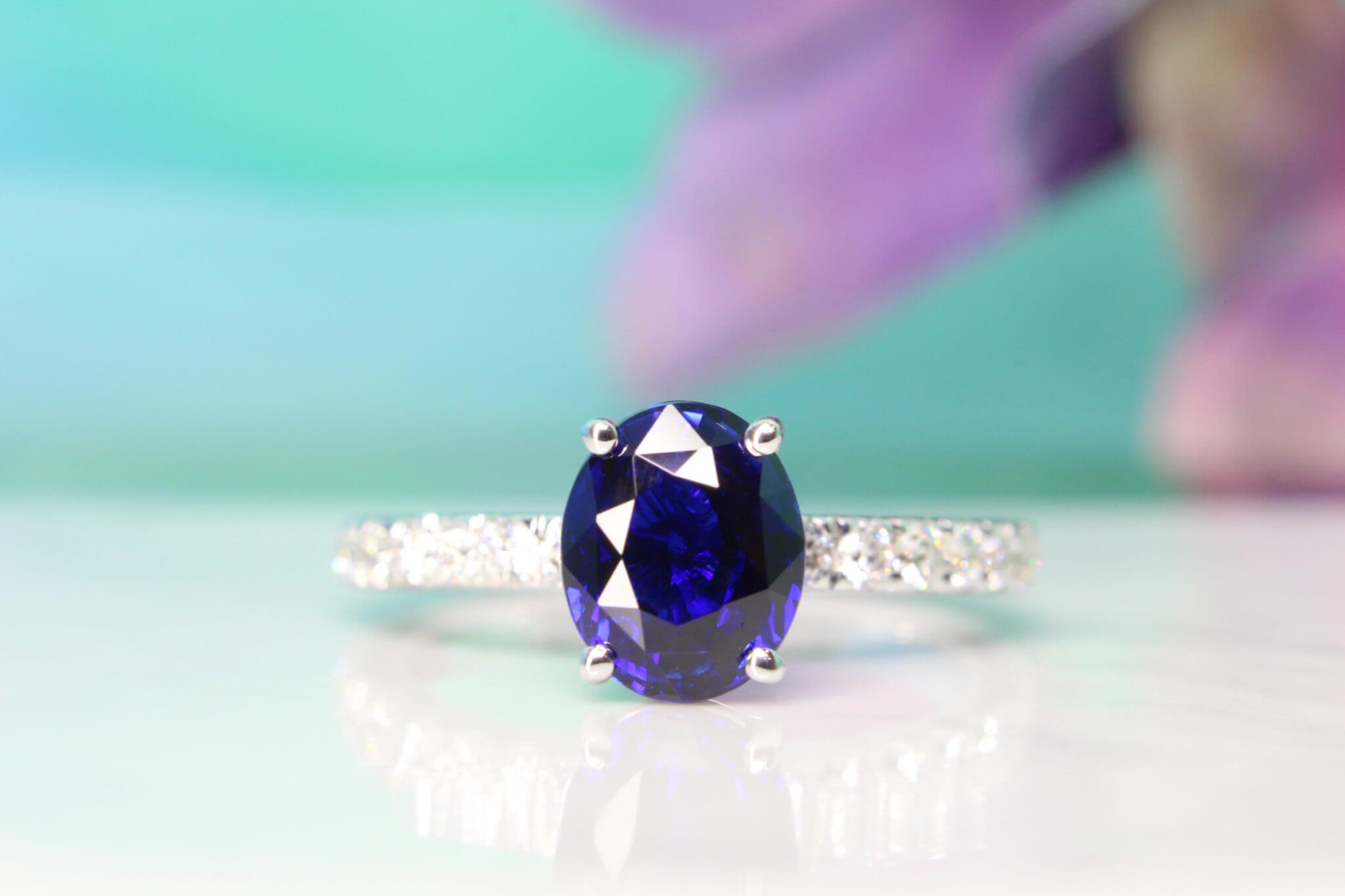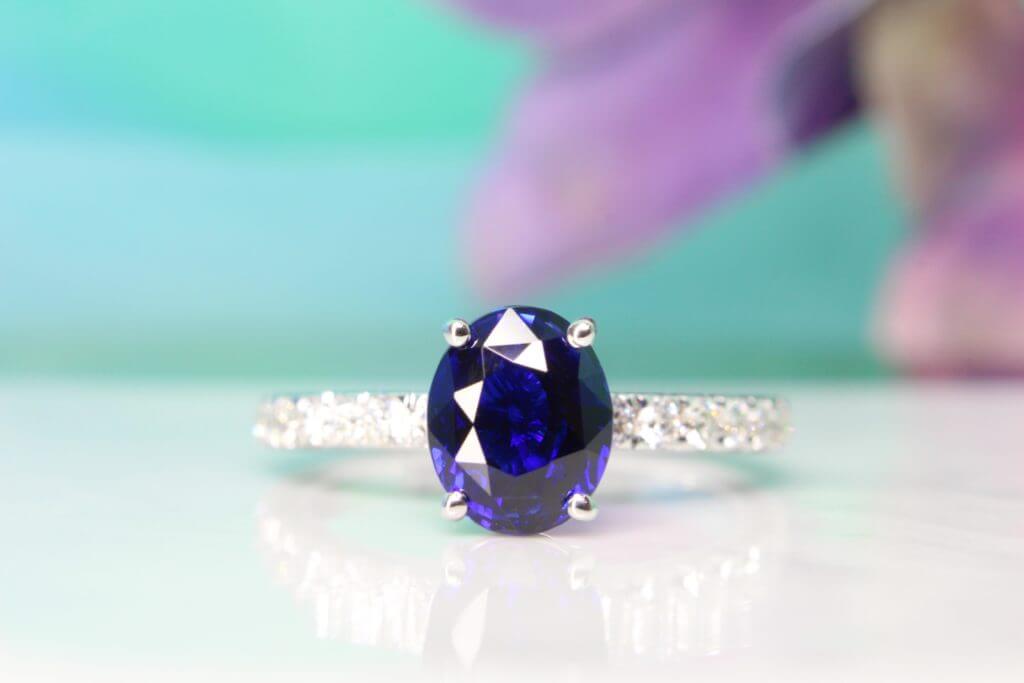 Royal Blue Sapphire Ring – Sought-after Vivid Blue Shade
A specific type of sapphire gemstone, known for its deep, rich blue colour, is royal blue sapphire. The term "royal blue" typically refers to a vivid and intense shade of blue, often likened to the colour of the sky on a clear day. Its striking and captivating hue, sets it apart from other shades of blue sapphires whether is it pastel or intense.
Sapphire Heat Treatment
With all the technological advancements, heating gemstones to enhance colours have become so popular that stones lose their pure form. Using methods like reducing or oxidizing, heated gemstones lose their original state to artificiality. In the gemstone trade, people commonly heat sapphires, which estimated to be 80% to 90%, to significantly improve their overall colour shade and clarity.
With most sapphires subjected to heat treatment, finding natural, unheated sapphires which exhibit attractive colour such as royal blue shade is always an exceptionally challenging task.
Value in Royal Blue Sapphire
Having a long history of use in royal jewelry and as engagement ring center stones, which adds to their desirability and timeless appeal. The average price of an unheated royal blue sapphire can vary significantly depending on factors like size, quality, origin, and market demand.
In general, smaller sapphires (under 1.0 carat) tend to be more affordable. While larger carat weight from 2.0 carat and above with exceptional colour and clarity command higher premium. Although prices can fluctuate over time due to market conditions and the availability of high-quality stones. Prices for fine quality unheated royal blue sapphire has multiple due to its rarity and increasing higher demand.
Sapphire Fine Jewelry
In the gemstone trade royal blue sapphire are prize for their extraordinary colour. They often associate deep, intense blue hue with nobility, luxury, and elegance, which is why given them the "royal" designation. This makes royal blue sapphire highly desirable for fine jewelry, especially in engagement ring and other high-end pieces.
Rarity in Unheated Royal Blue Sapphire
Finding high-quality royal blue sapphires in nature is relatively rare, which adds to their allure. Unheated royal blue sapphires, in particular, are even more scarce. Reason as they have not been subjected to heat treatments commonly used to enhance the colour of sapphires. Collectors and Jewellers highly seek unheated sapphires for their natural and pure colour.
High-quality, unheated royal blue sapphires are considered valuable investments. Over time, they have shown the potential to appreciate in value, making them attractive to collectors and investors.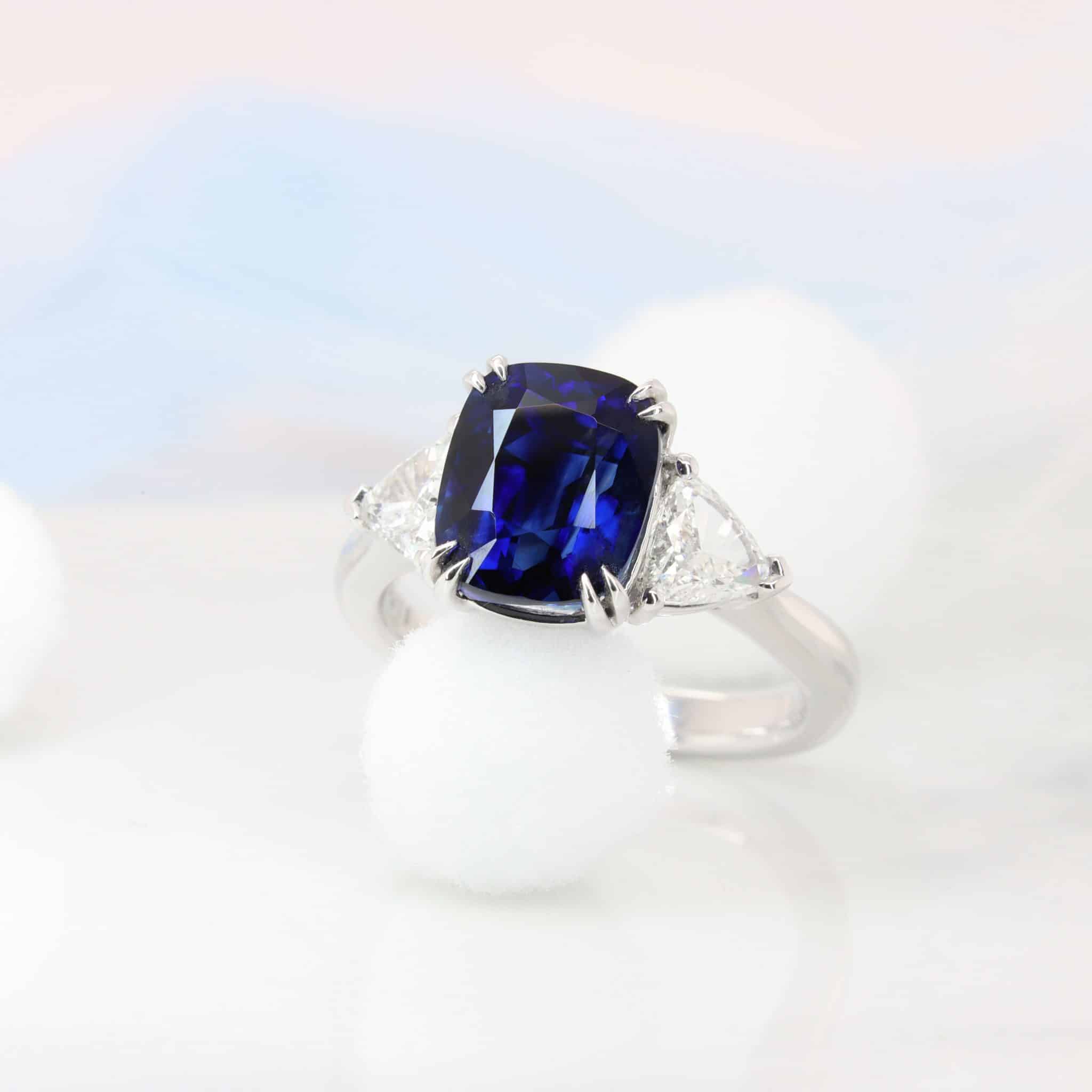 Customised Engagement Ring
This engagement ring, features an unheated royal blue sapphire ring vivid and elated in appearance. Many favours this gemstone primarily because of the radiant shade of blue, that feels deeper than the sea. This oceanic gemstone gives a surreal experience to the onlooker. The sapphire altogether has an even colour; when you move the ring, the blue radiates with a high saturation of a hue.
At GIOIA, we look for various aspects of the gemstone for fine quality. According to us, the perfect gemstone has a vivid colour, high clarity, and magnificent luminosity. Apart from the charismatic design, this ring manifests a rich blue hue, excellent clarity and brilliance. The elegant composition of this sapphire ring is carved on the surface. Just as eternal love exists between two lovers, this ring is custom-designed with rare treasure gems that will last an eternity. This engagement ring completes your phenomenal event through its perfection.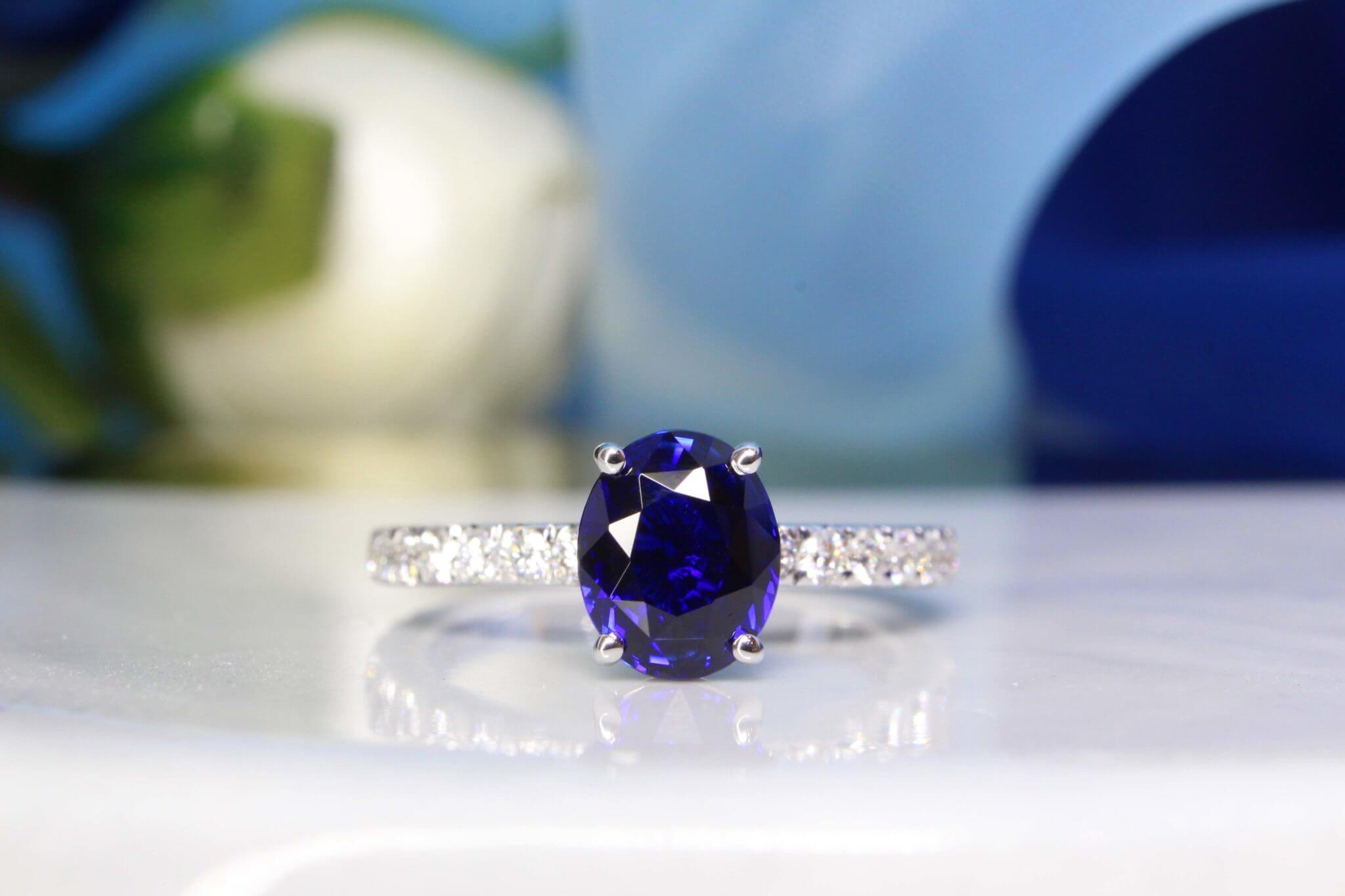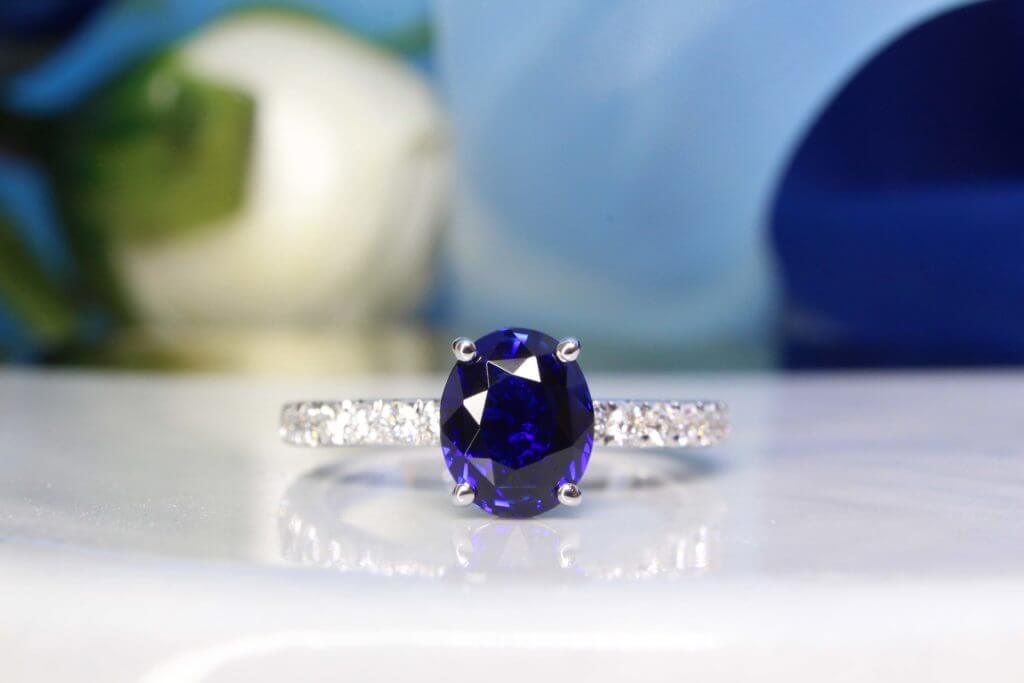 Vivid Blue Cornflower vs Royal Blue Sapphire
Beauty is in the eye of the beholder
As lovely and sought-after as it can be, it might not be your favourite shade in royal blue. The terms "cornflower blue" and "royal blue sapphire" describe different shades of blue in gemstones, particularly sapphires. The primary differences between the two are in their colour and the intensity of that colour.
A specific shade of blue, known for its medium to light, bright, and vivid blue colour, is cornflower blue. It resembles the colour of a fresh cornflower, which is a type of wildflower.
Cornflower blue sapphires typically have a light to medium tone, often with a slight violet or lavender undertone.
The term "cornflower" is used to describe this colour because it closely resembles the bright blue petals of a cornflower, also known as Centaurea cyanus.
Cornflower blue sapphires are highly prized for their vibrant, calming, and appealing colour.
It might not have the deep and strong saturation like royal blue shade. The light to medium tone which allows more return of lights and brilliance reflects more sparkle and fire.
Some may prefer cornflower blue for its bright and cheerful charm, while others may be drawn to the deep and regal allure of royal blue sapphires. Both shades of blue sapphires have their unique beauty, and the choice ultimately depends on personal taste and personality.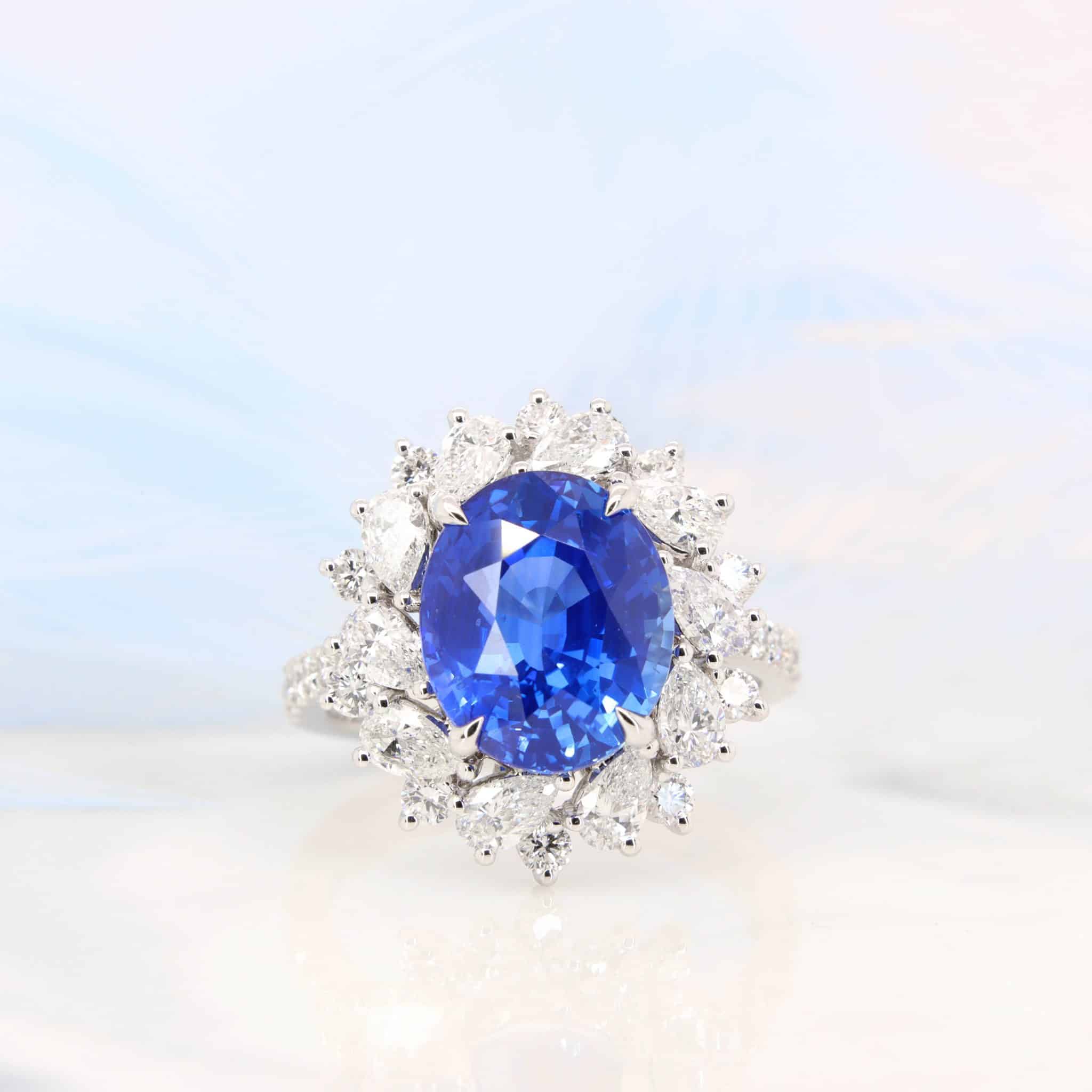 In Conclusion
Note that 'royal blue' is not considered for all dark blue sapphires, and 'cornflower blue' is not considered for all pastel blue sapphires. The colour may vary from one stone to another. Gemologists and jewelry experts often use various grading criteria to assess the quality of a sapphire's colour. Stringent checks including factors like hue, tone, saturation and stabilisation in colour. However some might not have experience nor stringent standard in the grading of the true royal blue shade.
When purchasing a royal blue sapphire or any sapphire, it's advisable to consult with a reputable gemologist or local jeweller. This ensure that you are getting the desired quality and value for your investment.