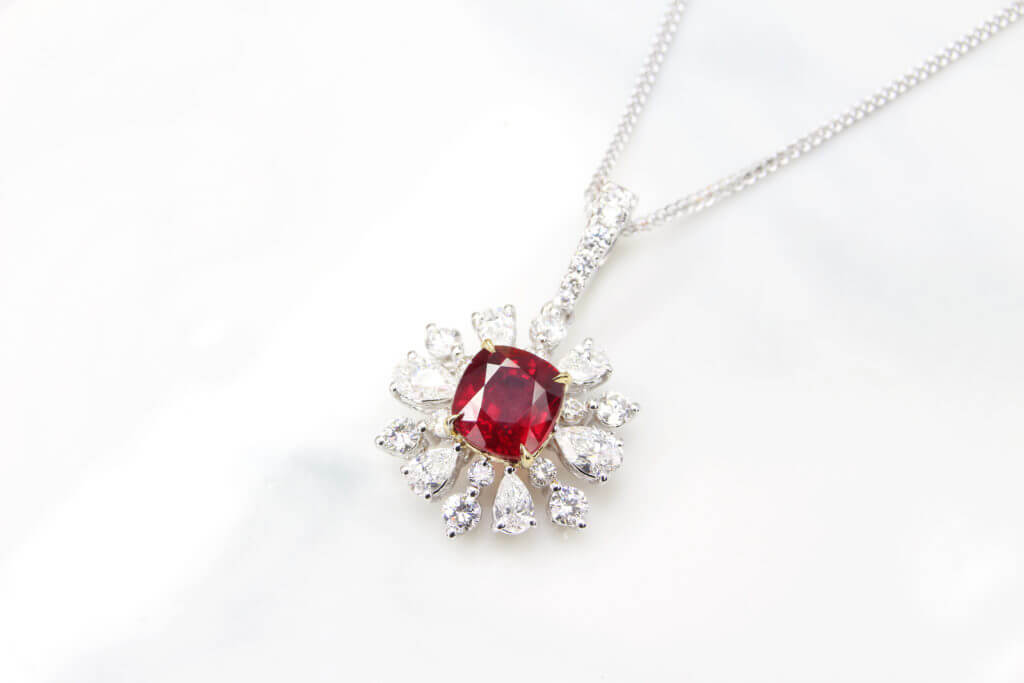 Pigeon Blood Ruby Pendant Jewellery
If you are looking to add sophisticated pendant jewellery to your wardrobe, then this is the perfect ruby pendant jewellery to invest in. This design features an unheated pigeon blood ruby that exhibits an intense vivid red shade, with a high level of saturation. In the best quality ruby shade, the gemstone has no overtone of orange, pink or brown.
Pigeon Blood Ruby Gemstone
If we take a look at the overall market perspective, just 20 percent and below of fine quality rubies are considered to fall under the GRS-type, "Pigeon Blood Ruby". It is believed that the shade of the blood that oozes out of the nose of a dead pigeon is what matches this gemstone. Though the description may sound a bit intimidating, this shade is one of the most sought after in the world of gemstones. This is simply the best shade of the ruby, recognised worldwide by jewellers and experience gemstone collectors. 
Customised Pendant Jewellery
This ruby pendant jewellery features pear-shaped and round brilliant diamonds surrounding the central gem. The frame is set in yellow gold providing a touch of warm tone that holds the ruby, making it a magnificent jewel of its kind. Featuring the finest ruby and diamond, this customised jewellery is bound to be worn for generations. The bold and brilliant design resembles more of a luxury gem flower lending it an heirloom appeal.
We work closely with our skilled craftsmen at GIOIA in transforming individual pieces into exceptional pieces of jewellery art. Elegant and classic, this stylish ruby pendant is polished to a brilliant shine. The alluring pendant suspends from a diamond-lined bail which helps you secure it to a chain. The eye-catching design is bound to grab the attention of everybody around you.