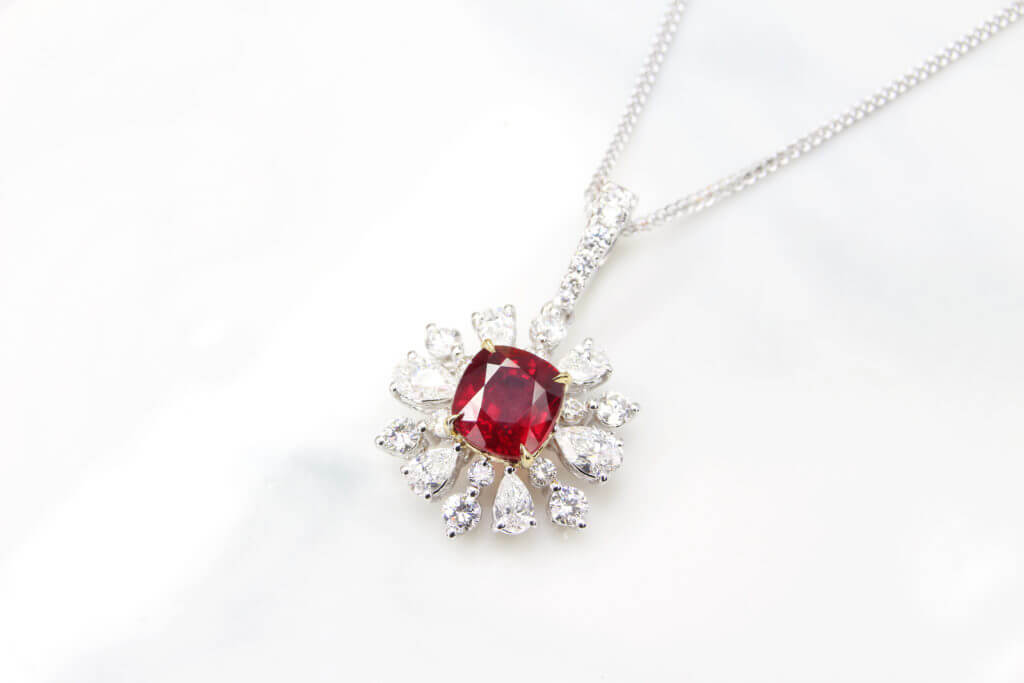 Indulge in the allure of sophistication with our exceptional pigeon blood ruby pendant, a masterpiece destined to grace your wardrobe with undeniable opulence. Not an ordinary ruby pendant jewellery; it's a bold investment in luxury that transcends the ordinary.
Pigeon Blood Ruby Pendant Jewellery
At the heart of this exquisite design lies an unheated Pigeon Blood Ruby. An exceptional gem that defies convention with its intense vivid red hue, boasting a saturation level that sets it apart. Unlike its counterparts, this ruby showcases the pinnacle of quality – no traces of orange, pink, or brown overtones. This is the epitome of ruby perfection.
Pigeon Blood Ruby Gemstone
Venture into the exclusive realm of the Pigeon Blood Ruby, a classification representing a mere 10% or less of fine quality rubies in the market. Named for its resemblance to the freshly spilled blood of a pigeon. However, this distinctive shade is not just a colour; it's an experience. Coveted by jewellers and seasoned gemstone collectors worldwide, this shade is the pinnacle of ruby excellence.
Customised Pendant Jewellery
Our customised pendant jewellery elevates the Pigeon Blood Ruby to new heights. Nestled within a frame of pear-shaped and round brilliant diamonds, the central gem takes center stage. Set in radiant yellow gold, exudes a warm tone that enhances the magnificence of the ruby, creating a timeless masterpiece. A true fusion of tradition and modernity, this bespoke fine jewelry is destined to be cherished for generations.
Fine Jewellery
Collaborating closely with the skilled craftsmen at GIOIA, we transform individual pieces into extraordinary works of art. The bold and brilliant design of this ruby pendant resembles a luxurious gem flower, infusing it with an heirloom appeal that transcends time. Polished to a brilliant shine, the pendant gracefully suspends from a diamond-lined bail, ensuring all eyes are drawn to its captivating design.
Elegant, classic, and undeniably stylish, our Pigeon Blood Ruby Pendant is more than just jewelry; it's a statement. Secure it to a chain and watch as the world around you becomes captivated by the exceptional craftsmanship and unparalleled beauty. Dare to adorn yourself with a jewel that goes beyond the ordinary – a Pigeon Blood Ruby Pendant jewellery that defines luxury in its most enchanting form.