The rarest and most valuable, among the sapphire, known as Padparadscha Sapphire. Name after the colour of lotus blossom, an unusual colour between pink and orange. A unique colour tone, of orangy-pink or pinkish-orange gemstone. The exact colour is debatable, as it exhibit different colour shade at certain angle.
Do not be confused by the pink sapphire with padparadscha sapphire. There is a distinct colour shade of pinkish-orange in padparadscha comparing to pink sapphire with violets purple shade.
Value in Padparadscha Sapphire
Value and price of padparadscha, varies on the size and quality of the gemstone. Inclusions can be easily identified in a padparascha with pastel colour tone. Cloudiness in a padparadscha will look dull in colour and loss in its brilliance. They are commonly heated due to the extremely scarcity from the mines of Sri Lanka, Madagascar and Tanzania.
The feminine pink sapphire is indeed one of the unique attractive shade for jewellery. However the price value of padparadscha sapphire is a premium above the pink sapphire for its rarity.
Heat enhancement, improve the colour saturation and minimise inclusion in the gemstone. However, do take note that other enhancement to achieve a padparadscha-like colour, such as diffusion treatment with beryllium are not regarded as natural padparadscha.
Padparadscha Sapphire Jewellery
Padparadscha Engagement Ring
Engagement ring with padparadscha sapphire, custom design with swirling floral pave diamonds surrounding the centre gem in rose gold. A statement engagement ring for a lifetime with this non-traditional halo diamond design.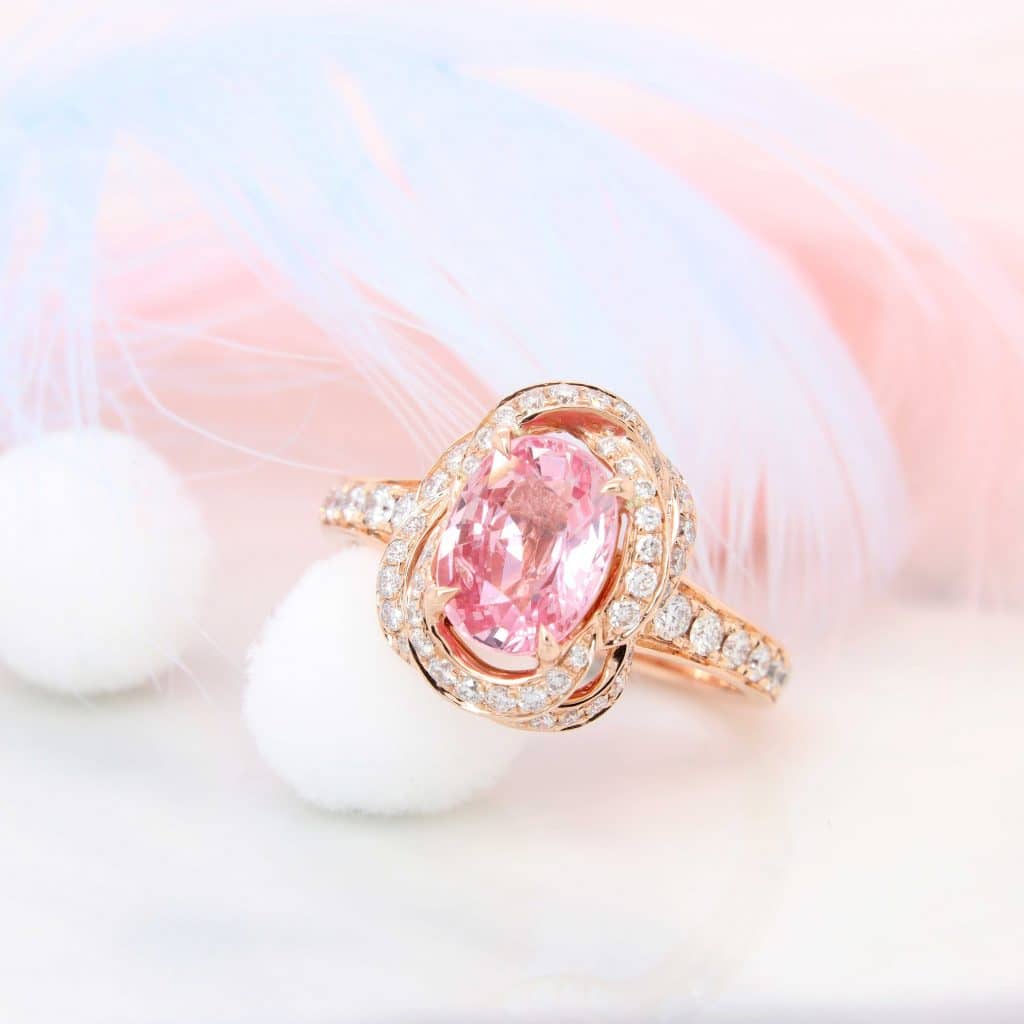 A combination of both Pink sapphire (Romance and Passionate love) and Orange sapphire (Sunshine and Joy). This exotic gemstone, is popularly custom made to many red carpet fine jewellery worn by celebrities, source by many gemstone collectors and jewellery lovers. Customised an engagement ring with this beautiful gemstone is something extraordinary and one-of-a-kind.
Padparadscha Earring Stud
Innovative design with pair earring in yuan yang halo diamond design. This earring stud make a great impression with its mismatched colour; royal blue sapphire and padaradscha sapphire.