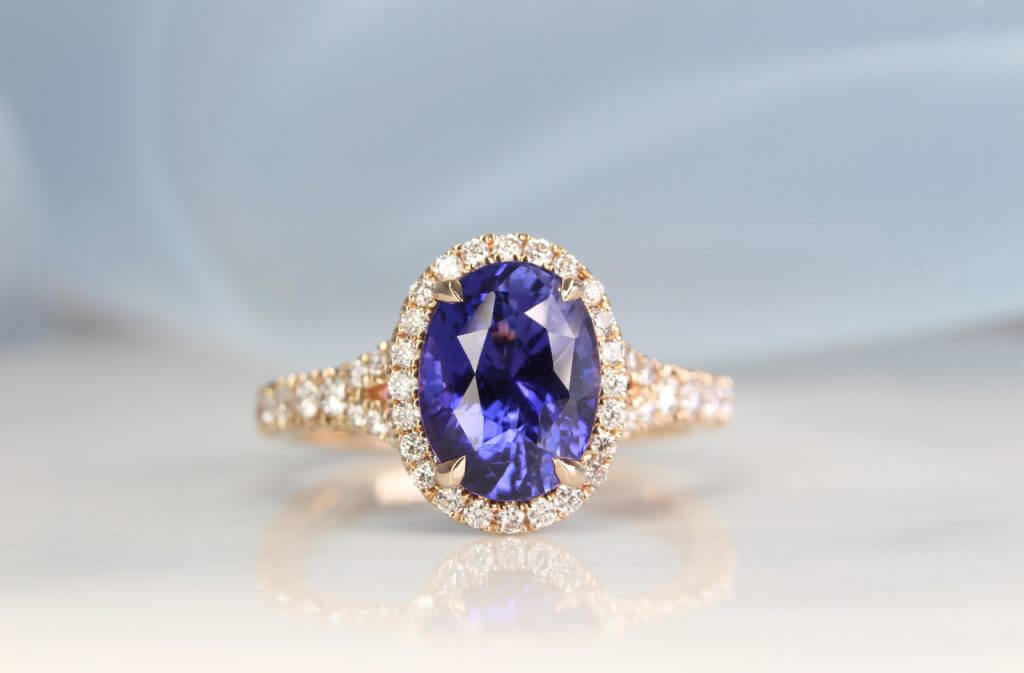 Sapphire Colour Change Blue to Violet Purple
Halo with Diamond Ring with Colour Change Sapphire
This truly spectacular push present ring features a centre oval-shaped sapphire colour change gem. Crafted in 18K (750) rose gold and surrounded by round brilliant diamonds. It is accompanied by a split "Y" band elaborated with micro-set diamonds. If you have an ardent desire to own a sapphire, then this massive 2.0-carat blue beauty is what you need to add to your collection.
Firstly, the violet-blue hue comes in strong in this design surrounded by a halo of diamonds. Visually create larger sizes look to the sapphire colour change. Secondly, the halo diamond enhance the colour shade and brilliance of the sapphire gem. The constant companionship of the rare gemstone and the diamonds deliver an unparalleled brilliant sparkle.    
Sapphire Gemstone
This design features an unheated sapphire colour change. It is rare to find a good quality gemstone as they are high in demand and very rare to find. The clarity and colour are enhanced with heat treatment. The gemstone is directly cut and polished in its original state where it is not heat-enhanced. The gemstones you find in the market are usually 80% heated and 20% unheated. This unavailability and huge demands make unheated sapphires rare and a lot more precious. 
In light of the COVID-19 situation, the supply of quality sapphire such as this sapphire colour change is even lower. Moreover, the quality of the sapphire gems is lower and the changing effect from blue to violet-purple is less common. Therefore, it is as important to purchase a sapphire colour change with a reputable gemology certification.
Push Present Jewellery with Sapphire Colour Change 
This design was customised by a gentleman for his wife as a push present jewellery after the birth of their newborn baby. His lady is immensely in love with the violet-blue shade of this gemstone with a colour change phenomenon under different lighting. This sapphire colour change ring with "Y" band on the side makes a classic yet stylish choice.