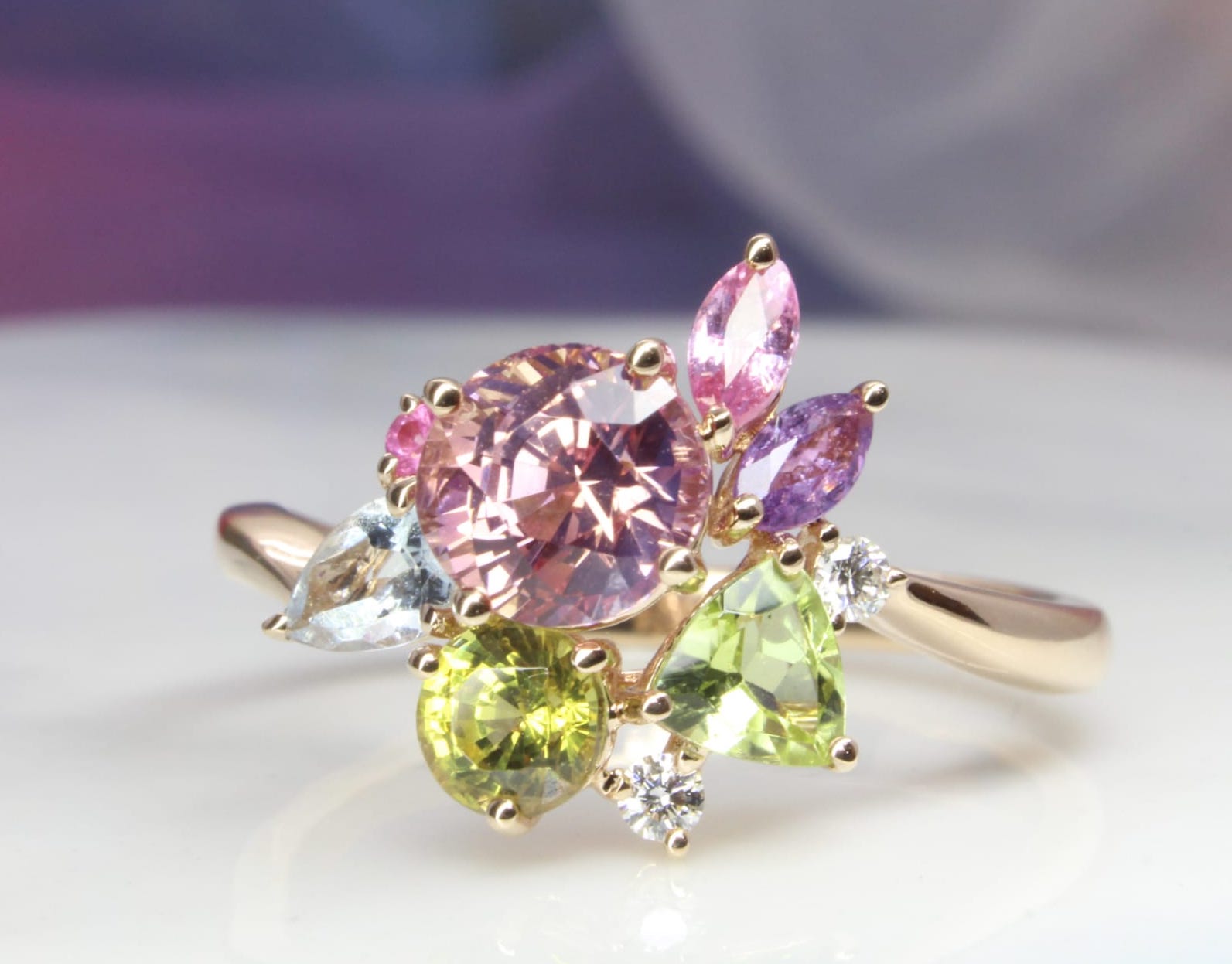 Customised Cluster Gemstone Ring
Diamond, Peridot, Aquamarine & Sapphire Multi-Gemstone Cluster Ring
You will treasure the colourful, vintage-inspired details of this marvellous cluster gemstone ring. Crafted in rose gold, this cluster ring features multiple coloured gemstones. A stunning look is created with this ring consisting of Diamond, Peridot, Aquamarine and Sapphire.
Sculpted in a unique floral pattern, this captivating design is surely going to steal the heart of your loved one who is worthy of all the attention and love. Certainly, a personalised customised ring, designed with the gentleman as a surprise gift for this wife.     
Cluster Gemstone Family Ring
This eye-catching and elegant design was custom made by a gentleman for his beloved wife. The arrangement of coloured gemstones and diamonds is meant to appeal to her romantic taste. At GIOIA, we are dedicated to listen and understand the finest details of our clients. We have a series of discussion with the gentleman who is looking to design a cluster ring with a wide selection of accompanying setting coloured gemstones.
In this cluster gemstone design, each individual gem is set onto each casing which holds them firmly. Design to set it such that it flows around the main gemstone, this colourful ring is truly a treat for the eyes.
With different gemstones available, cluster gemstone ring can be designed with family birthstones. Birthstone jewellery can be designed and crafted into earrings or pendants. Creating a modern family heirloom jewellery for generations to come.