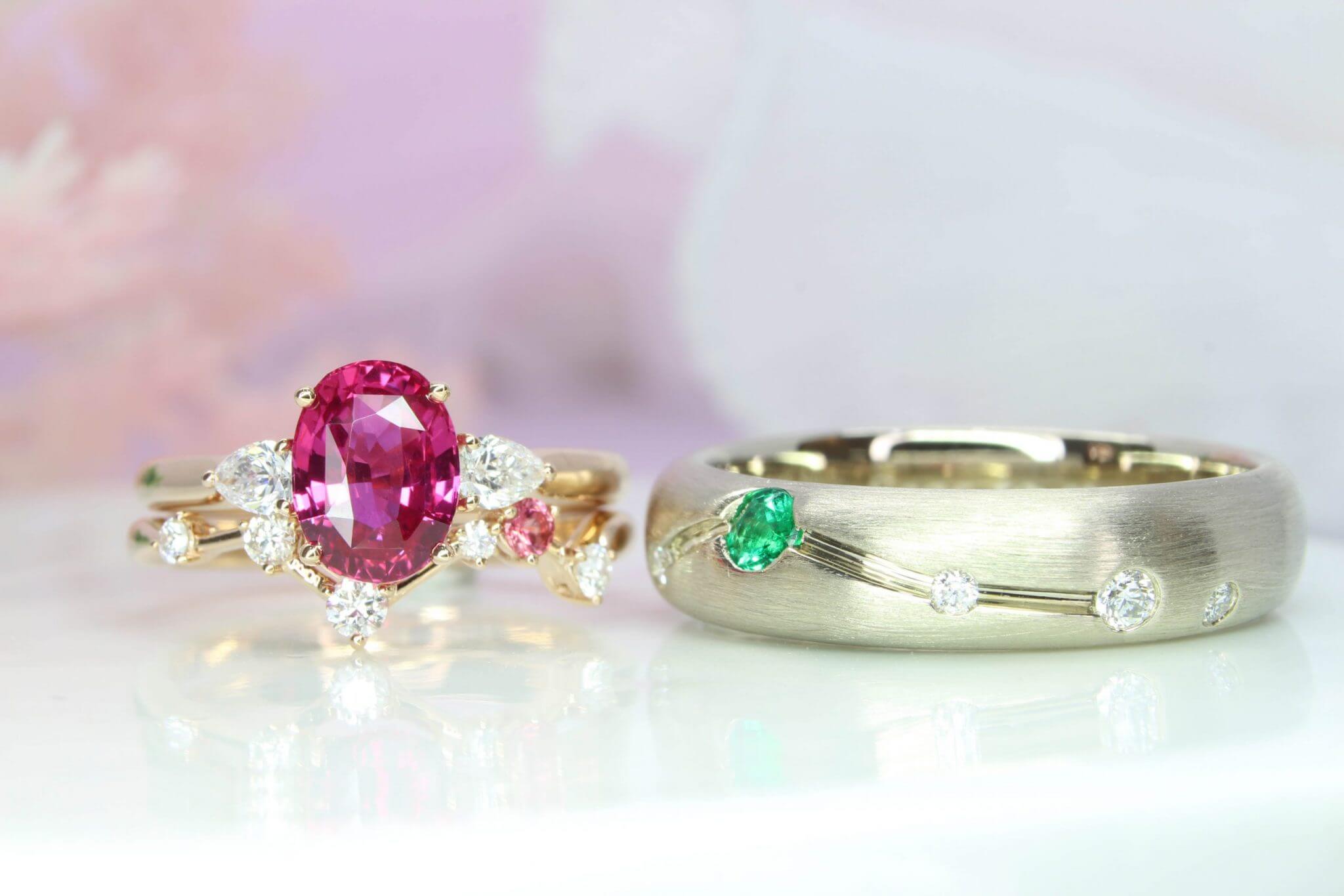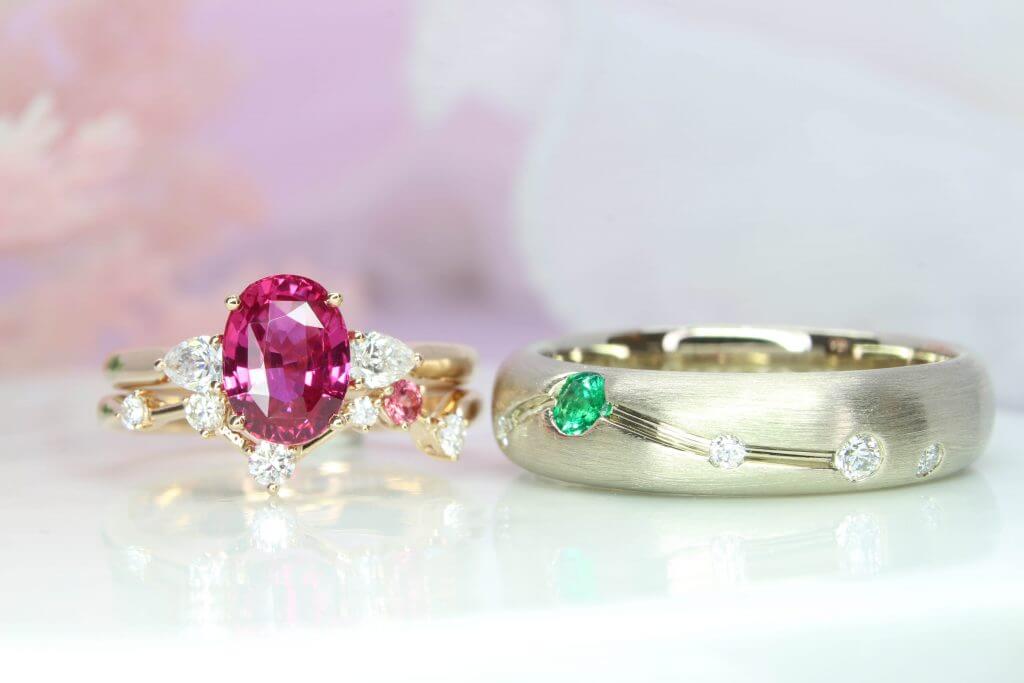 Constellation wedding rings hint that both your meeting with your loved one was truly written in the stars. These wedding rings are absolutely unusual and truly wonderful. Elegantly and beautifully designed with the presence of both the lovely couple. These constellation wedding rings stand out as they were delicately crafted with a personalised touch. We customised them to signify many precious moments the couple lived and cherished.
Constellation Wedding Bands
The couple customised their wedding bands in a constellation pattern, representing the stars with precious, sparkling gemstones that align with the colour scheme of the engagement ring. Featuring the stars in the lovely night sky seen from the exact time and remind the couple of such memorable moments. The wedding band can stack perfectly with the engagement ring, creating a unique design in itself. The ring looks beautiful on its own for daily wear and also mounts beautifully when stacked.
Customised Engagement Ring
The engagement ring features oval pink sapphire that has excellent brilliance and sparkle. They shine from all angles. The pink sapphire used for the lady's ring has a slight tinge of violet. The saturation is on the higher side thereby making it a unique gem having an exceptional shade of pink. At GIOIA, we designed the sapphire engagement ring to sit in between two pear-shaped diamonds. The customised setting of this trilogy ring in rose gold renders the design brilliant. Framed with both couple's initials on the side of the trilogy ring, giving it a personal touch.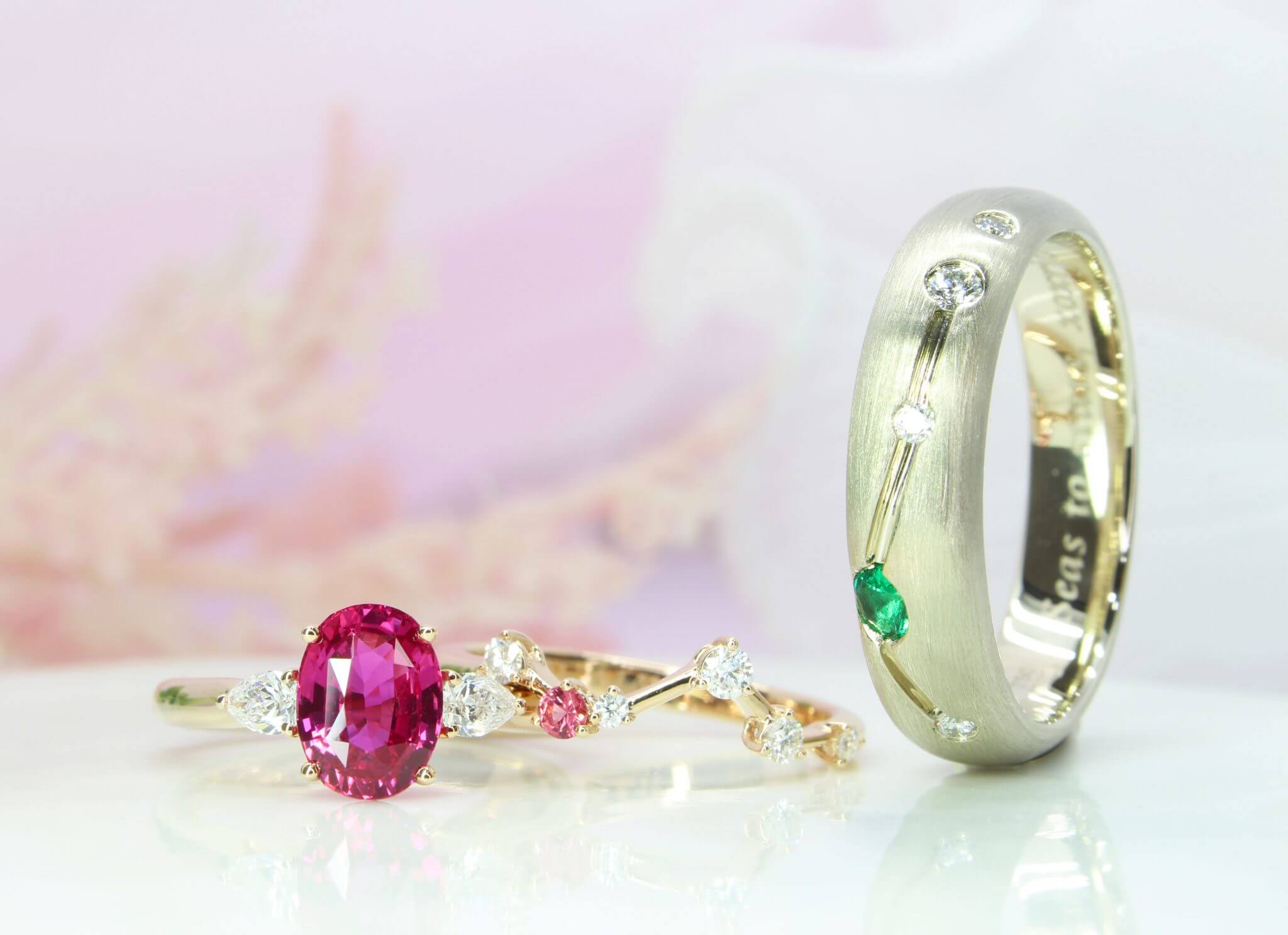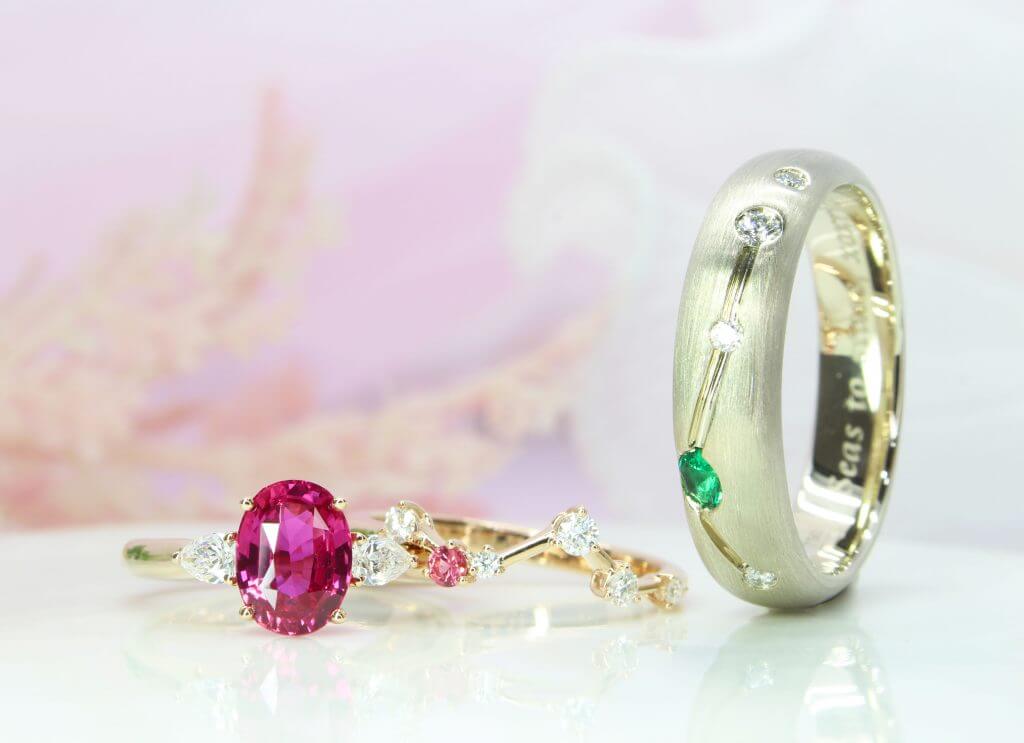 Constellation Wedding Rings with birthstones
Various gemstones have been in use ever since the Hellenistic and Roman eras and continue to be associated with modern astrology. Precious stones are known to have an impact on your zodiac sign or birthstone.
Design with the lady's sapphire birthstone and gentleman's tourmaline birthstone. This cancer constellation proposal ring is no doubt a splendid choice to make. Importantly a wedding proposal ring does not necessarily be a solitaire or diamond ring. It looks amazing on its own and beautifully complements another ring when stacked.
The intense hues of the precious gems on this rose gold ring sparkle as sterling tops and can perfectly sit like a crown on her finger. This personalised ring, clearly affirms your commitment, to reserve a special place in her heart.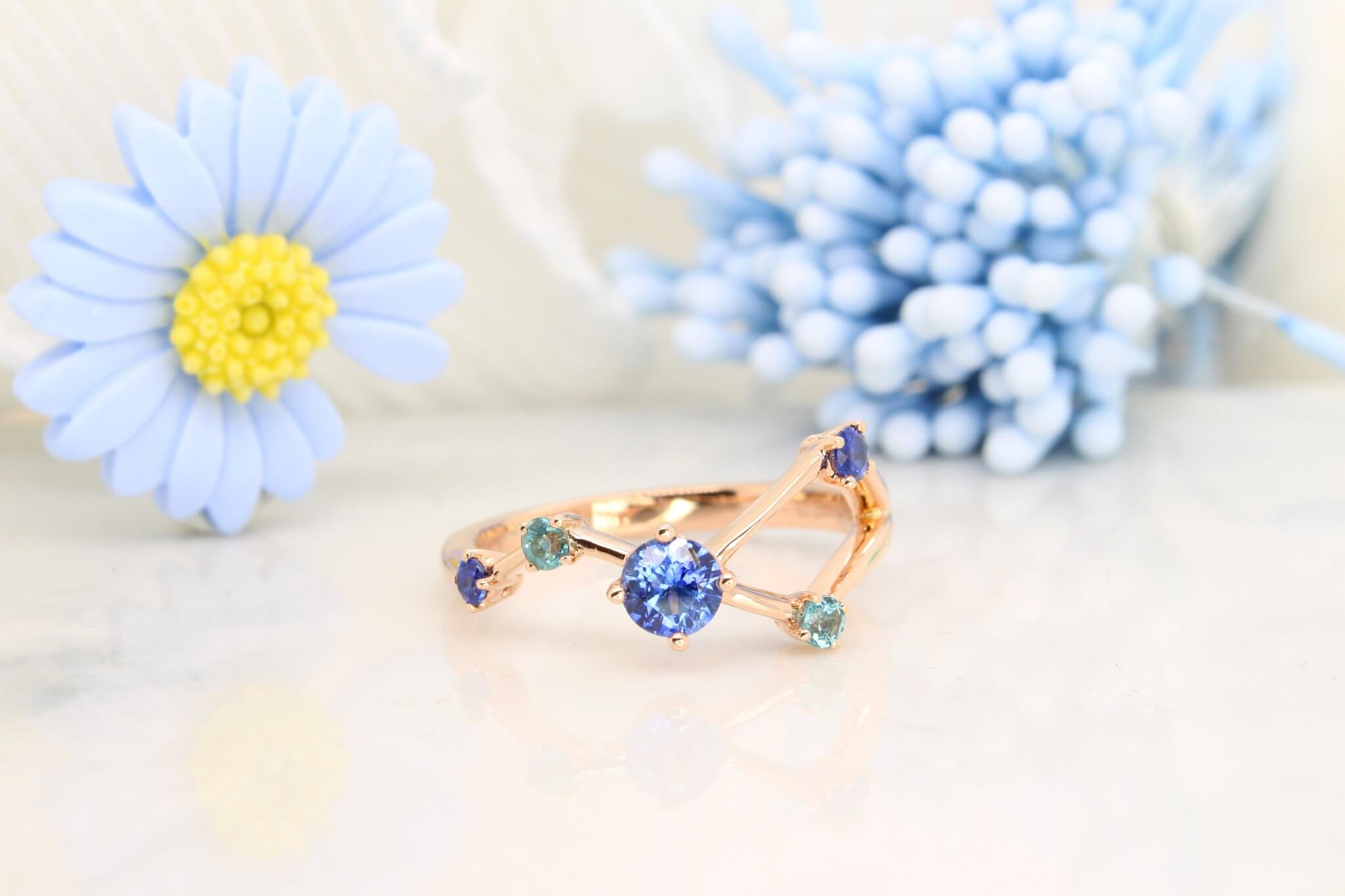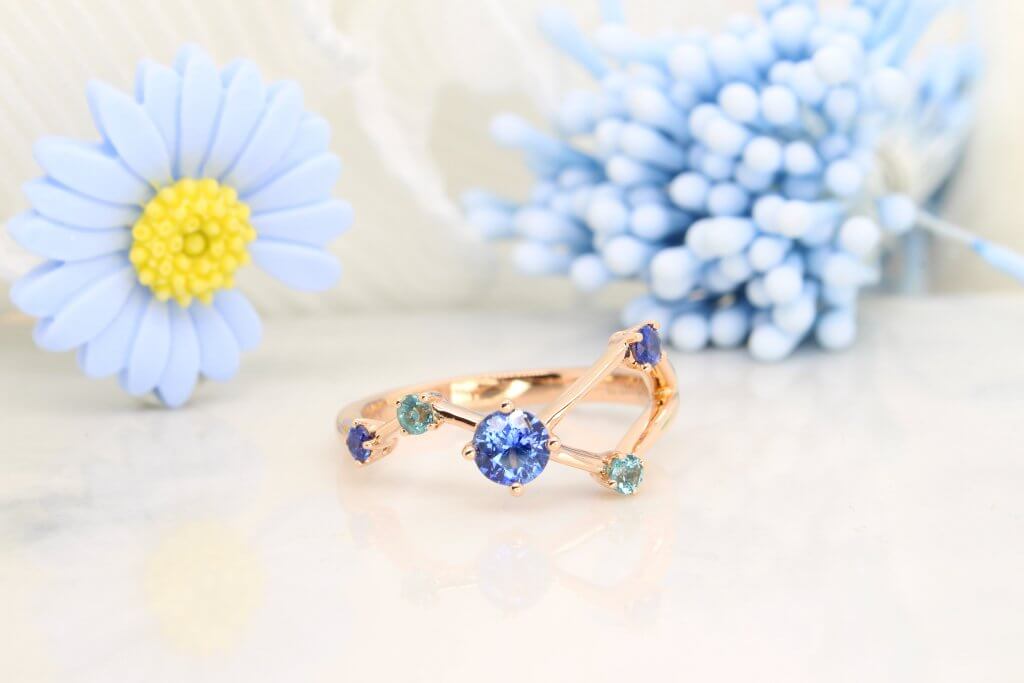 Constellation Jewellery
Constellation jewellery for daily wear or gift it to your mother on her 50th birthday. Sophisticated design with personalised birthstone or zodiac sign can be worn by anyone regardless of their age. Moreover, it can be a customised pendant or bangle if you are not a ring person.
Last but not least, finding a unique piece of statement jewellery that represents you is never a challenge. At GIOIA we have an array of options available, together with our creative team, each bespoke jewellery exemplifies incredibleness.