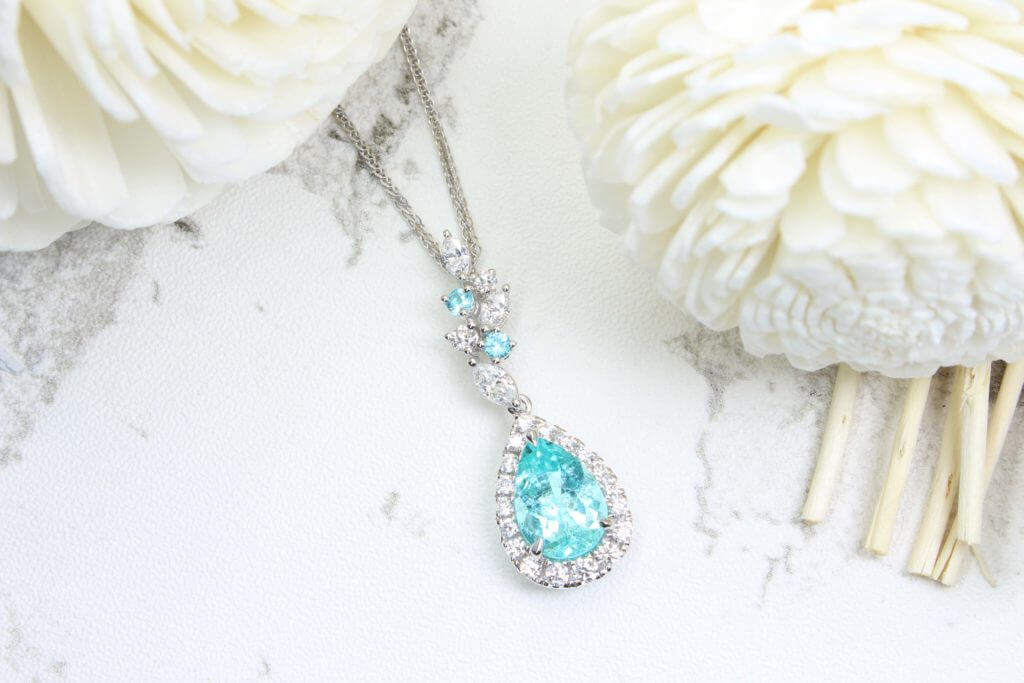 Paraiba Diamond Pendant with Marquise & Halo Diamond
This exquisite Paraiba Tourmaline pendant is an artful and elegant choice. It features a striking Paraiba tourmaline with bright neon and green hue. The vivid shade makes it surpass all other shades available naturally in the tourmaline family and as well as in other gemstone groups. Its unique shade distinguishes it from the family of tourmalines. This Paraiba diamond pendant features a chandelier design with cluster round diamond and Brazil paraiba tourmaline.
Paraiba Tourmaline
Paraiba gemstones are usually heated and the shade appears drastically different upon heat treatment. The enhancement occurs in the temperature range of 500 to 600 degrees Celsius. Tourmaline is rich in manganese and copper and the colour of the gemstone can easily be modified from dark blue, violet and purple to turquoise shade. The degree to which the colour changes is strongly dependent on the trace elements present in the gemstone. It is also strongly influenced by the absorption spectra of the precursor metal. The estimated copper to manganese ratios and the measured absorption spectra help in determining whether the tourmaline gemstone is eligible for heat treatment or not. 
Paraiba tourmaline was discovered only a couple of decades ago. This gemstone is treasured for its rare occurrence. It is found especially in Brazil. The shades with glowing neon can cost three times more than the price of a diamond. The increasing popularity of Mozambique Paraiba has seen a surge in the price touching $6000 to $8000 per carat. 
Customised Pendant Jewellery
This dazzling pendant is pear-shaped and defines sophistication. It was custom designed from a sketch and handcrafted to bear an exquisite style. The blissful gemstones capture the attention with the halo of round diamonds and marquise shape. The striking design also features two round Brazil Paraiba gemstones. The intricate detail finishes the look. This luxury custom-designed Paraiba diamond pendant makes valuable heirloom jewellery that could be treasured for generations. This gorgeous pear shade pendant is framed by shimmering diamonds further adding to its sparkle. The customised design also features cascading floral pattern through which the pendant suspends and completes this exceptional look.