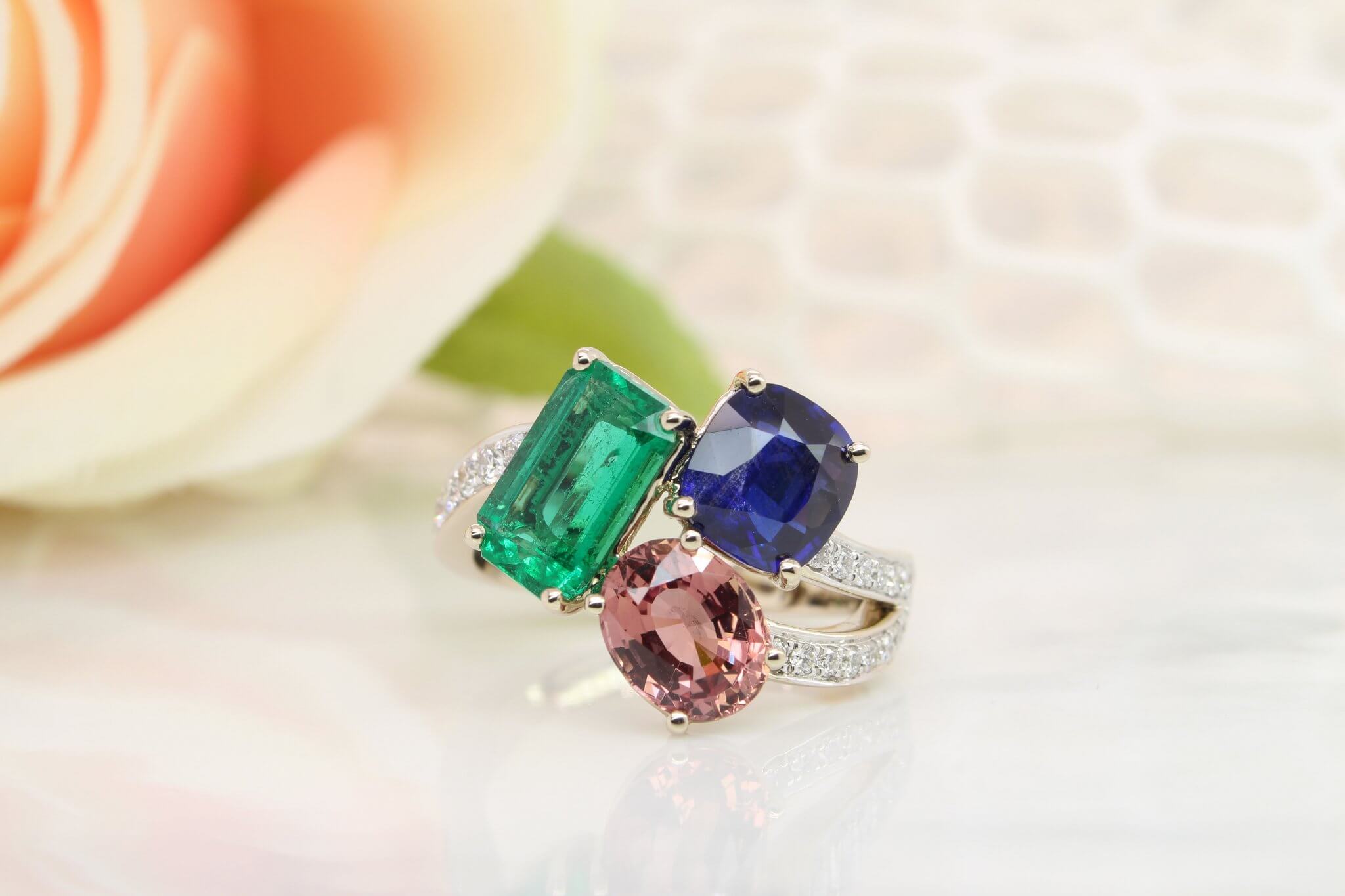 Birthstone Cluster Ring
Heirloom jewellery, customised with family birthstones
The family birthstone ring was customised with notable precious gems, absolutely dazzling and delightful. It is a cocktail of Burma Royal Blue Sapphire, Padparadscha sapphire, and none oil emerald, a treasure trove of rare gems. In fact, there is a beautiful reason hidden this cluster design. It is a family cluster ring that consists of birthstones of both parents and their daughter. Emerald gemstone signifies the daughter's birthstone in this family cluster ring, and both the parents' birth month gem.
Family Birthstone
This customised design consists of three of the rarest and sought after gems. The birthstone Emerald for the month of May, has a mesmerising vivid green shade. Sapphire which does not necessary come in blue colour shade, the orange-pink padparadscha is also dad's favourite colour. Both unheated corundum sapphire for the month of September, is one of a kind.
Above all, this exquisite birthstone ring not only signifies the love of the parents for their daughter but also signifies the special bond that they share. This bespoke family birthstone ring is indeed a sentimental jewellery that take up the most room in your heart.
The design has been completed with an elegant row of pave diamonds on the band and connecting to the three birthstone gems. The shimmering round brilliance diamonds add to the beauty in this expertly cluster ring. This captivating family birthstone ring has been polished to a natural white champagne gold and is certainly a look that the beloved daughter of the couple would cherish.  
Family Statement Jewellery
The overall design is clearly sophisticated with extraordinary gems and holds boundless emotions within the family. A family statement jewellery with three most desirable gems and value to pass it down as heirloom jewellery. This birthstone cluster ring marks the beginning of a family story and is tied to opulence. It will always hold a special meaning for the family that had it customised from us.