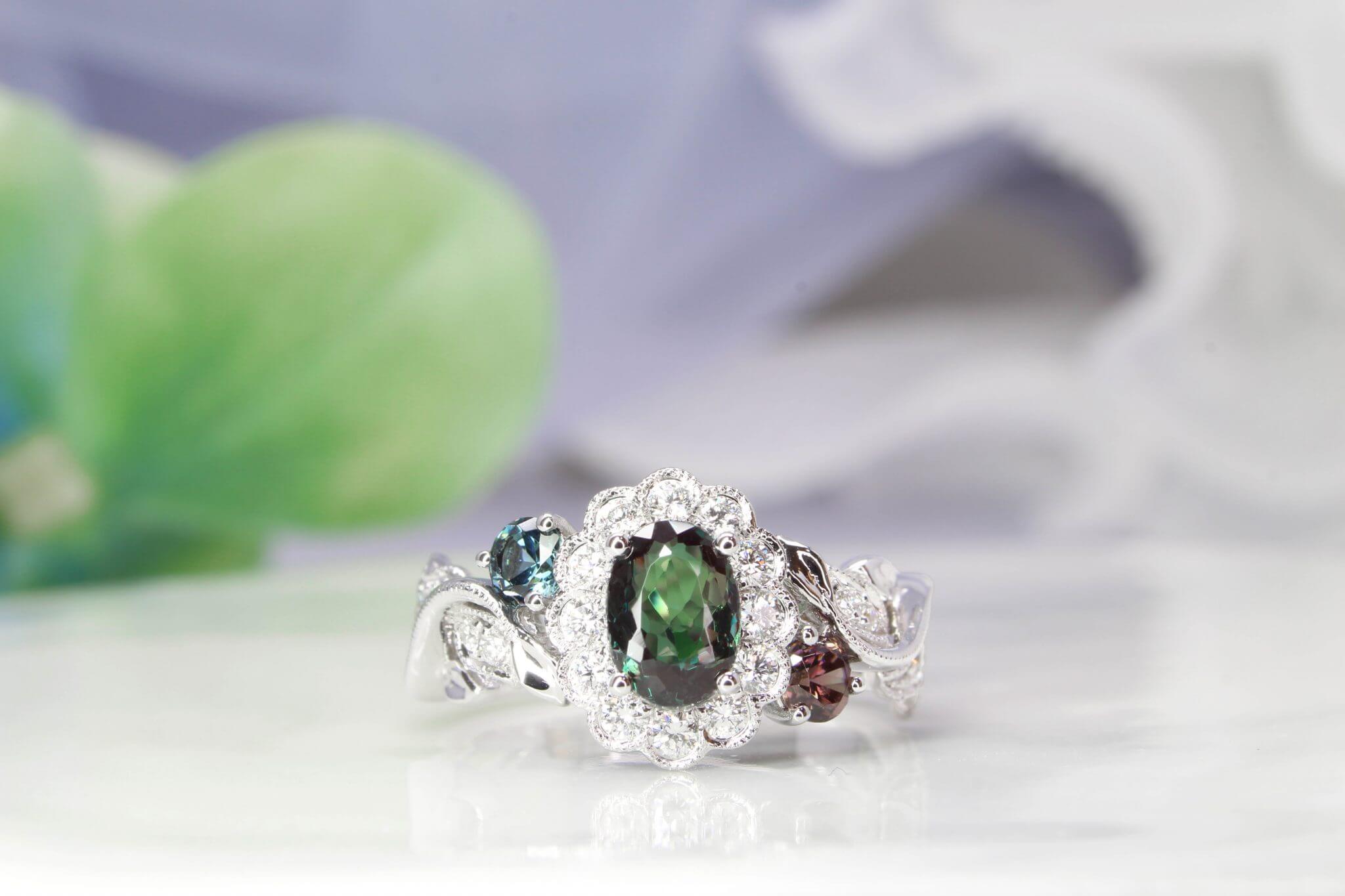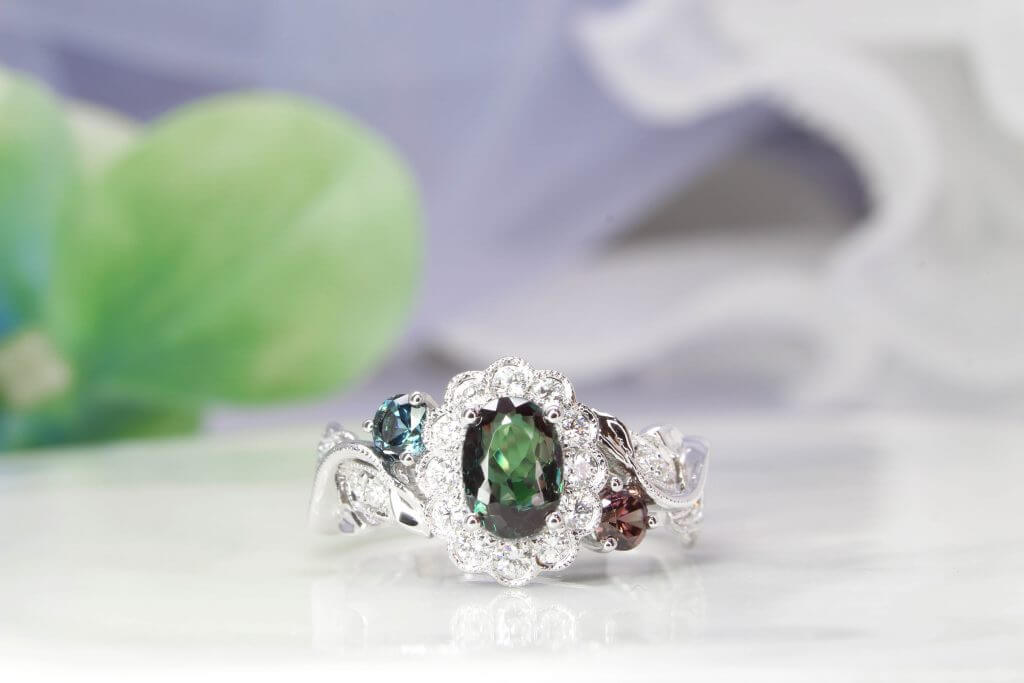 Alexandrite gem is immensely popular for its colour changing phenomenon. The gem changes its colours under different lighting. It appears green under fluorescent light and reddish-purple under incandescent light. Hence it is popular as Emerald by day & Ruby by night. You may not find the stone attractive at first sight. However, it is treasured and appraised by several gem collectors. If you have a thing for rare things, or a unique proposal ring customised with colour change Alexandrite, then you will certainly fall in love with this precious gem.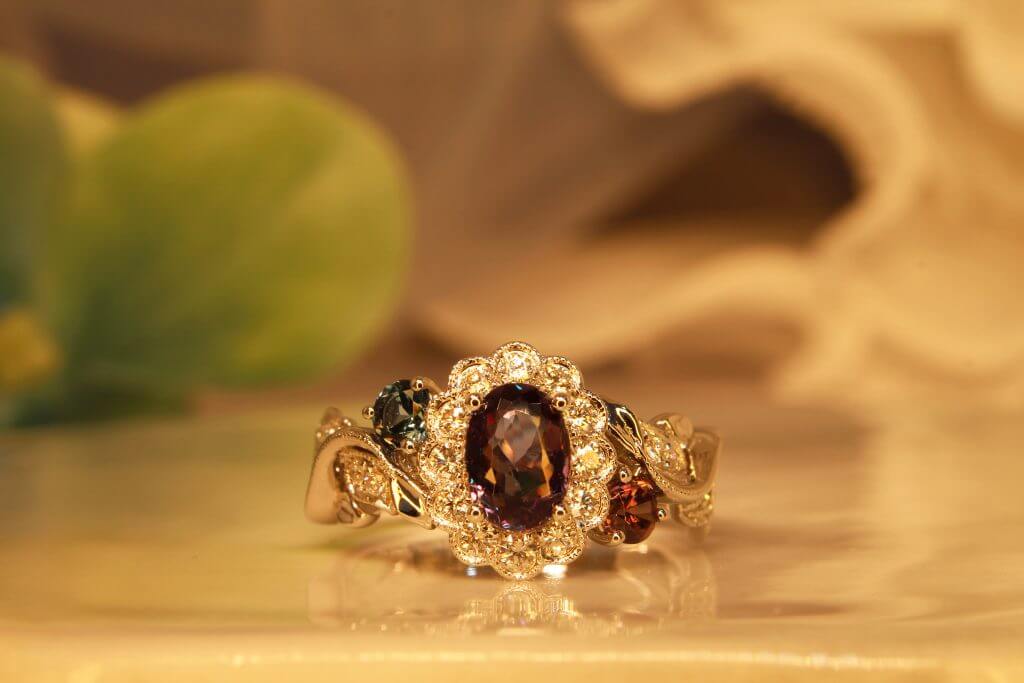 Alexandrite displays a myriad of colours under ambient and natural daylight lighting. The colour range varies between green and reddish-purple. The Alexandrite that we featured is one of the most sought-after gems owing to its rarity and qualities. Alexandrite is the most valuable Chrysoberyl gemstone that is sourced from Russia, Brazil, Madagascar, and Sri Lanka. The per-carat price of fine quality Alexandrite is comparable to or even higher than emeralds and rubies. This is because such precious gems are extremely rare and usually available in only small carat sizes.
Alexandrite Gem – Colour Change
Not all Alexandrite gem exhibit a distinct change in colour. There is a variation from green to reddish-purple. It is quite tough to find quality alexandrite gems these days, especially the ones than change their colour from green to red distinctly. In order to retain their rarity, most of such rare gems are not cut proportionally for retaining the maximum carat weight. At GIOIA Fine Jewellery, we have a variety of cuts and shapes in our collection, you can choose from the oval, cushions. These stones are difficult to source and usually demand additional cutting work to achieve a well-balanced brilliance.
Like all natural gemstones, Alexandrite comes with natural inclusions too. This helps gemologists' distinguish between a synthetic and natural gem. Not all alexandrite stones are transparent. Most of them are cloudy or opaque, due to their inclusion. Alexandrite is the birthstone for the month of June along with moonstone and pearl.
Alexandrite Engagement Ring
Engagement ring with the ladies birthstone has become popular. Although there are pearl and moonstone, alexandrite is a better option as it has a hardness of 8.5 (Mohs hardness scale). Crafted in rose gold, designed with art-deco inspired marquise and round bezel vintage milgrain band. The colour change in the gem and overall vintage look, make this engagement ring unique and one of a kind.
It does not necessarily be the mainstream diamond solitaire ring, a coloured gems engagement ring can be of different birthstone or your favourite colour shade.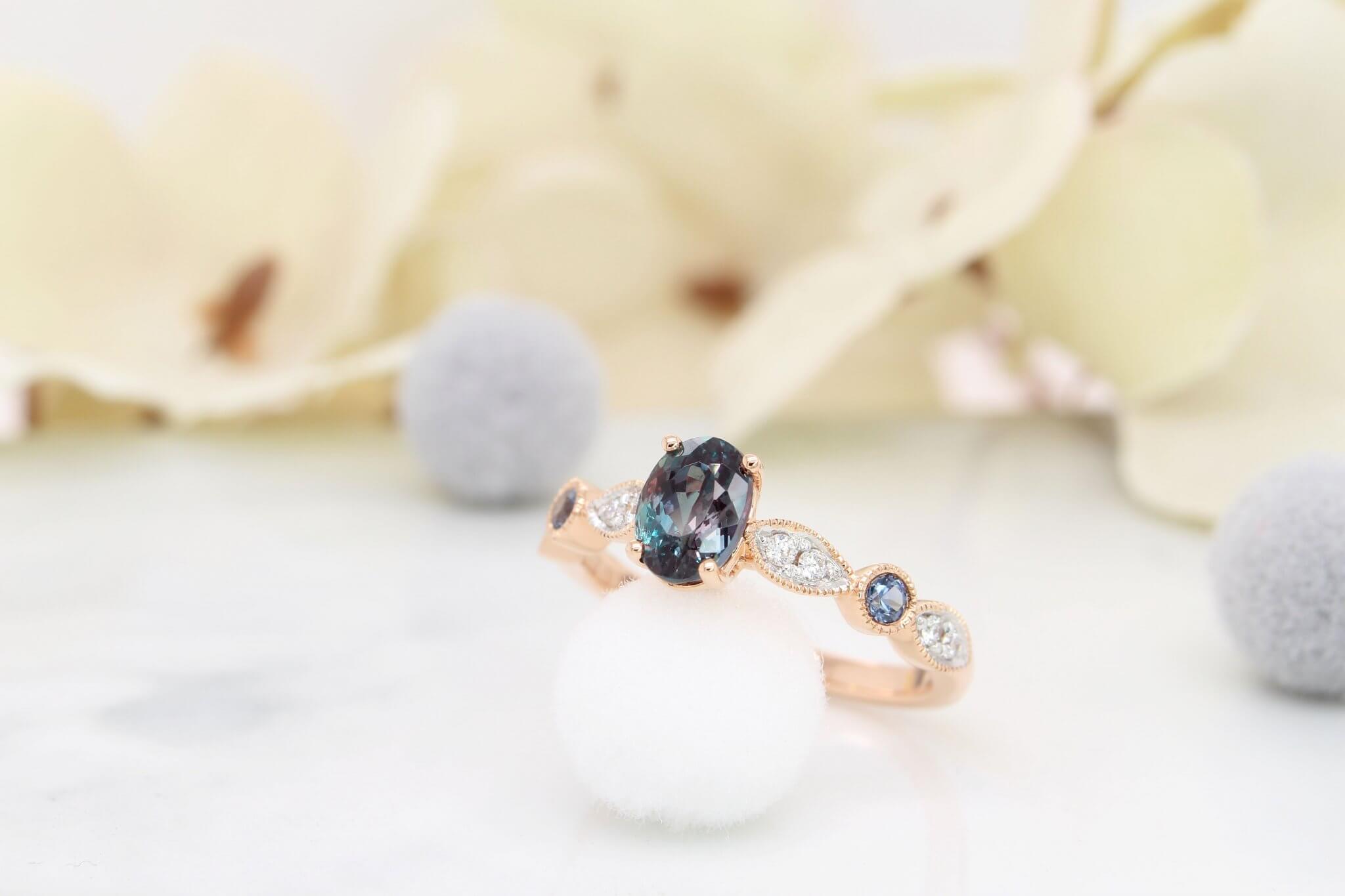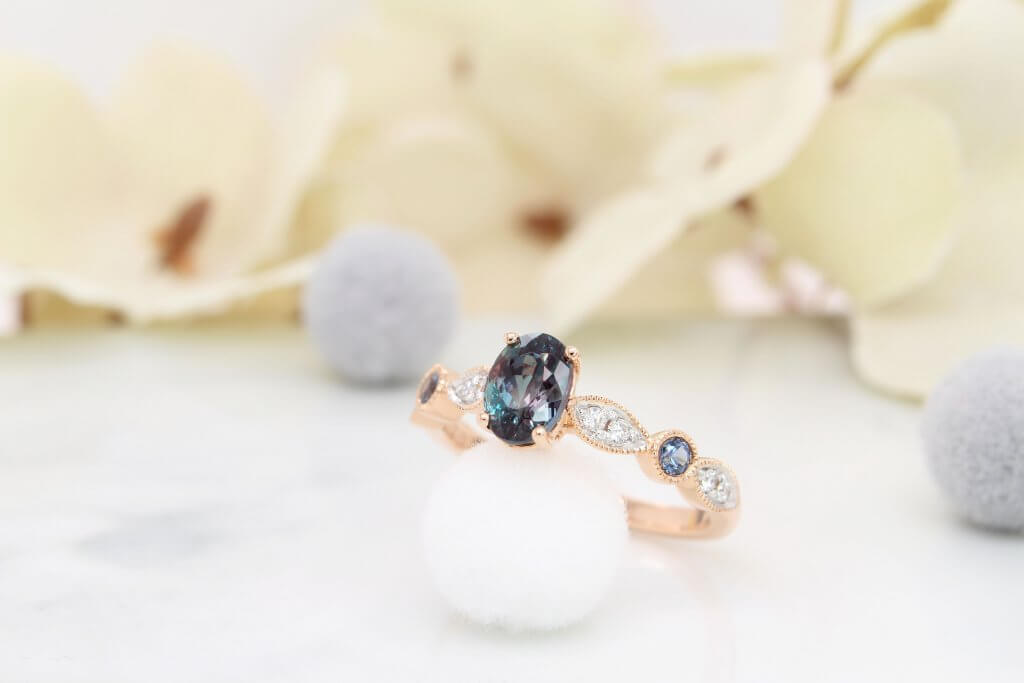 Flora Milgrain Ring
This alluring flora milgrain ring features round spinel gemstones on either side of Alexandrite. The greenish teal spinel represents the Alexandrite under fluorescent light and reddish-purple spinel under incandescent light. The central Alexandrite has halo diamonds set around it so as to resemble a flower. In the process of customised design, we added fine milgrain detailing like floral vines on the sidebands to render a natural theme to the overall design. The round brilliance of diamonds is going to stun everyone along with the perfect amalgamation of Alexandrite and spinel.