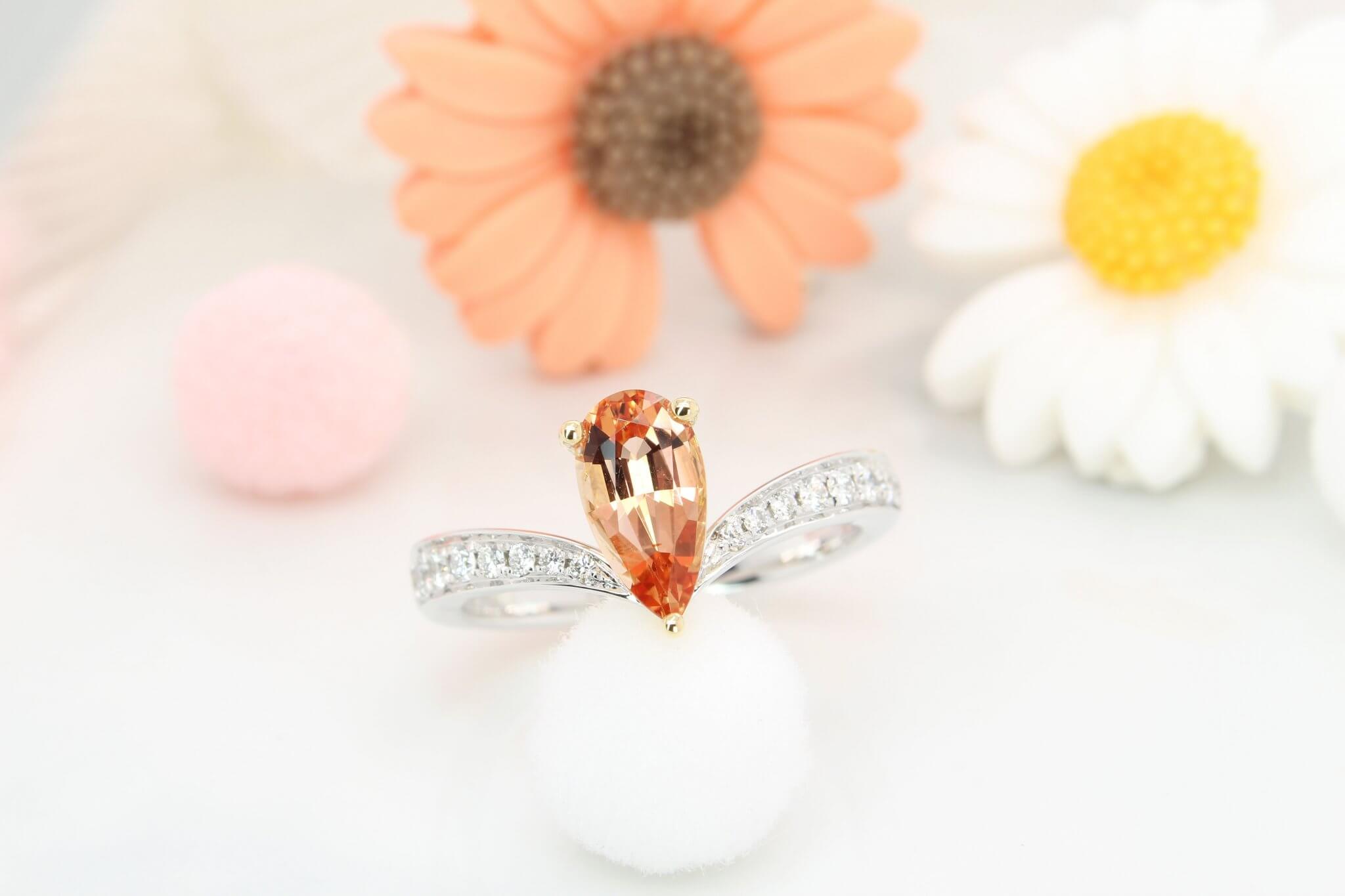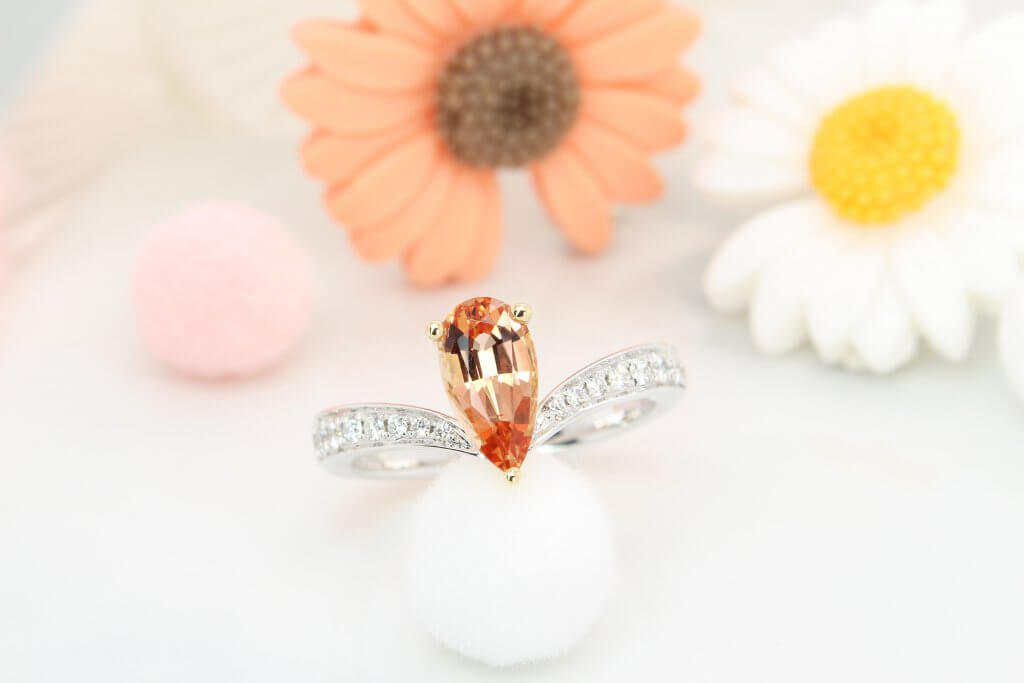 Imperial Topaz a Royalty Coloured Gem
Stunning imperial topaz birthstone ring is sure to arouse interest in the onlookers. The amalgamation of birthstone and diamond accents dazzles and delights. Featuring a tiara design with pave round brilliance diamond in a tapered form outwards to the band. Contemporary design with yellow prongs securing the imperial topaz and white gold band.
Birthstone Jewellery with Sentimental Value
This birthstone jewellery was custom made to celebrate the birth of the couple newborn child who is born in the month of November. Crafted in a timeless design, this exquisite bespoke ring will certainly bring a little bling to every occasion.
Imperial Topaz History
We all know that topaz is one of the common crystal and semi-precious gems that we can find. Moreover, it is quite affordable common in many retailers. Imperial topaz on the other hand falls in an entirely different league. It is a precious variant and is adored even by the Queen of Portugal. It has a unique peachy pink to an orangey golden shade. There was a time when this gemstone was reserved only for royalty and hence it was called the Imperial Topaz.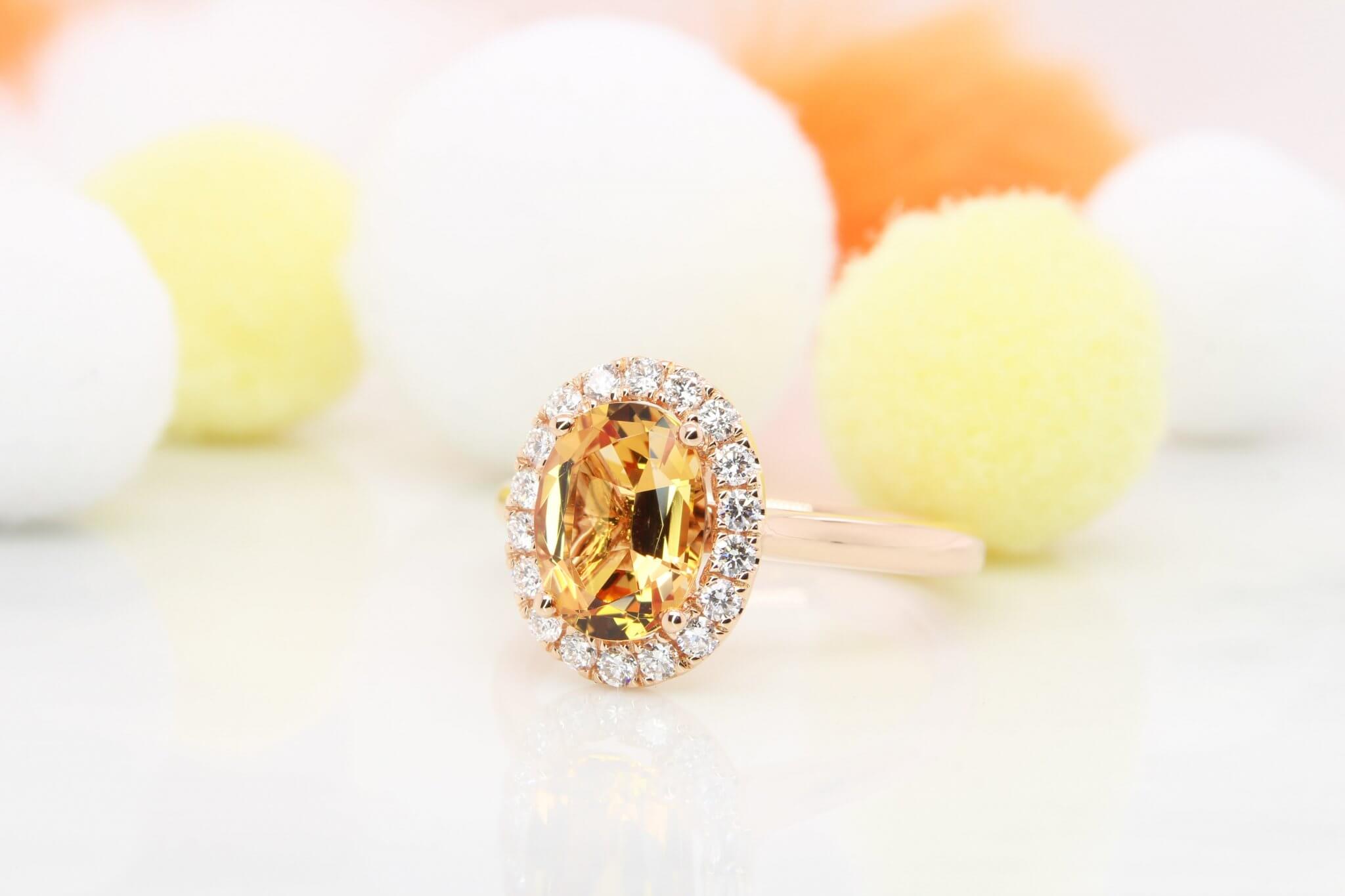 Unique Golden to Peach Colour Shade
The golden-yellow shade can look similar to yellow sapphire or yellow diamond. However, the golden shade is much superior to the yellow. Peachy-pink shade can look similar to rarest of all sapphire; padparadscha sapphire, do not be deceived by its unique colour shade! Peachy pink is one of the more desired colours in imperial topaz.
The shade of Imperial Topaz is indeed versatile. It is a November birthstone just like Citrine. It's just that the golden hue of topaz is much brighter and seems luxurious. This exquisitely crafted ring has been customised with a halo of a round brilliant diamond. The ascent of the diamond is couture to the oval-shaped imperial topaz thereby rendering a unique golden shade exuding extra brilliance. The gem has been precisely cut to showcase the well-defined facet. It undoubtedly has the perfect amount of eye-catching elegance and sparkle.
Cluster Gemstone Heritage with Family Birthstones
Exquisite "Cluster Heritage" family birthstone ring, a true masterpiece that combines elegance, sentiment, and modern design. This captivating ring is crafted with utmost care and attention to detail, featuring a stunning combination of fancy imperial topaz, ruby, spinel, and amethyst gemstones, each representing a unique birthstone for your beloved family members.
This exceptional family birthstone ring is more than just a piece of fine jewelry; it is a cherished heirloom that will be passed down through generations, carrying with it the memories and love shared among your family members. Whether worn on special occasions or as an everyday accessory, this personalised ring will serve as a constant reminder of the unbreakable bond that ties your family together.