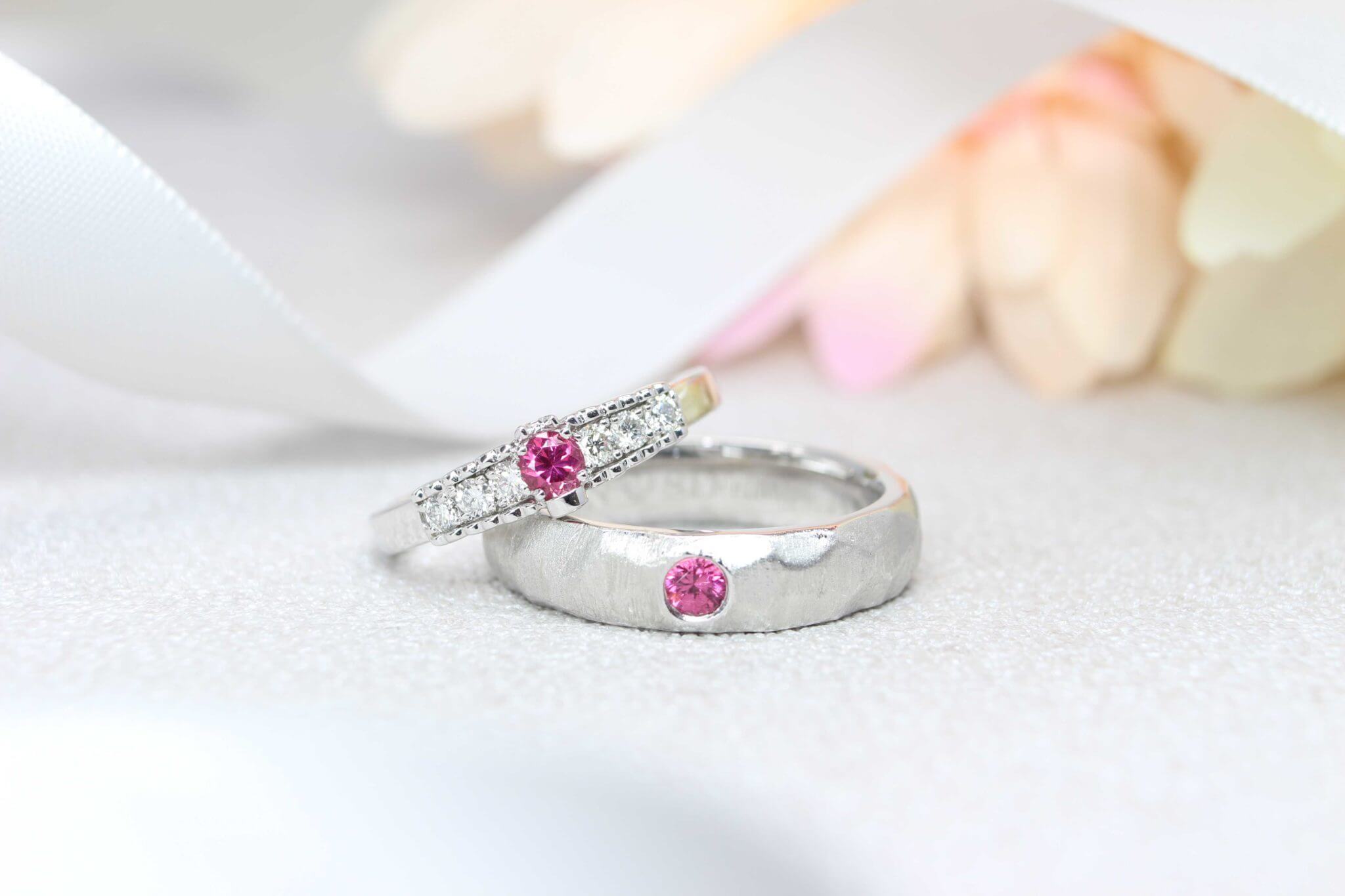 Platinum Wedding Bands
This pair of platinum wedding bands a unique rings that were custom made by both the couple. Custom design rings that were harmoniously crafted together in platinum as the base metal. The bride's ring features a vivid hot pink spinel with pave set diamonds on the side. If you look at the side view of this beautiful design, you will notice it forming multiple heart shapes. signify the unwavering love between the couple who opted for this customised design. With detailed planning, both their initial "Y" and "S" are set on ladies' sidebands.
The groom's ring was customised with a hot pink spinel and it comprises of finished touch in hammer mark. The unique finishing sets it apart from the rest. The hammer marking on the groom's ring is truly unique and it requires a lot of effort and detailing to create this impact on the metal. The soft and brilliant sparkle of the spinel truly contrasts the base metal platinum in this alluring design. The timeless design is truly eye-catching and serves as a perfect foundation for a lifetime of style and togetherness.
Customised Platinum Ring
The unique finishing in the metal band along with the rare choice of colour gemstone renders this exclusive couple wedding band a perfect statement of lasting love.
Platinum Wedding Bands with Paraiba Tourmaline
The subtle colour renders an exquisite aura to this ornament designed with fine Brazilian Paraiba Tourmaline. Oozing exceptional vibrance, these platinum wedding bands are uniquely crafted. Exude brilliance with captivating bluish-green shade endorse a one-of-a-kind gleam. The handcrafted fine curve line with a contrasting brush matt and polish surface make an incredible flair to the ring. While the rarest of rare Paraiba tourmaline gem elevate the elan of this arty jewellery twosome. Making a memorable wedding piece, the beautiful platinum wedding band is perfect to embellish your special occasion and daily wear. The chic and modish wedding bands reflect meticulous craftsmanship combined with minute details moulded into an artistic creation.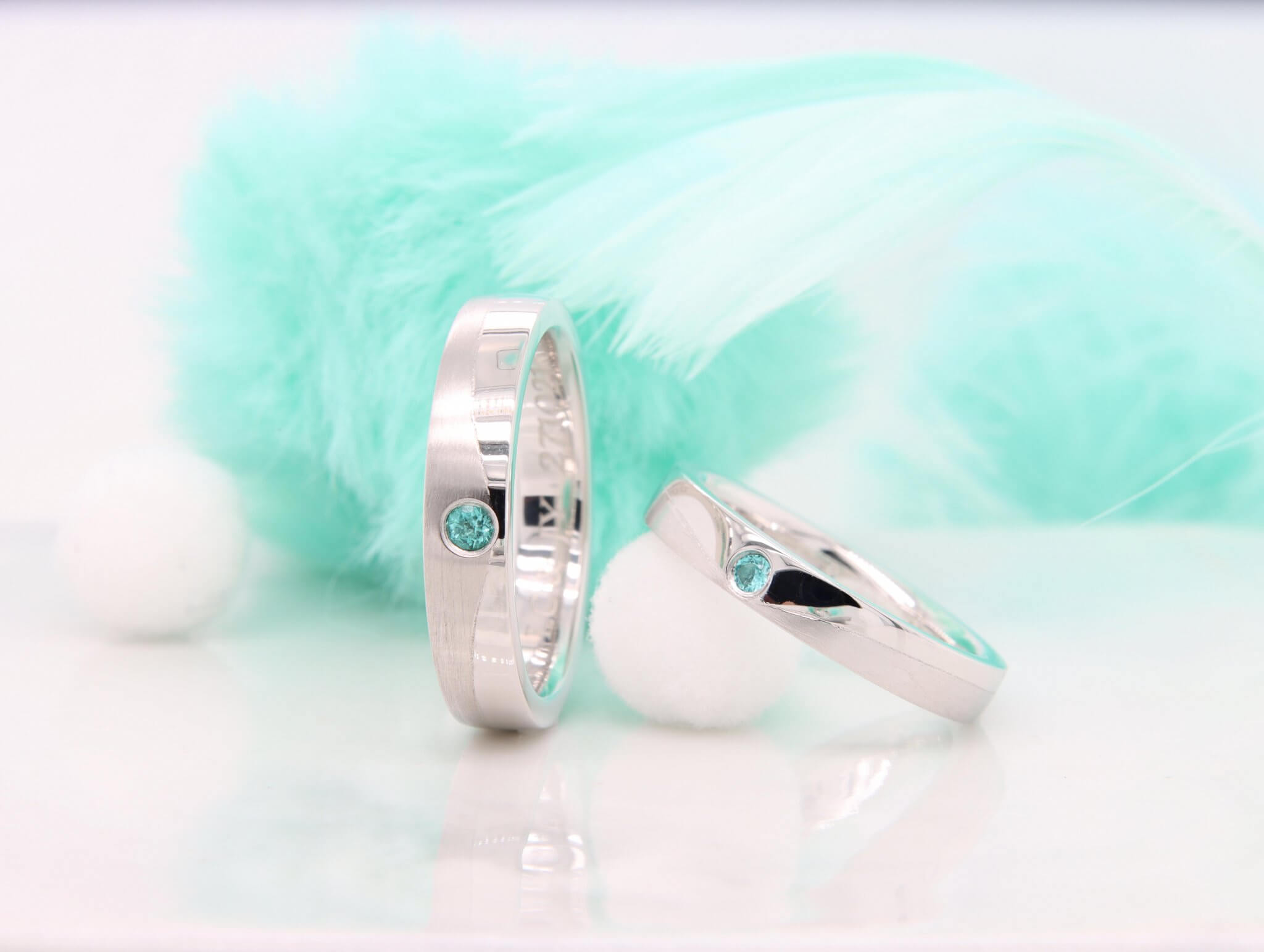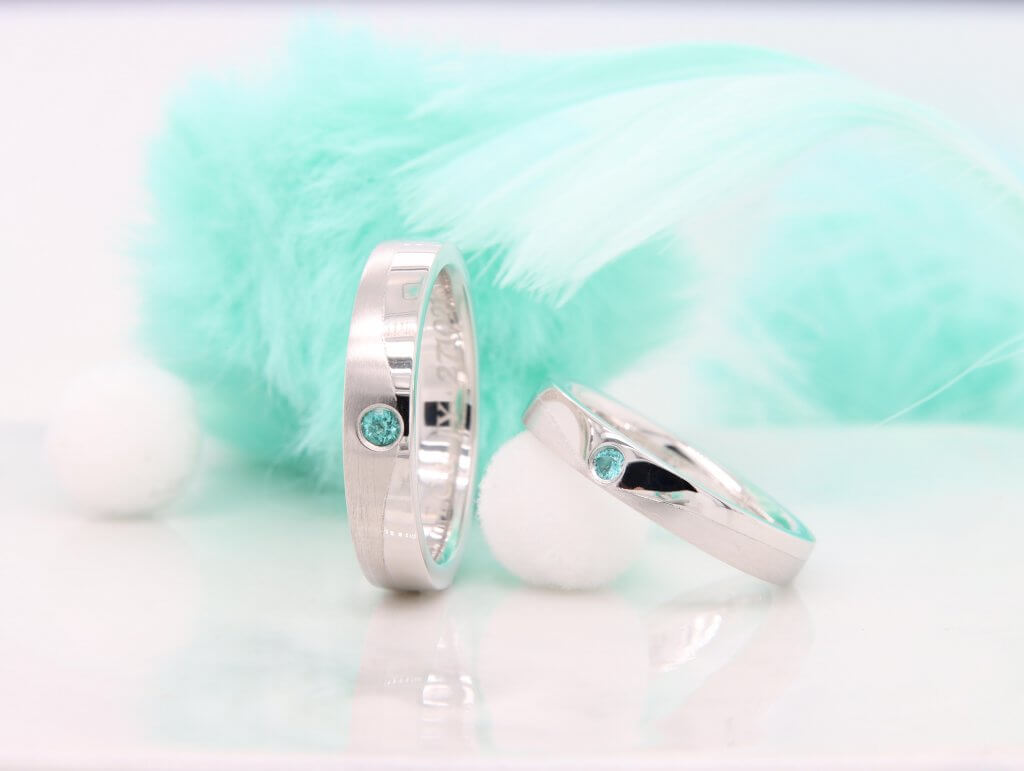 Unique Wedding Bands
Unique wedding bands can be crafted with your ideal design such as both your flora inspiration. Design details such as modern geometric curve line, reflect your style and personality. It can be crafted in different 18K gold; White Gold, Rose Gold, Yellow Gold and Champagne Gold or Platinum. Personalised design with both couple birthstone gem, crafting a wedding bands for a lifetime.