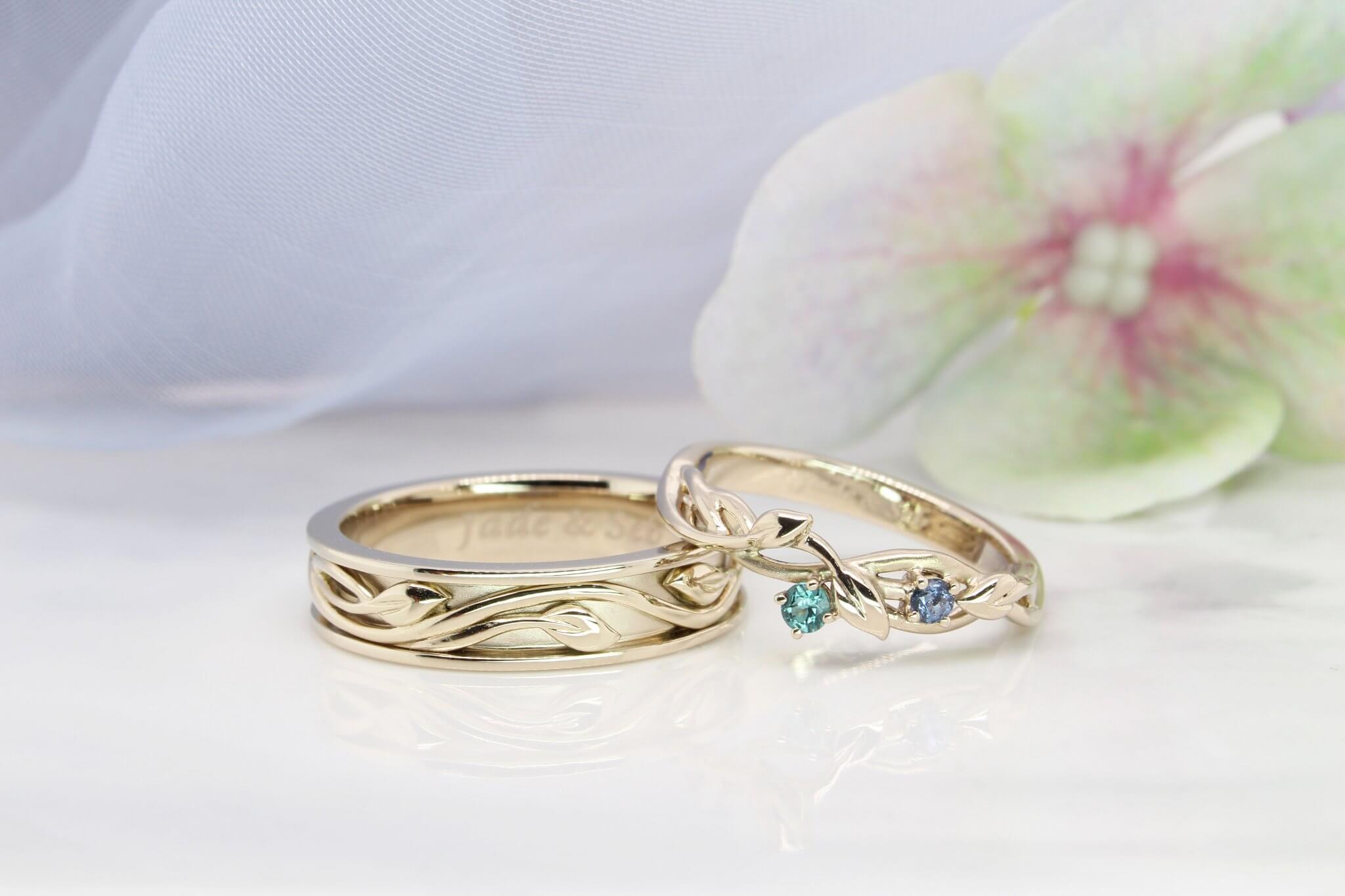 Natural Leaves Inspired Design
Unique Wedding Bands with One of a Kind Design
Is your wedding on the cards? It's time for you to pamper yourself with a precious pair of unique wedding bands that you can treasure for a lifetime. These uniquely designed natural leaves inspired wedding bands has been perfectly crafted to beautify your hand for any occasion. Crafted with a strong band in unique champagne gold, the wedding band makes a statement of love and eternal bond.
The men's ring is designed with bold pave lines to give an overall muscular look with leaves details between. This personalised wedding band can be integrated into a matching engagement ring with the main coloured gemstone being featured at its centre.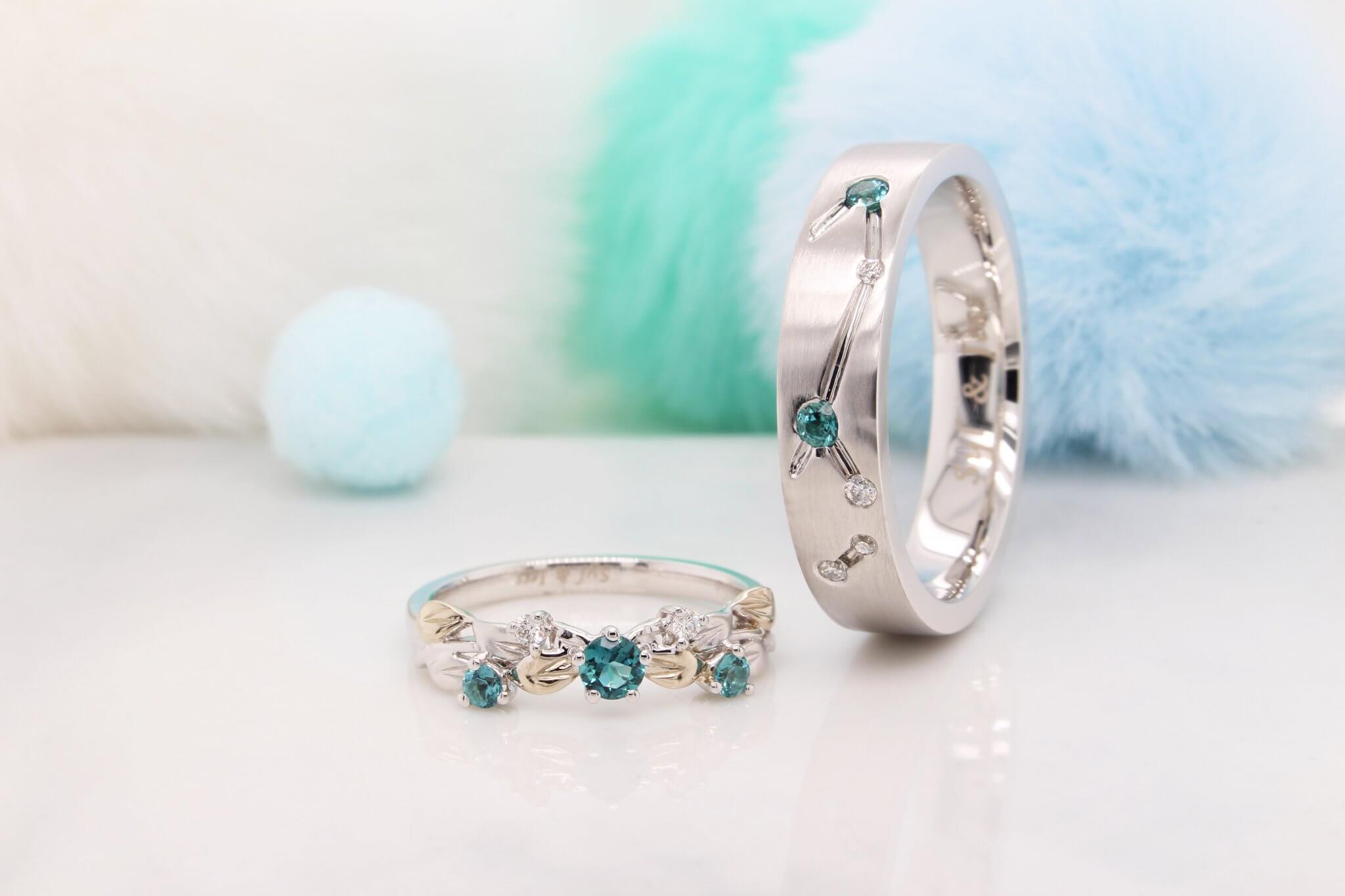 Natural Wedding Bands Design
Unique Wedding Bands with Personalised constellation & Natural Floral
If you admire radiant fine jewelry, you can consider this stunning design of white and champagne gold-hued gold contrast. Designed with fine bluish green tourmaline, imbues an exquisite aura with its subtle colour. The personalised wedding bands, exuding exceptional vibrance, sparkle with a smooth finish.
Natural floral-inspired ladies' ring customised with gemstones and round brilliance diamond exude brilliance with all the attractive colours. Men's wedding band was designed with personalised constellation men's ring, both pieces of jewellery acquire a unique gleam.
The splendid diamonds add incredible flair to the flora ring. In addition, the tourmaline birthstones elevate the elan of this arty jewellery twosome. Our highly-skilled master craftsmen create a memorable piece, making the beautiful ornament perfect to embellish your special occasion. They infuse meticulous craftsmanship and mold minute details into an artistic creation, resulting in chic and modish unique wedding bands.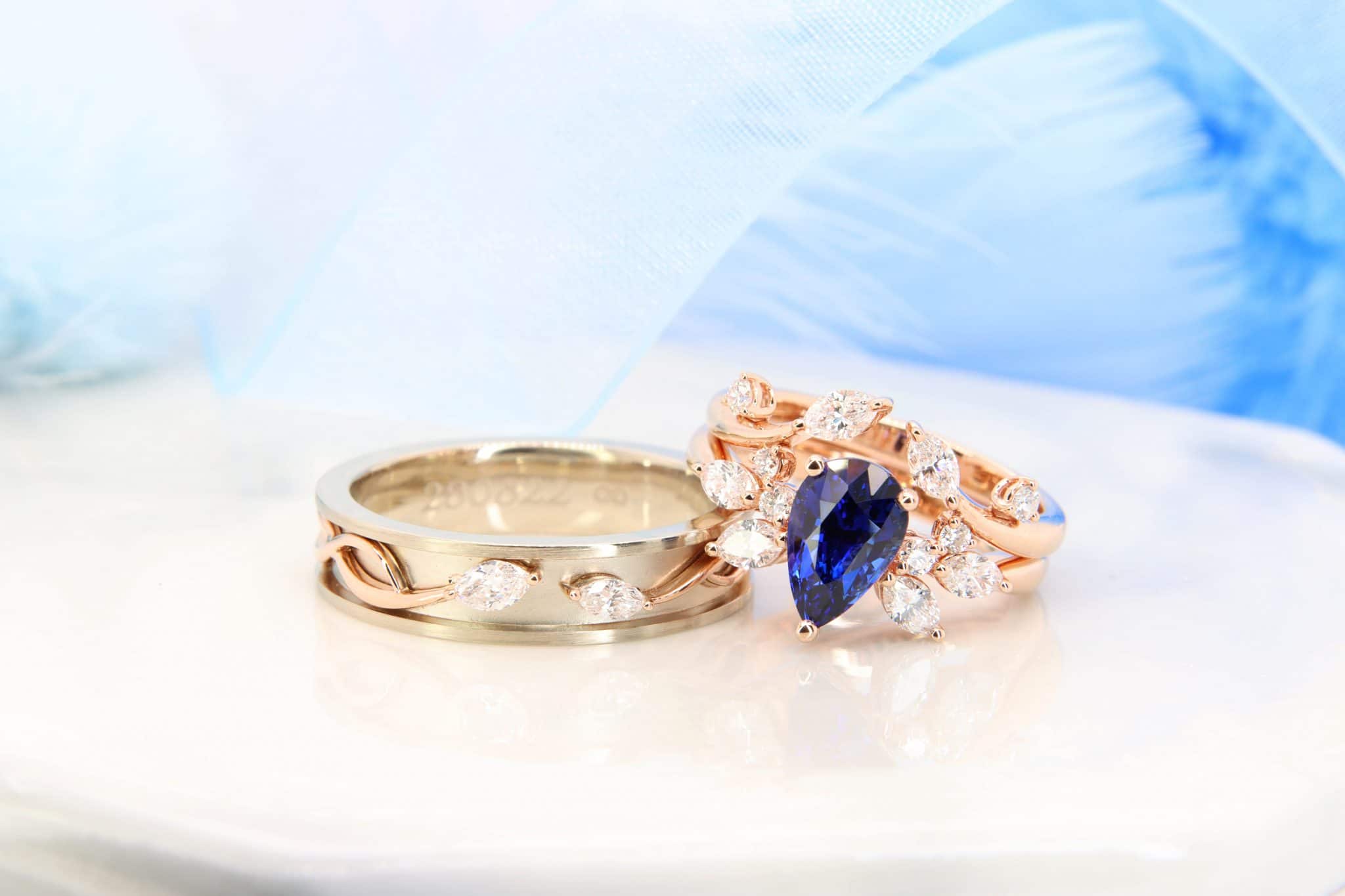 The ladies' wedding band showcases an open-end design that seamlessly nestles alongside the sapphire engagement ring. Delicate leaf-inspired marquise diamonds grace both ends of the band, infusing it with a touch of nature-inspired charm. Carefully arrangement of the round brilliant diamonds enhances the band's brilliance and sparkle. These fancy diamond shapes combine to create a captivating visual appeal.
Personalised Wedding Bands
Personalised wedding bands are for a lifetime and it is best to invest in a piece of ornament that lasts forever and does not lose its sheen too soon. With a signature ornament, not only will you treasure the moments of exchanging a ring, but also cherish it as a symbol of love and eternity.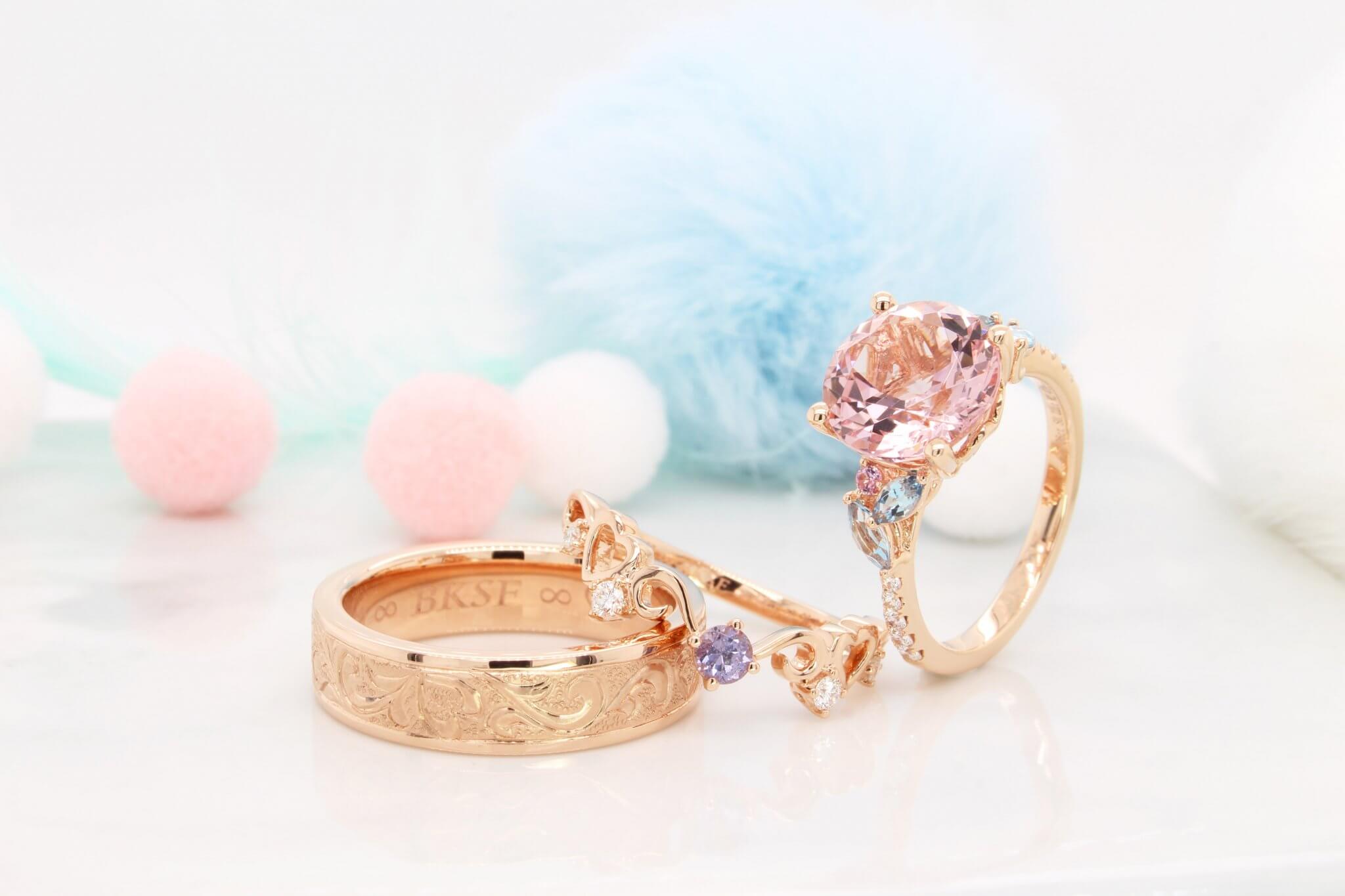 Morganite Filigree Wedding Bands
Intricate filigree design wedding bands for a lifetime
The filigree works on the wedding bands is representative of fine vintage jewellery and can be passed on as an heirloom piece for generations ahead. The elaborate design dribbles grace in every inch of its lace-like filigree design. Twining your rings with each other can make a piece of perfect complementing jewellery. The wedding band's nifty and sleek design provides a minimalistic look, allowing you to wear it every day.
Coordinate the unique wedding bands design seamlessly by pairing it with a similar tone and design. Additionally, you can get the same vine-like filigree or opt for a custom design in floral lattice, hearts, or other creative detailing. Furthermore, the design forsakes milgrain beads, allowing the natural design to take center stage and enabling the floral filigree vines to resplendently integrate into the broad and solid band.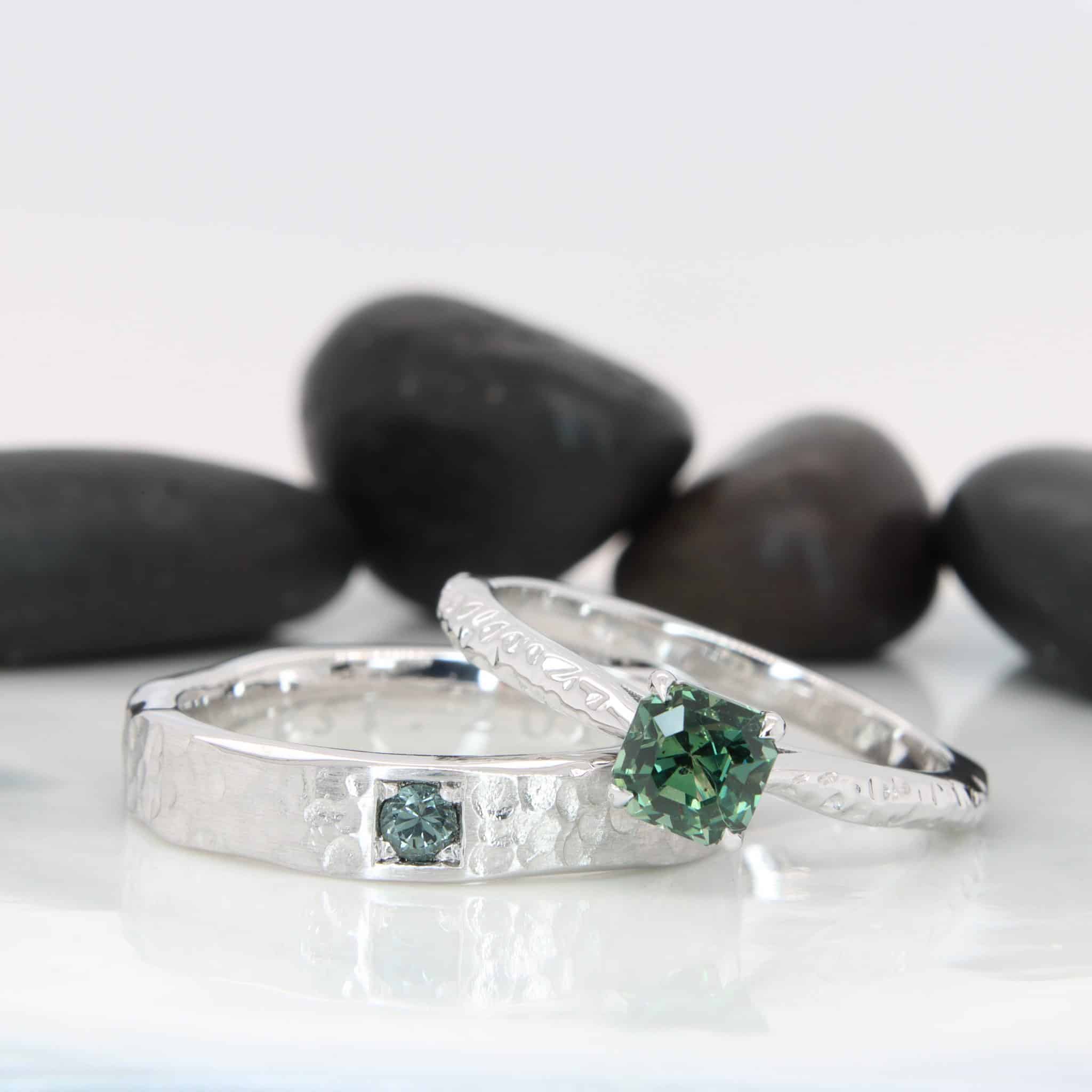 Teal Sapphire & Spinel Wedding Rings
Rustic wedding rings design
The teal sapphire solitaire design with a unique handcrafted hammer mark is truly remarkable. A bluish green gemstone adorns the men's wedding band, which also showcases a similar hammer style. Together, these rustic fashion-style wedding bands create a timeless wedding ring that is both distinctive and elegant.
Overall customised wedding bands is designed with meticulous attention to detail, showcasing fine quality and elegant craftsmanship. It is sure to symbolise the love and commitment shared by the couple, while also serving as a timeless and stunning reminder of their special day.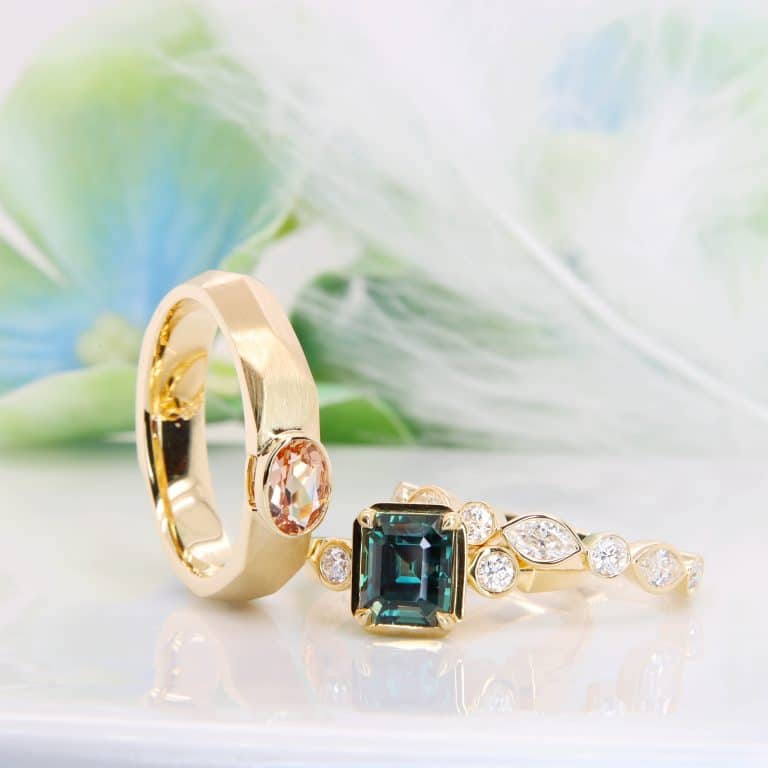 Modern Geometric Wedding Bands Design
Classical and modern elements in the extraordinary pieces
Step into a world of distinctive elegance with these unique wedding bands, crafted to perfection with meticulous attention to detail.
Both crafted in timeless yellow gold, ladies band designed with a blend of classical and modern elements. Alternating marquise and round brilliance diamonds, each securely cradled in a bezel design, inspired by the engagement ring.
Men's band featuring irregular brush matt geometric facets. At the heart of this remarkable ring lies a personalised touch, with an exquisite imperial topaz birthstone taking center stage.
How the Process Works?
Don't worry, we'll guide you along the process
Couples seeking ways to immortalise their wedding with a coordinating jewelry piece can opt for unique wedding bands that create a stylish ensemble. Does customising wedding bands seem complicated and tedious? Not to worry, at GIOIA we'll guide you along the process and promised that it'll be a great experience for both of you. We can strategise the bespoke design process, guide both you and your beloved partner to your ideal design. After finalising the design, the delivery of your exquisite jewellery pieces typically takes around 10-12 weeks.
While waiting, you can anticipate and feel the excitement of witnessing your personalised wedding bands come to life.
Above all, rest assured that we invest additional time in customising your bands to create a one-of-a-kind masterpiece that perfectly symbolises your love and commitment.