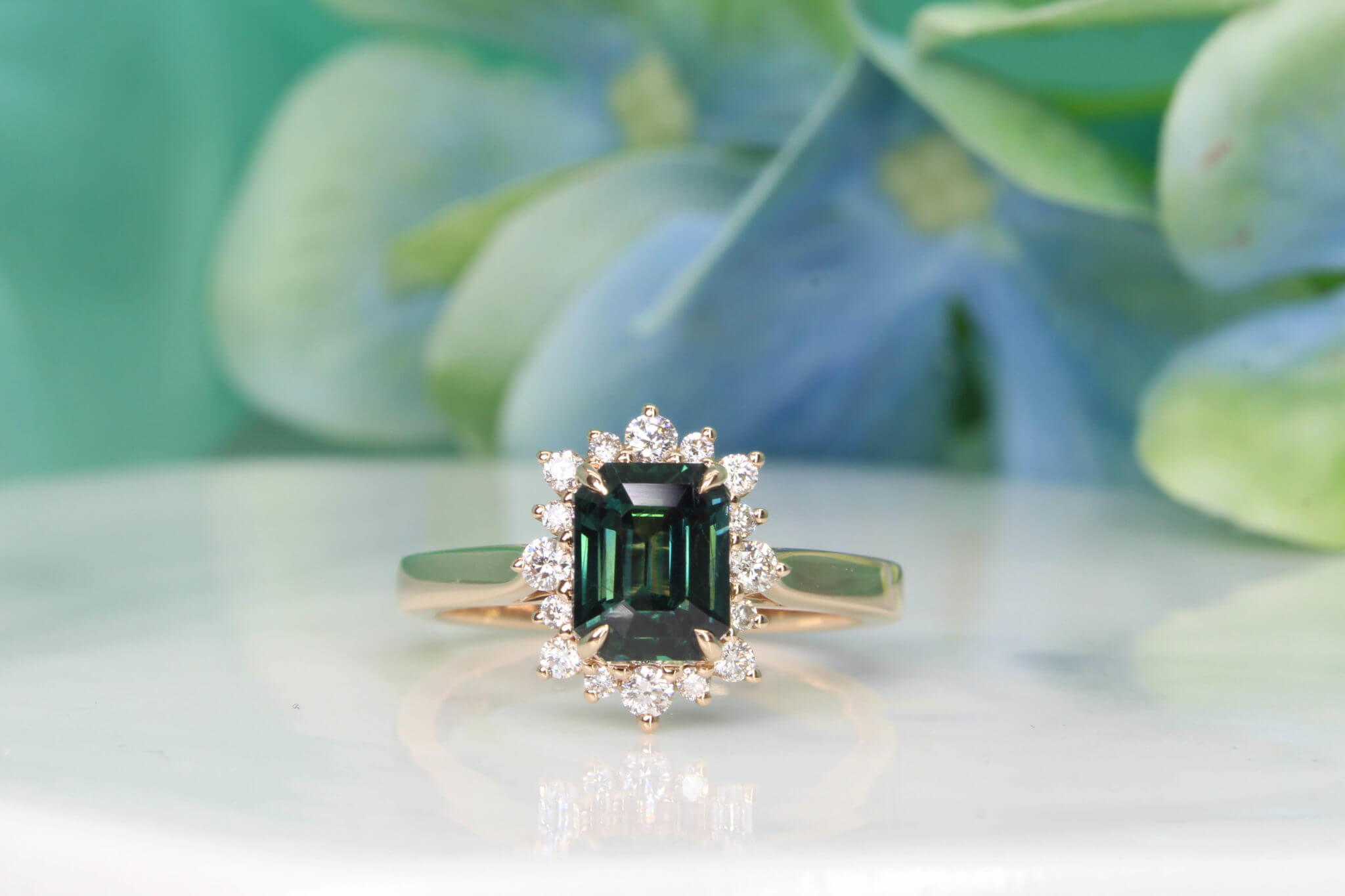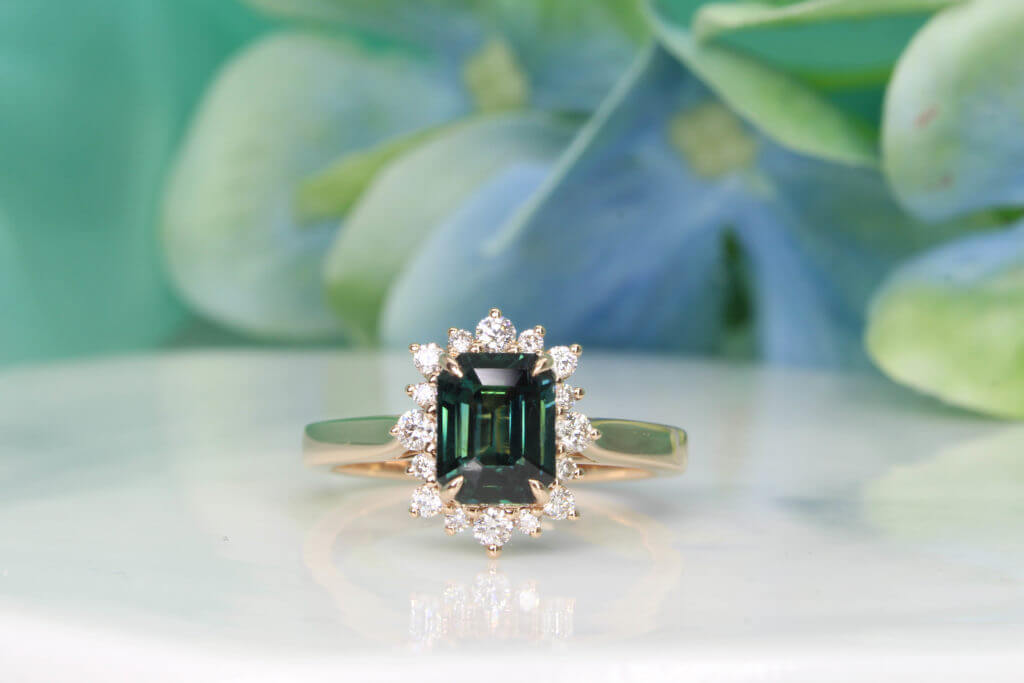 Teal Sapphire Engagement Ring
Engagement Ring with Exceptional Bluish Green Teal Sapphire
This classic design features a teal sapphire which has a blend of both greenish and bluish shades. Features an unheated sapphire, cut and polished from its natural condition and crafted to the ring jewellery. Teal colour has become a popular shade these days when it comes to engagement ring. This emerald cut shape teal sapphire is framed with round brilliant diamond accents.
Designed to be treasured, this customised ring exudes a polished shine. We have designed this ring to feature something unusual than a classic halo diamond ring. The diamonds used in the design are in alternate sizes and set in three-point crawls, this gives a starburst look to the overall design.
Bluish Green Sapphire – Unheated
This sparkling vintage-inspired ring is sure to pump up your jewellery statement. This elegant and alluring rose gold ring bring out a feminine look. As the gemstone is natural if the blend of two colours is not even and you may notice some colour zoning or patches of green or blue concentrations within the sapphire.
Do not be mislead by the term of "Parti Sapphire" commonly exhibit a zoning of blue and green or even additional yellow shade. The price of the gem is lowered compared to a natural even blue-green sapphire. Heat treatment not only helps to improve the colour, it minimise the unevenness in the gem.
Teal sapphire range in various hues, from pale to deep rich green. Sometimes they even feature blue-green or yellow hues. Set onto the gold band, the main gem coloured enhanced to deeper shade. The skilful cutting makes the gem appear much brilliance to the eyes. Regal and radiant, this exquisite engagement ring was crafted to perfection for a client.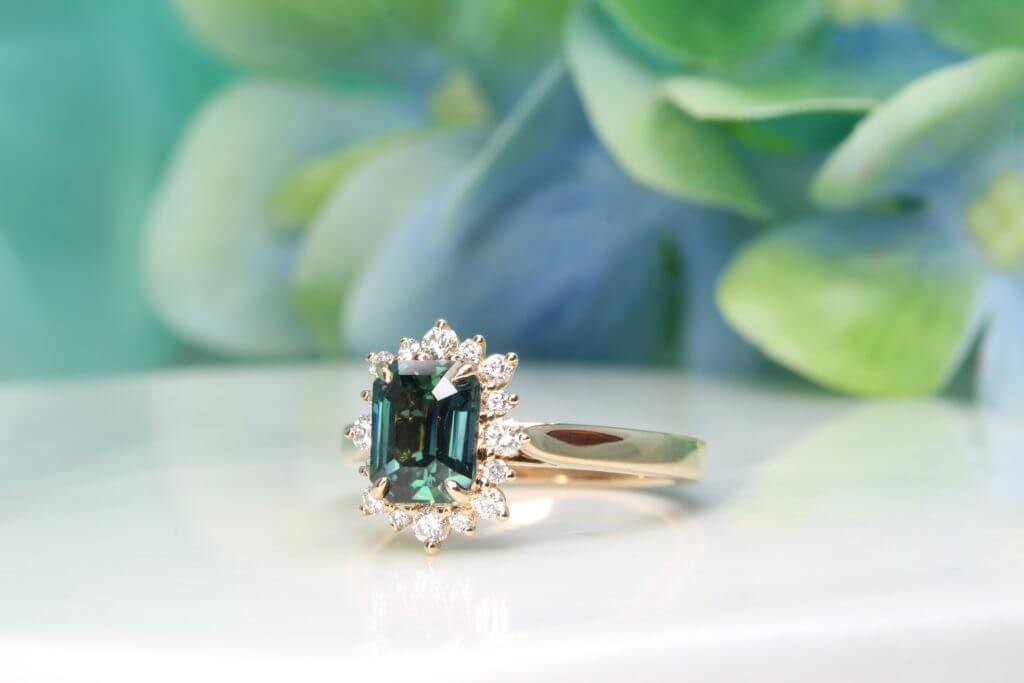 Vintage Yellow Gold Ring
Vintage solitaire teal sapphire engagement ring feature side round brilliance diamond with thin bezel frame. Moderately thick band with sleek knife-edge finishes for elegant style and comfort. Bluish-green teal sapphire shade, a lush companion to the bright yellow gold band.