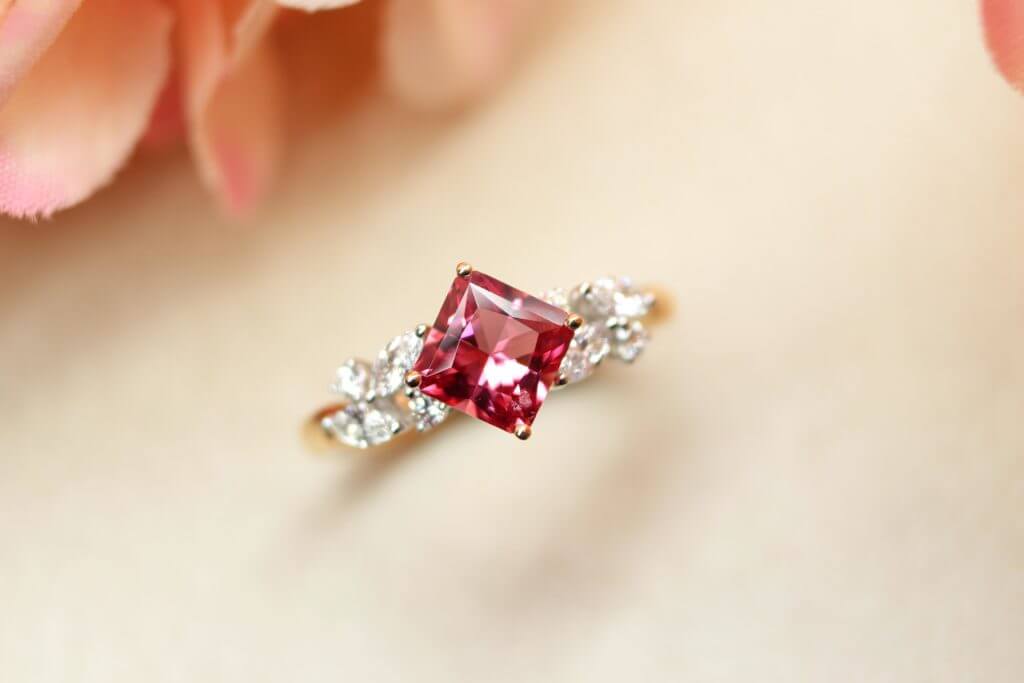 You want a proposal ring that will surely please your future half! A rose in the language of flowers is proof of true and tender love. Indeed, this colour is the fruit of the combination of white and red. On the one hand, there is the purity and innocence of the perfect colour and, on the other side, the sensuality and passionate love of red. This proposal ring with pinkish red spinel is an expression of pure love and tender. Added to the fact that the pinkish red is the symbol stone of sincerity and fidelity and the rose is the emblem of romanticism and happiness. This is what describes the beauty of this precious gemstone elegantly.
Our heartiest congratulations to the newly engaged couple Yueming and Zhuyuni! May every day be happy and beautiful for the lovely couple. We are so glad to be part of your wedding proposal!
Customised Proposal Ring
Featuring a proposal ring with a rare princess cut pinkish red spinel gemstone, custom set with round brilliant and unique marquise shaped diamonds. Intricately designed to meet the couple expectations, the ring has such a charming appeal that whoever look at the ring will jump off with excitement. At GIOIA, you can get the ring customised in any shape by coordinating with the choice of your favourite metal and coloured gemstone. This customised design was created from sketch and handcrafted to the final creation for the couple.