Every piece of fine jewellery is custom made and couture to your style. From wedding engagement ring for proposal to fine jewellery for daily and ballroom functions. There isn't any standardisation in bespoke jewellery. Simple to elaborate design is made possible with us in GIOIA Fine Jewellery. Share with us your inspiration on different jewellery designs.
Bespoke Customised Jewellery
Looking for one-of-a-kind jewellery? Every piece of fine jewellery custom made by us is drawn from sketch and handcrafted piece by piece to the final creation. The joy of bespoke jewellery starts from the initial discussion. It is not the usual jewellery you find in any retail jewellery shop. Whether is it gemstone jewellery or wedding jewellery, our customised process come with an exclusive personal touch.
Unique Customised Engagement Ring
An engagement ring for a proposal can be made special with a customised engagement ring. It does not necessarily be a solitaire diamond ring or halo blue sapphire ring. It can be a particular coloured gemstone of her birthstone or her favourite colour shade? There are just too many coloured gemstones available. For quality assurance, we will provide you with third-party laboratory certification for coloured gemstones.
Customised Wedding Bands
Looking for a pair of wedding bands that symbolise the beginning of your marriage? Want a unique wedding band with both your initial or one which complements well with your wedding engagement ring? Wedding bands can be something simple, yet with sentimental value in them. We are probably the only jeweller, who customised wedding bands with the least wedding bands in our store. Every piece is custom made and one-of-a-kind.
Customised Wedding Jewellery
Pair your wedding ring with this matching proposal necklace designed with a similar green tourmaline pendant. The wedding jewellery set makes it a perfect proposal gift. Held together by a yellow gold chain, the ensemble opens into an aborad leafy pendant design that's intricate yet bold. The point where the leaves' pattern conjoins, is embellished with the precious tourmaline. The step-cut green tourmaline gem has exceptional sparkle and mesmerising shade. A pair of small bluish-green tourmaline stones in round-shaped sit in between the string and the pendant adding a personality to the silhouette.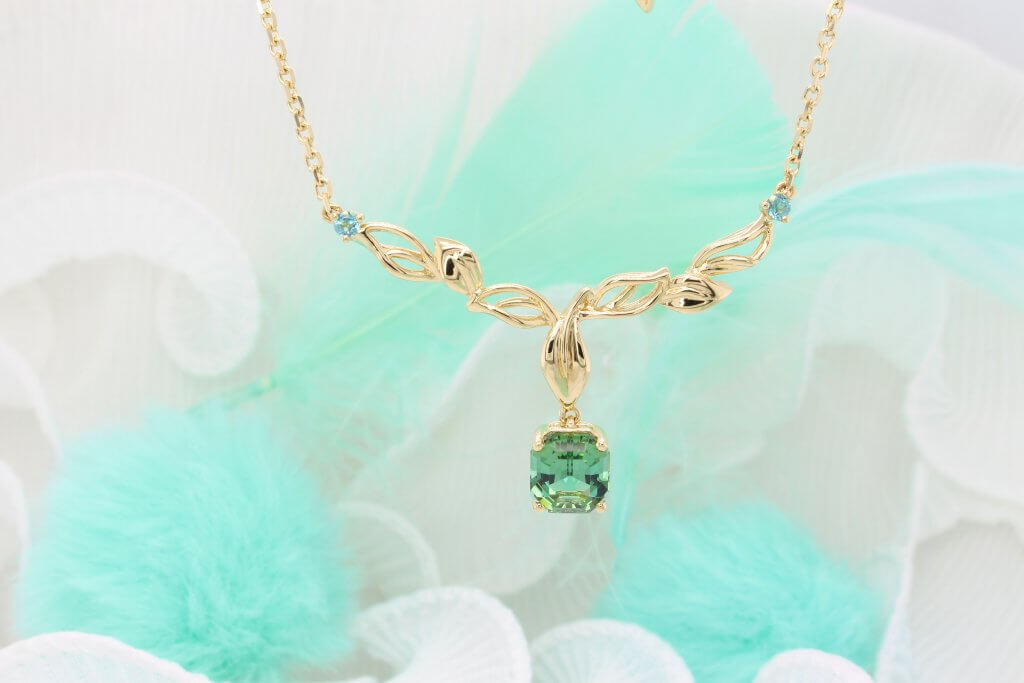 Tourmaline Flora Necklace & Proposal Ring
Looking for a proposal ring in a specific birthstone? Finding the appropriate gem-studded ring is no longer an arduous task. This precious piece of jewellery offers just what you need. If your beloved one is not a fan of diamonds, this deep green tourmaline gem ring can melt her heart. The proposal ring, crafted in white gold, radiates the natural aura of the gem to make it a spectacular piece of ornament. The unique shape and shade of the gemstone make it exquisite designer wear. Just the right proposal ring, the tourmaline's verdant green colour adds a colour pop that your beloved will love to wear on any occasion.
Trilogy proposal ring with a pair of fancy trilliant diamonds clings to the Princess cut square-shaped tourmaline. Designed round brilliance pave diamonds extend in ascending order in their size along with the tapering band. The ring's band is embedded with spectacular diamonds neatly arranged from the centre, coming a full circle.
Schedule an appointment
Contact us at +65 6100 2238 for a private appointment on customised jewellery service, or WhatsApp us today!
Check out more of our latest jewellery highlights and on our social media too!