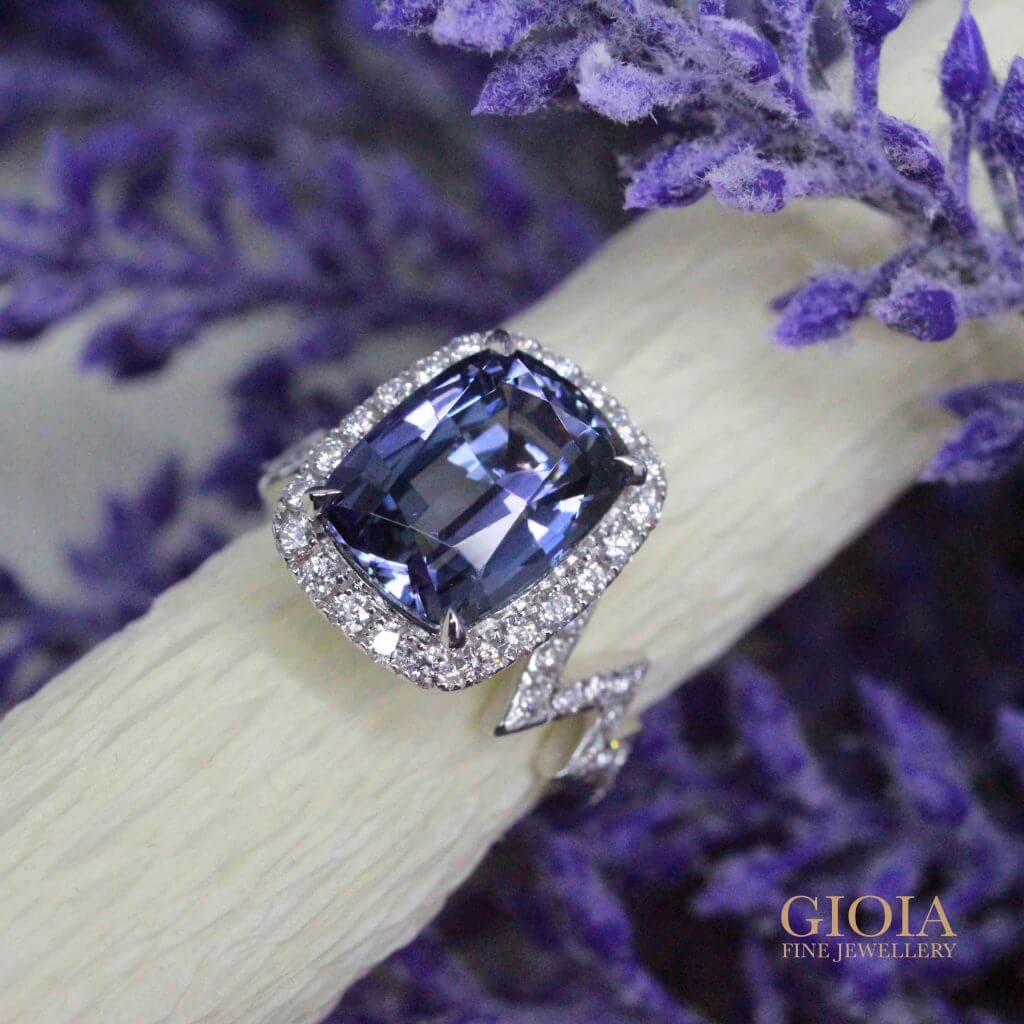 Tanzanite Jewellery
Unheated Tanzanite studded with round brilliant diamonds in 18k (750) white gold. The diamonds invites focus on the intriguing colour of the gemstone that garner attention and appreciation from everyone. From our bespoke collection; featuring a cushion unheated 4.39ct Tanzanite, custom set with halo round diamonds and heartbeat zig zag bands. A unique Tanzanite ring that make you heart beat fast.
Tanzanite Gemstone
The blue, violet variety of the mineral Zoisite was discovered in Tanzania in 1967 by Manual D'souza. Named as Tanzanite by the Tiffany & Co, an alluring gemstone that has mesmerised people with its visual appeal.
Carat – The rough of Tanzanite are usually larger in size. You see them from 1.0 to 2.0 carat size for rings, earring, 4.0 to 5.0 carat and above for pendant.
Colour – A world of difference in colour shade, between heated and unheated Tanzanite. Like all other gemstones, the price and value are determined by its colour. Intense vivid blue shade of a heated is usually more premium, close to blue sapphire Nevertheless unique unheated violet blue is becoming as popular.
Cut – See them in different variety of cut shapes, trilliant, heart, cushion, emerald, round and etc. Different cuts does not restrict them from sparkle and brilliance well.
Clarity – Inclusion in the gemstone is inevitable, Tanzanite are usually less included. It is common to find them in loupe clean or even flawless clarity!
The December birthstone symbolises new life, positivity, and energy. It is a rare gemstone that is created by tectonic plate activity along with intense heat. Though Tanzanite has high hardness score, the perfect cleavage makes it susceptible to damages. So, handle with care to maintain its beauty and appeal.
It is an amazing gemstone that is believed to channel the higher spiritual energies to establish a deep connection. It will truly align the heart and mind for a successful relationship that will last forever. Tanzanite offers attractive brilliance and make beautiful engagement ring for wedding proposal.
Unheated Treatment
Violet grey to olive green coloured gemstone, a mysterious stone that exhibits trichroic colours. Purple and blue reflection from the gemstone, a mixed colour shade when looking from different directions. Doubly refractive characteristic in the gem, which give them this unique colour hue.
As comparing to Ruby and Sapphire, where unheated usually at a premium price. Unheated Tanzanite, indeed rare as there are usually heated ones in the market. However, unheated does not necessary be priced at a premium.
Heated Treatment
Heat treatment, which is a common method of enhancement to deepen colour intensity and minimise inclusion in the gem. Heating might occur during the growth in underground mine. Tanzanite from mines have varies colour shade, they can be brownish blue which are less attractive.
Different from Ruby and Sapphire, where light pastel colour rough are significantly enhanced to deep vivid red or cornflower blue. The additional heat treatment, dissolve the brown shade, result to a vibrant vivid blue and purple hue, with the colour shade leaning towards blue as valuable.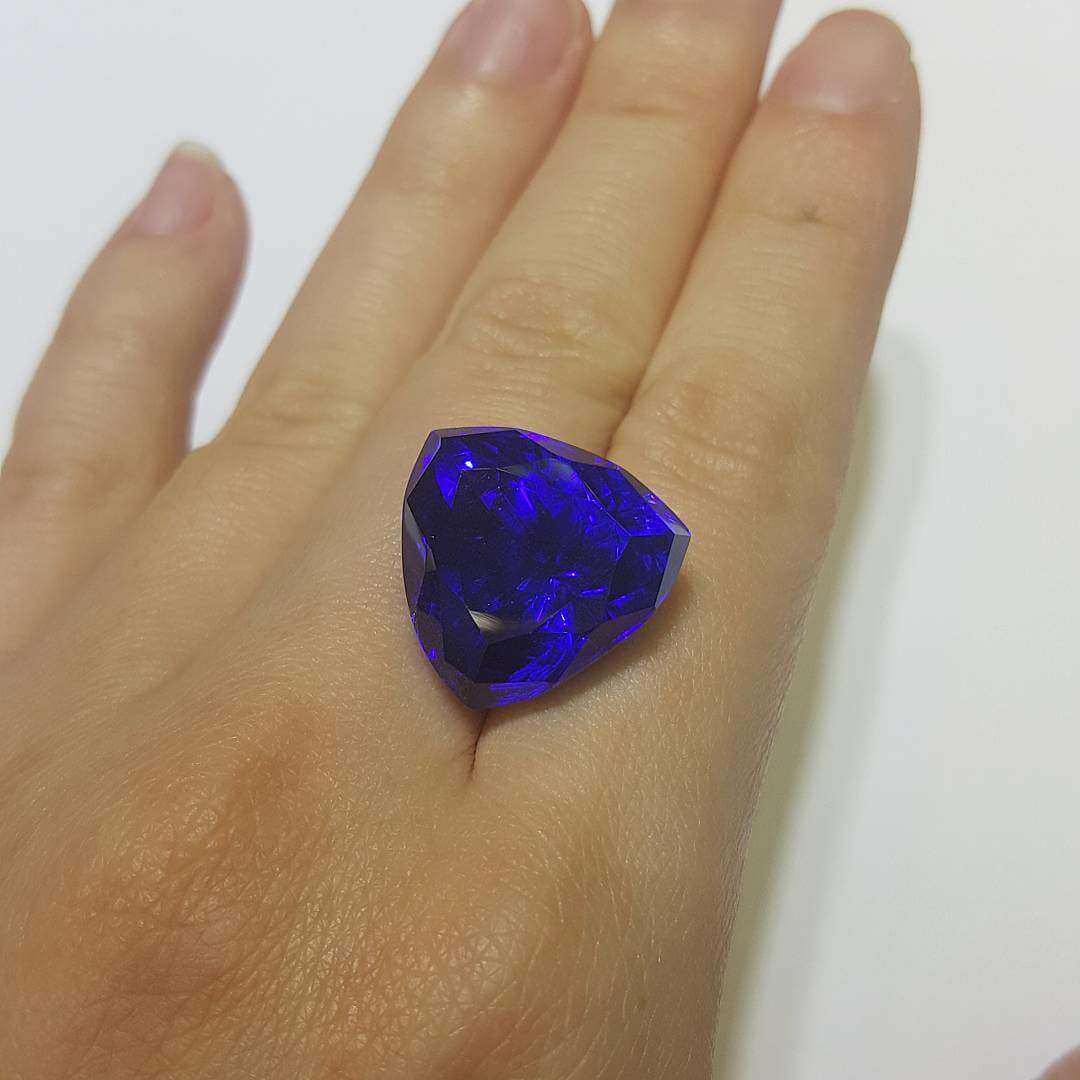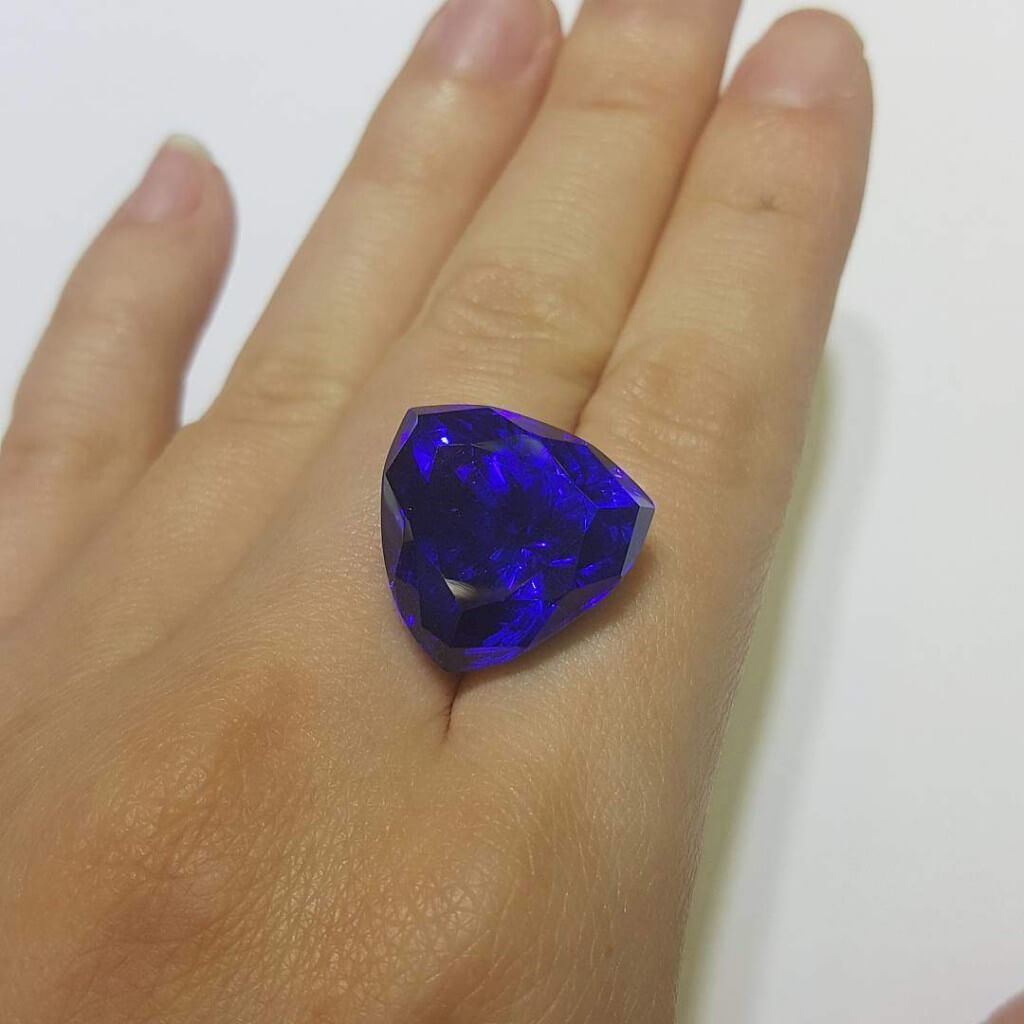 Bespoke Jewellery with Tanzanite
In recent years, the supply of Tanzanite has drop drastically, as government of Tanzania has taken stringent steps to tighten the outflow of Tanzanite. To bring in revenue and job opportunities in the country, prices for Tanzanite has rises as quality ones are hard to source.
With a limited reserve of the gemstone, it is a rare gem that will flatter your loved one's appearance. With proper care will make a valuable addition to the cherished jewellery collection for a long time. A valuable investment, make it a family heirloom jewellery to pass it on to the next generation.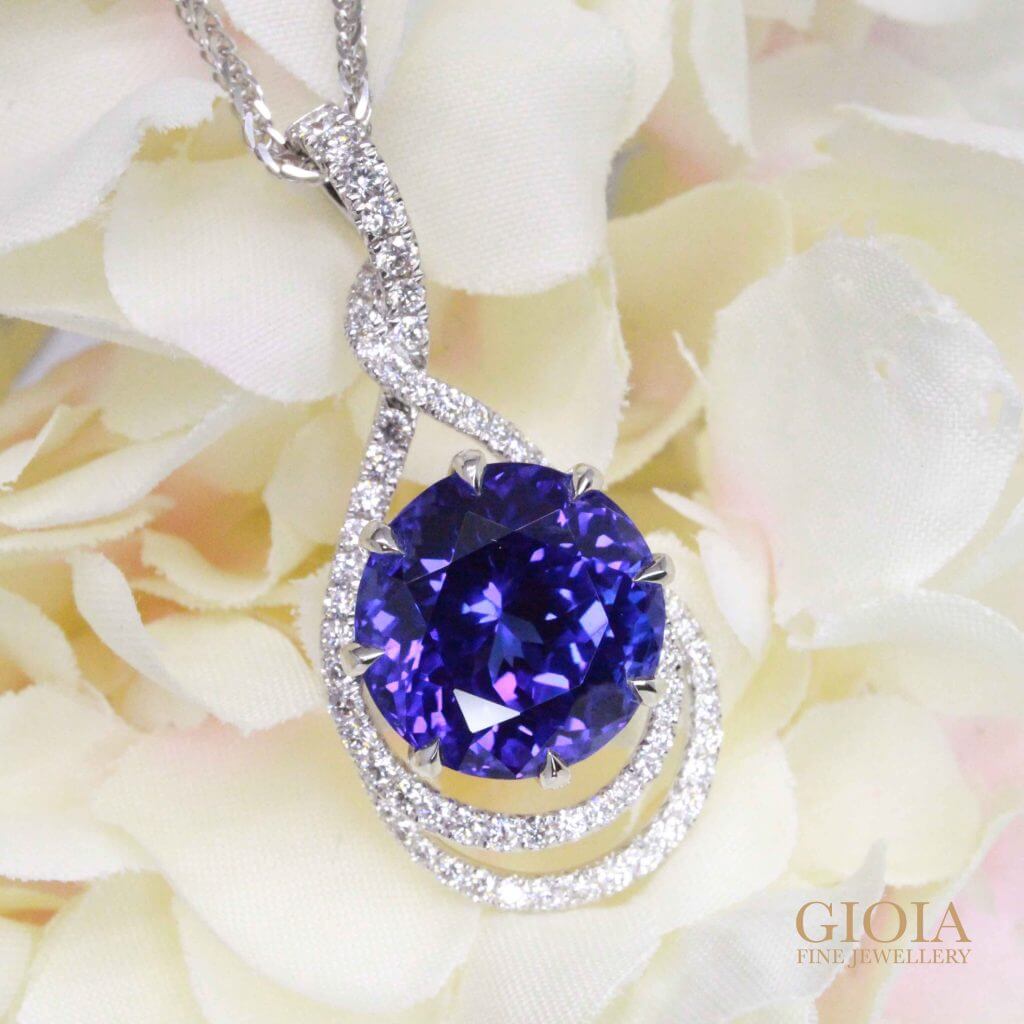 The diamond-studded pendant in 18k (750) white gold, has a round Tanzanite to give a striking look to the design. The customised pendant exude class and elegance as the round brilliant diamond surrounding the gemstone shine through. The design is perfect for contemporary women to show her fashion sense beyond the conventional methods.
It makes the jewellery look striking as the vivid colour makes it an excellent choice to enhance the visual appeal. The pendant is a great addition to the fine jewelry collection, as the high-grade tanzanite makes it an exquisite piece that everyone will love to possess.
Tanzanite Engagement Ring
Custom made an alternative engagement with coloured gemstone? Consider Tanzanite for its unique colour in both unheated or heated, and affordability. A ring where you can wear for daily work, and does not necessary be in classic diamond. Customised jewellery allow you to be involved in the process of jewellery design, it contour to your style and character.
Visit our sale boutique in International Plaza (Tanjong Pagar), on how you can customised a perfect wedding ring, with a love story in it.