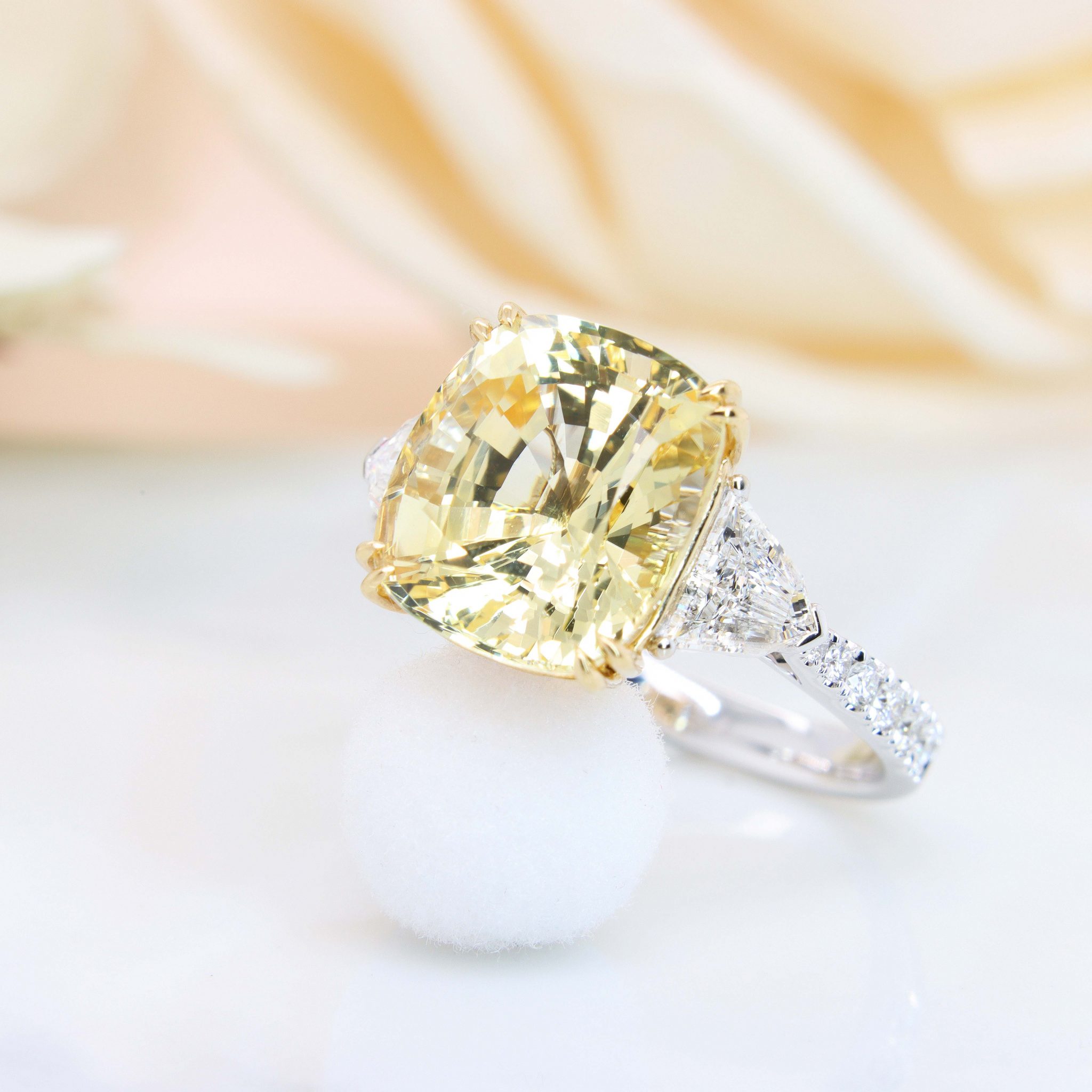 Customised Sapphire Ring
Vivid Yellow with Fancy Diamond & Round Brilliance Ring
Exceptional colour shade yellow sapphire ring elegantly designed with side fancy diamond. Eye-catching, bright yellow, the stunning yellow sapphire that resemble vivid yellow diamond. This magnificent ring, designed with classy double yellow gold prongs, radiates round brilliance from every angle.
Unheated with no enhancement and massive large size of 7.02ct weight is certainly far beyond rare. Personalised with the couple initials with "J&R", to commemorate their wedding anniversary. Indeed a unique wedding anniversary gift to celebrate their love together.
Yellow Sapphire
Certainly one of the sought-after colour shade yellow sapphire and gem for your collection. Yellow colour usually relates to happiness, wisdom, good health and joy. Many typically link yellow sapphire to yellow diamond because they share similarities in colour and shade. Both yellow gemstone has awesome hardness and durability. The significant difference in price make yellow sapphire one of the best alternative and
imperal topaz
as the runner up.
It is always challenging to find the right colour shade for yellow sapphire. Secondary shade with greenish or brownish tone is not desirable. Not too bright as the heated sapphire can look pretty over saturated neither too pale in shade which look colourless.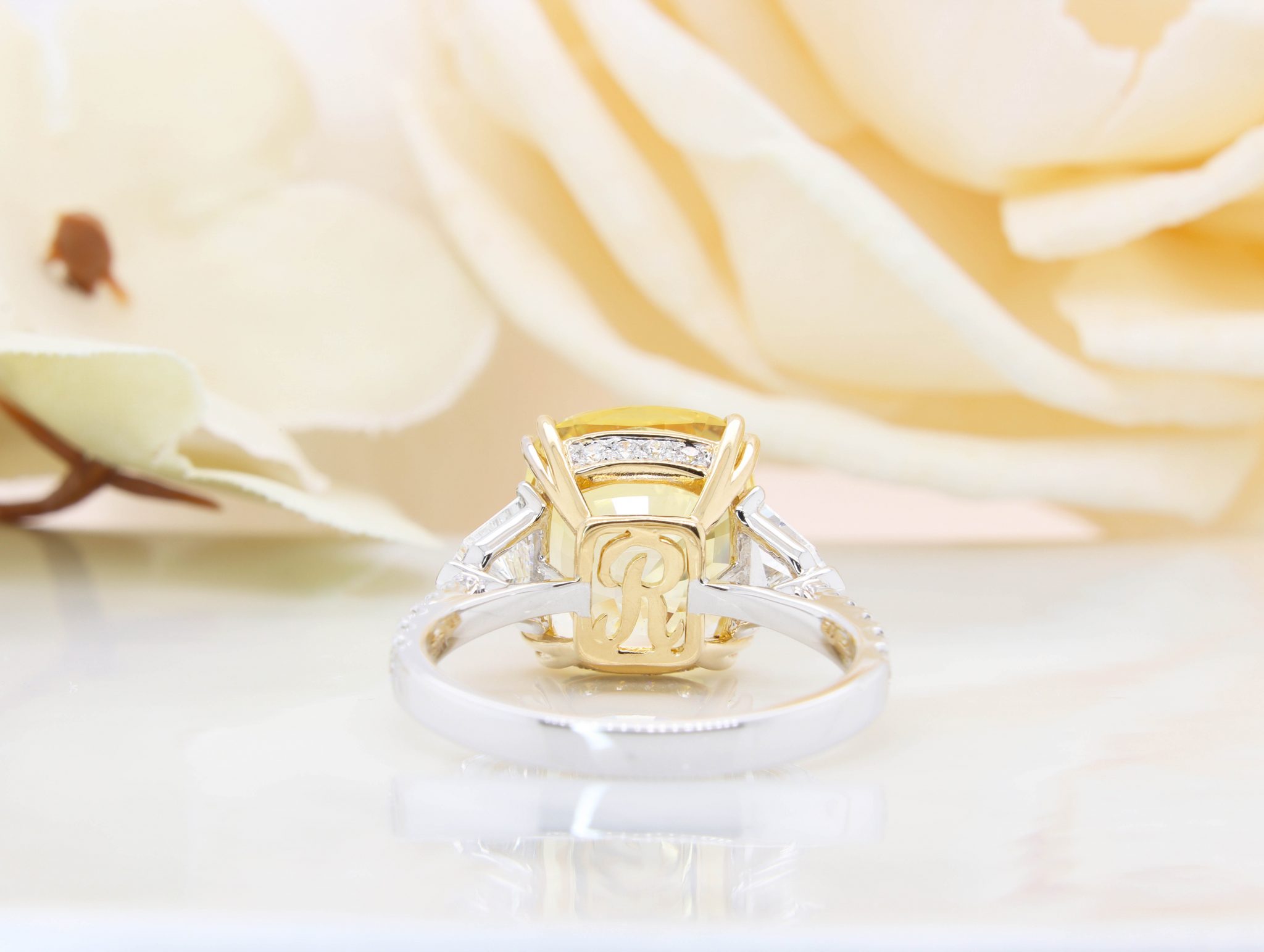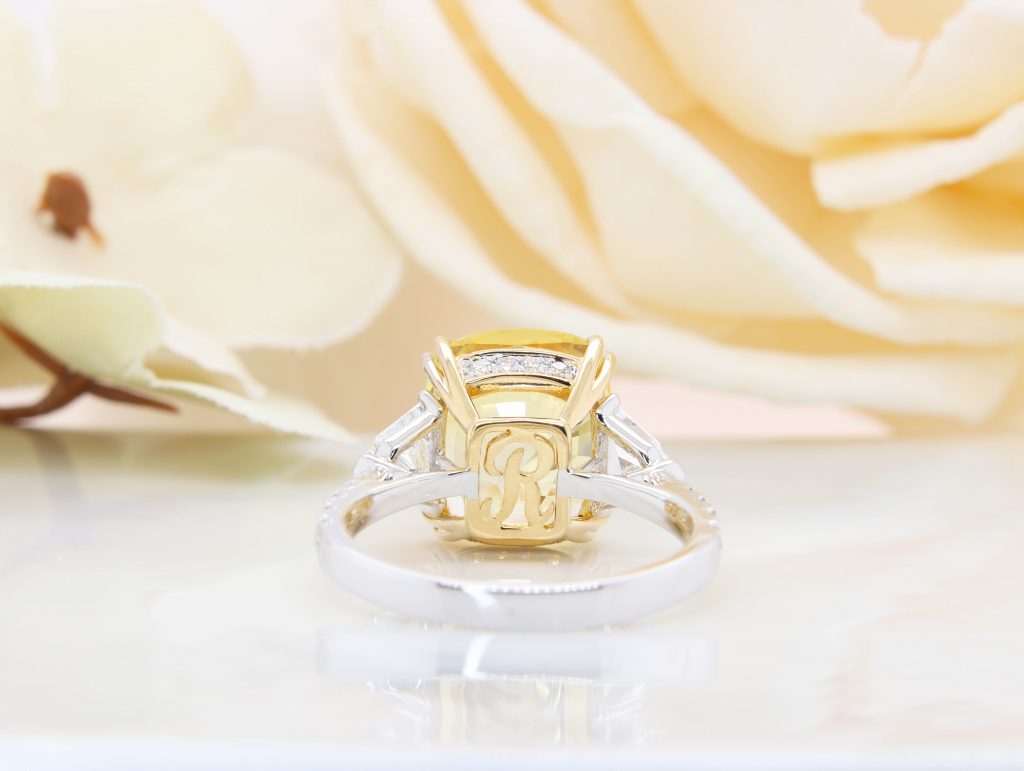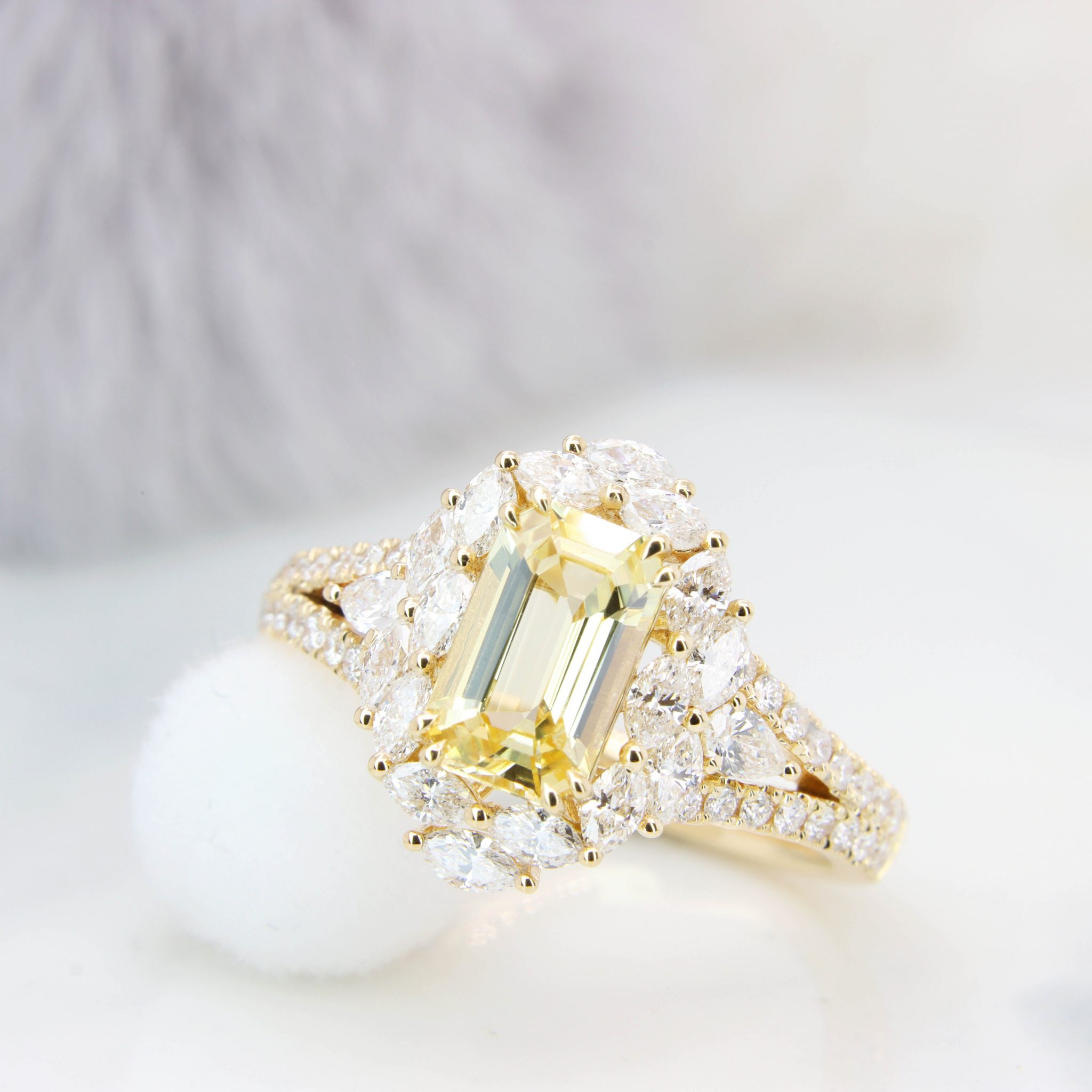 Yellow Sapphire Engagement Ring
The brilliance of the canary yellow sapphire is elevated by a delicate embrace of surrounding fancy marquise diamonds, each facet telling a story of timeless love. The uniqueness of this engagement ring extends to its "Y" band, meticulously adorned with a cascade of micro-pave diamonds that glisten like stars in the night sky. A touch of opulence is added with the inclusion of a singular fancy pear diamond, delicately poised between the intricate dance of the micropave diamonds.
This design not only symbolises the intertwining paths of two souls but also captures the essence of individuality within unity. The design almost resembles a sunflower that blooms throughout the day.
Fine Jewellery – Heirloom Teasure
It's a masterpiece jewellery that certainly makes a bold statement at any event. Its fine details and distinctive design not only stands out, also a tangible representation of the extraordinary commitment and love shared between the couple. This yellow sapphire ring is not just a symbol of a proposal; it's a testament to the unique and unparalleled connection between two hearts destined to be entwined forever. It is a timeless fine jewelry and heirloom treasure that will be cherished for generations. Encapsulating the love stories of those who wear it and becoming an enchanting part of their own romantic journey.