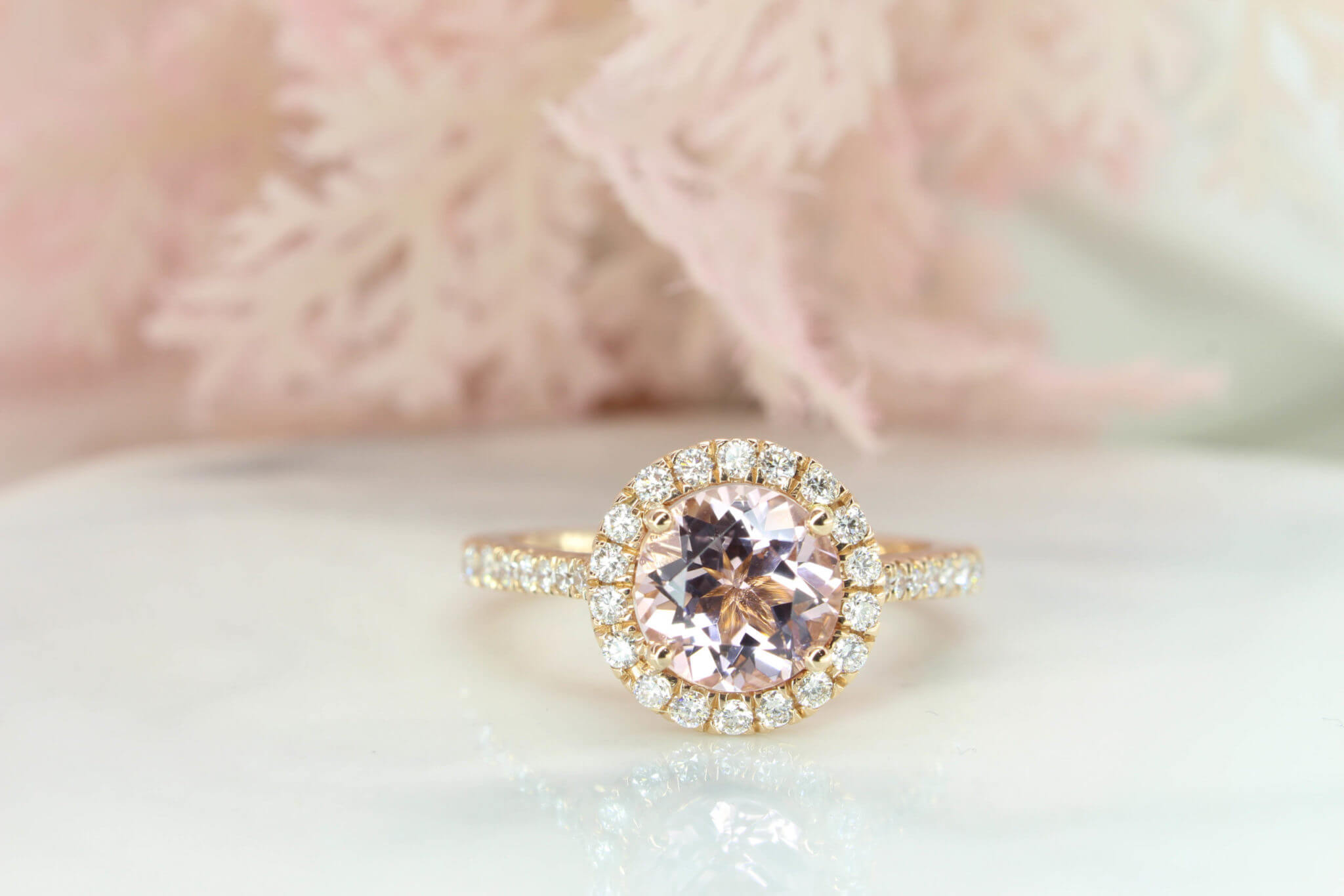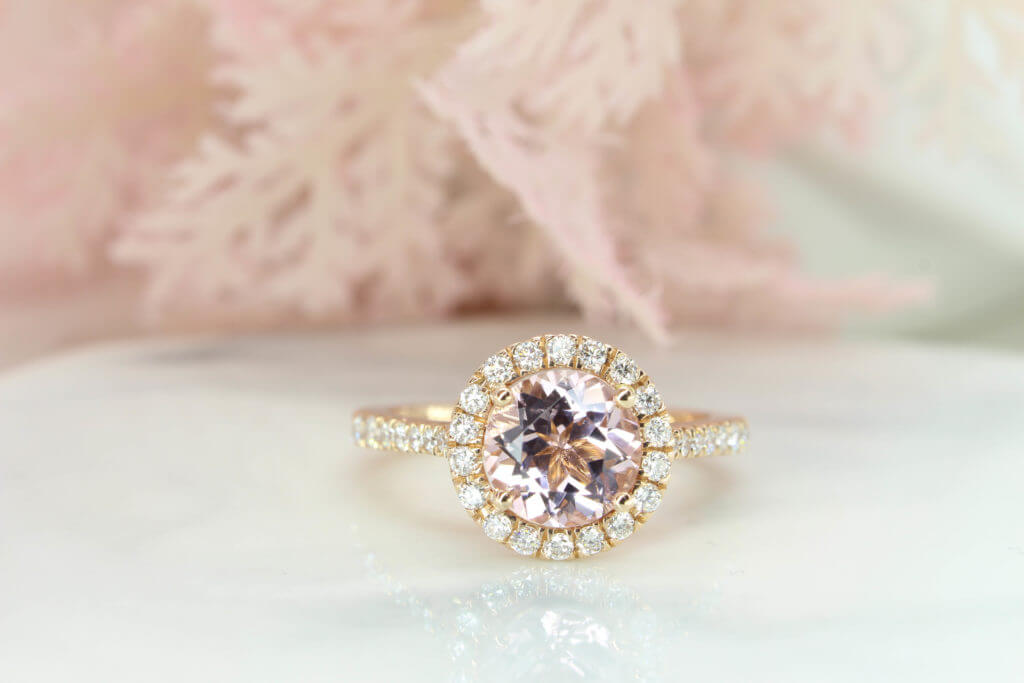 Engagement ring does not necessarily be the classic diamond ring, instead it can be custom made with difference range of coloured gemstone. If you are fond on light pastel pink shade, it can be morganite or pink tourmaline.
Why choose a conventional design for your exceptional girl?
Absolutely exquisite in every sense, the round brilliant morganite engagement ring is custom-set with halo diamonds. This design, set in rose gold, serves to accentuate the focus on the pink stone. Additionally, the sparkle and brilliance of the morganite stem from its precisely cut gem.
Morganite Gemstone 
Identified in 1910 at Madagascar, the pink variety of the beryl stone has excellent transparency with attractive lustre. Named after the American banker J. P. Morgan, the gemstone has an exceptional sweet pink hue.
The gem is commonly heat-treated for better colour enhancement. They are usually in two shades of body colour, or one shade and colourless. This heat treatment eliminate the yellow and orange tinges in the stone, to provide an alluring pink colour shade. the heat treatment is stable and not easy to detect, unlike blue sapphire or ruby.
The peachy-pink colour of the gemstone warms the heart and soul. Dedicated for the special person in your life, symbolise compassion, promise, and assurance. Furthermore, it boasts healing properties that can bring peace and confidence to your life.
Morganite Cluster Ring
A gem of pure, untamed pink, takes center stage in a shape that defies convention – a princess cut morganite gem. This isn't your typical solitaire; it's a masterpiece of unconventional art design jewellery.
Gemstones in Unique Fancy Shades 
Surrounding this blushing beauty is a symphony of gemstones, each hand-selected for its unique character. Marquise diamonds, like tiny shards of stardust, mingle with aquamarine blues reminiscent of tranquil waters. Round brilliance tourmalines add a touch of blueish-green mystique, while hexagonal purple spinel introduce a regal note to the ensemble.
The morganite, held securely in a rose gold setting, is the heart of this unique engagement ring. It radiates a warmth that's reminiscent of a lover's blush, drawing all eyes towards it. Yet, the cluster of gemstones surrounding it doesn't steal its spotlight; instead, they enhance its glory.
It's a testament to the idea that love is not one-dimensional but a complex and beautiful tapestry of emotions. It's the embodiment of uniqueness and allure, just like the one who wears it, making it an extraordinary symbol of love and individuality.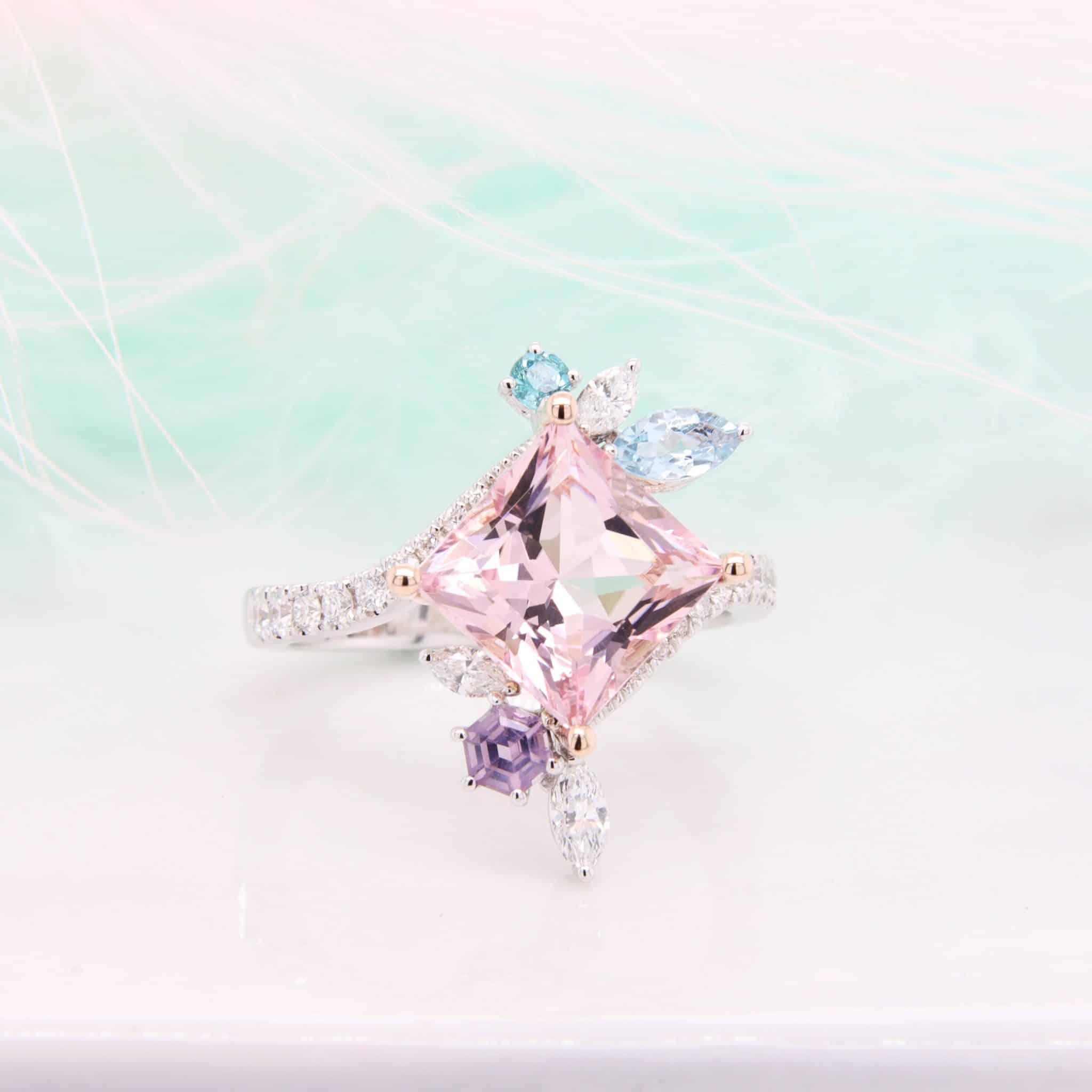 Bespoke Engagement Ring
Why do you settle with a ready ring when you can custom made them at an affordable price? A proposal ring doesn't necessarily have to feature diamonds or expensive coloured gemstones that come with a hefty price tag. Instead, you can personalise a simple yet distinctive ring suitable for everyday wear, one that truly mirrors your personal style. In fact, there are numerous alternatives to the traditional engagement ring. Don't forget to discover more options in our exclusive "Highlights" bespoke collection!