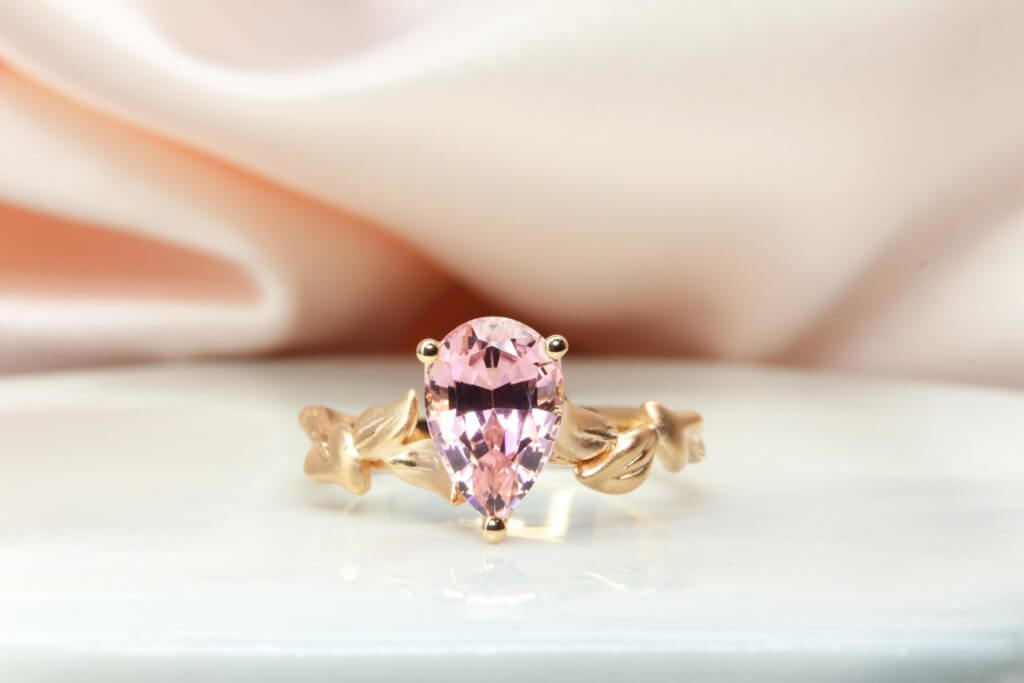 Customised Floral Ring
Pink Tourmaline with Floral Inspired Design in Rose Gold
This pink tourmaline ring features one of the most unique designs ever crafted by us in GIOIA Fine Jewellery. Exuding a deliciously feminine flair, this striking ring highlights everything to make you look truly exceptional. The central gem is a pear-shaped pink tourmaline. We have designed naturally growing, beautiful floral motifs on the shaft to infuse a look of passionate love in the design. The ends of the leaves on both sides hold the tourmaline in a secure manner. The bottom bands have been crafted to appear like natural branches. At the sides, you can find a stalk of flora crafted to perfection.
Customised Engagement Ring
This floral ring with its radiant boom feels and intricate detailing has been chosen as an engagement ring by a gentleman for his lady. This uniquely crafted ring speaks of their love and vow to be together forever. This beautifully styled engagement ring is like an elegantly written script. This breathtakingly beautiful design creates an artistic which would certainly appeal to the admirers of art.
This wedding ring is truly a culmination of the passion, love, and devotion that the gentleman has for his lady love. It speaks volumes of his feelings and would constantly remind her of his deep and true love.
A non-traditional engagement ring, not only with no diamond center stone, but it also does not have a single accompanying diamond. If your girlfriend has hinted that she is looking for an engagement ring without a diamond. This design style is certainly on unique jewellery for your consideration!