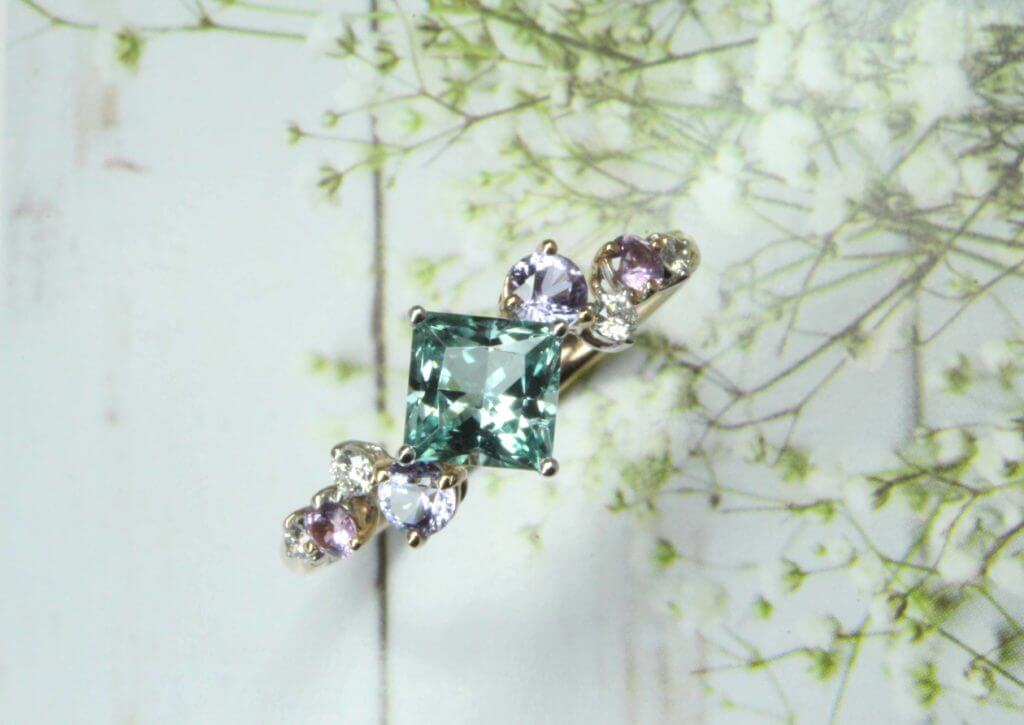 The engagement ring features a coloured gemstone with exciting wide range of colour shades – Tourmaline. This tourmaline constitutes of an excessively beautiful princess cut, for the majestic bride. The regal structure of the stone not only gives a charismatic look but also feelings of dignity and honour. A beauteous setting of solitaires and other colours gemstones namely, pink sapphire and orangish-pink spinel, add vitality and spirit to both the engagement ring and the event. The gemstones give the central tourmaline a life of its own. The appealing setting captures all eyes on the bride for wearing something as unique as this wedding engagement ring.
Best wishes on your engagement Kai and Phoebe! May you both be filled with love, joy, peace and romance.
Tourmaline Gemstone
The rarity of a tourmaline lies on numerous dimensions. Ranging from the structure, colour, and other specific properties, a tourmaline is truly cherished by gem collectors and gemologists. It classifies as one of the most unique stones that have existed since no other gem has three sides. The gem can be found in various colours from rich blue shades to gentle yellow ones. Tourmalines are also popular for their magnetic properties, especially the bright yellow and green shades. Many also find it precious for its durability and long-lasting strength.