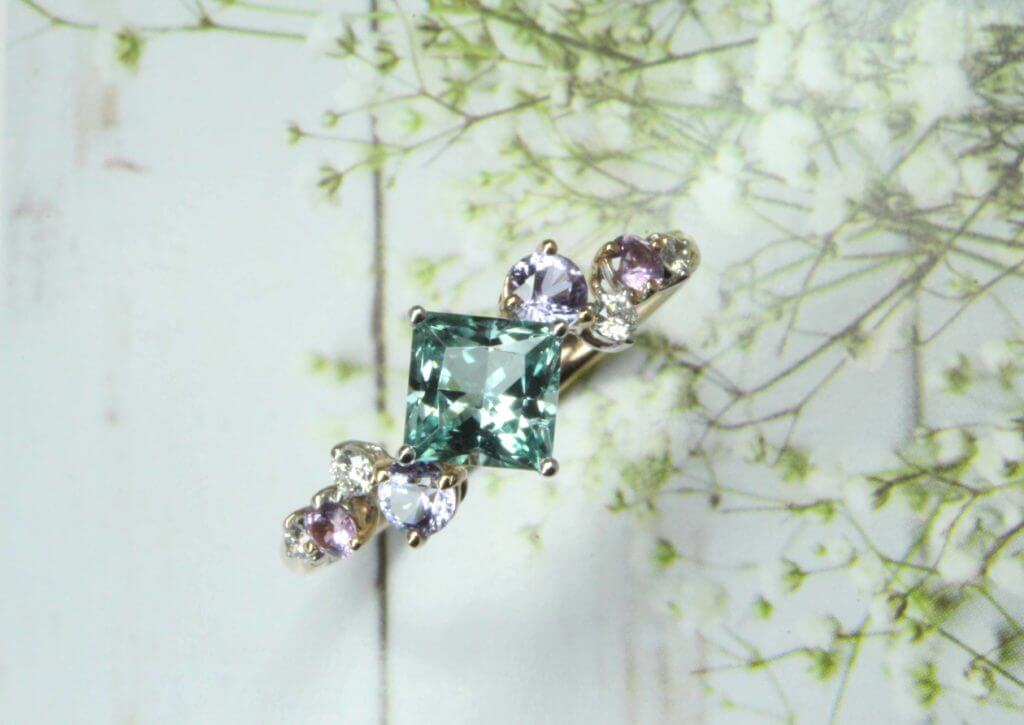 Green Tourmaline
Green tourmaline is a stunning and diverse group of gemstones known for their exquisite green hues. They belong to the tourmaline mineral family, which is famed for its broad spectrum of colours. The shades of green within this gemstone family range from fine green hues to intense yellowish-green, olive green, and greyish green. Just green colour alone, each shade has its unique charm and appeal.
When choosing a tourmaline, consider your personal preferences and the specific shade that resonates with you. Tourmaline being the birthstone for month of October. There's another reason why you should consider it Tourmaline if you are born in October! As each tourmaline hue has its own unique charm and allure.
Blue Green Colour Shade Tourmaline
Some of the most sought-after tourmalines fall within the range of mint-green to blue-green. These gemstones have a fresh and captivating colour, reminiscent of mint leaves or tropical waters. The colour can shift from a cool minty green to a serene blue-green. They are highly desirable for their rarity and unique beauty shade.
These shades of green tourmalines are not only visually appealing but also versatile. Making them suitable for various types of jewelry, from engagement rings to pendants, earrings, and also fine jewelry. The rarity and beauty of these green tourmalines have made them highly sought-after in the world of gemstones. This led to their popularity among collectors and jewelry designers.
Customised Engagement Ring
The engagement ring features a coloured gemstone with exciting wide range of colour shades – Green Tourmaline. This tourmaline constitutes of an excessively beautiful princess cut, for the majestic bride. The regal structure of the stone not only gives a charismatic look but also feelings of dignity and honour.
A beauteous setting of solitaires and harmonious combination of cluster coloured gemstones. Namely, pink sapphire and orangish-pink spinel, add vitality and spirit to both the engagement ring and the event. The gemstones give the central tourmaline a life of its own. The appealing setting captures all eyes on the bride for wearing something as unique as this wedding engagement ring.