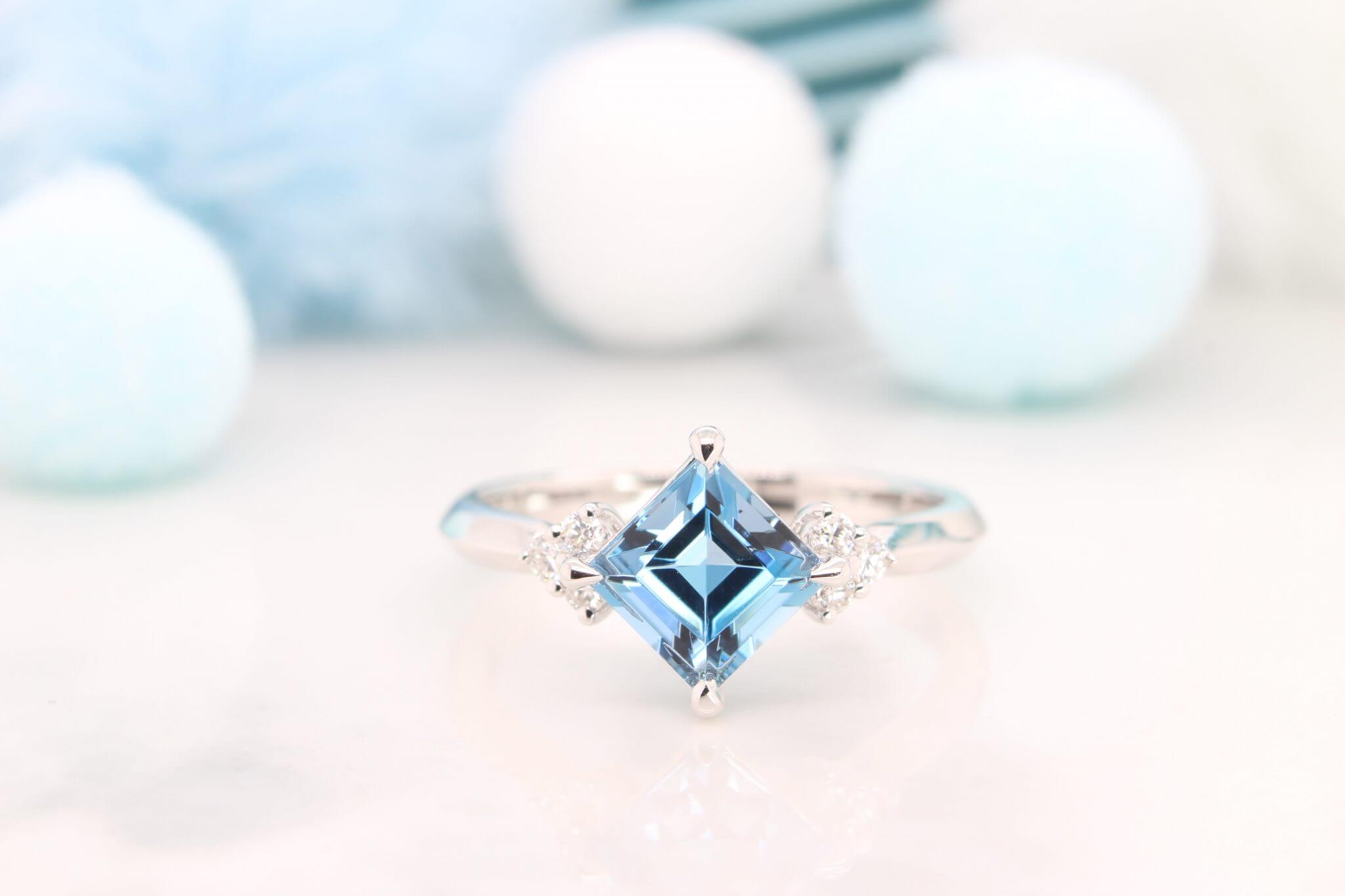 This true blue beauty aquamarine engagement ring shines brilliantly with diamond ascents. The saturation of the unique shade is intensified with its strategic positioning and the added sparkle of the periphery of diamonds.
Aquamarine Santa Maria
Its cool water blue shade makes aquamarine immensely popular, and it is also known as the "water of the sea" gemstone. It belongs to the beryl family. Pink Morganite, green Emerald, and blue Aquamarine all belong to the beryl group. Aquamarine is the birthstone for the month of March, one of the coloured gems you cannot miss if you are born in March! The calming blue gem has gained much recognition as it was worn by members of the royal family. Aquamarine is one of the coloured gems that jewellery lovers and collectors would definitely own.
Rough of aquamarine can be found in a handful of locations around the world, including Tanzania, Sri Lanka, and Madagascar. Brazil produces the finest and the rarest quality of aquamarines. It is a highly sought after aquamarine in the world and popular as Santa Maria de Itabira. The vivid blue shade of Santa Maria aquamarine has a rare saturation which makes it one of a kind. 
Rapid mining activities have exhausted the mines in Santa Maria. It barely produces any aquamarine. In recent years, researchers have discovered certain new pockets that resemble the shade of Santa Maria aquamarine in African mines. These gemstones have a unique colour saturation that is unparalleled and exceptional. This unique source of Santa Maria alike aquamarine is known as the Santa Maria African.
Aquamarine Engagement Ring
This engagement ring that we have designed is equally unique as it features a rare shade of aquamarine. To showcase the unique shape we have the symmetric princess shape designed in a compass position. Featuring a princess step cut, this Santa Maria African Aquamarine was designed with side cluster round brilliant diamonds accompanying the central gem.
Aquamarine Wedding Ring
Aquamarine engagement ring with stackable floral-inspired wedding band. The ladies band was designed with well balance naturalistic flora detail in champagne and white gold. Stack flawlessly with the twisted matte polished aquamarine solitaire ring. Men's band featuring similar lagoon tourmaline with constellation-inspired design.