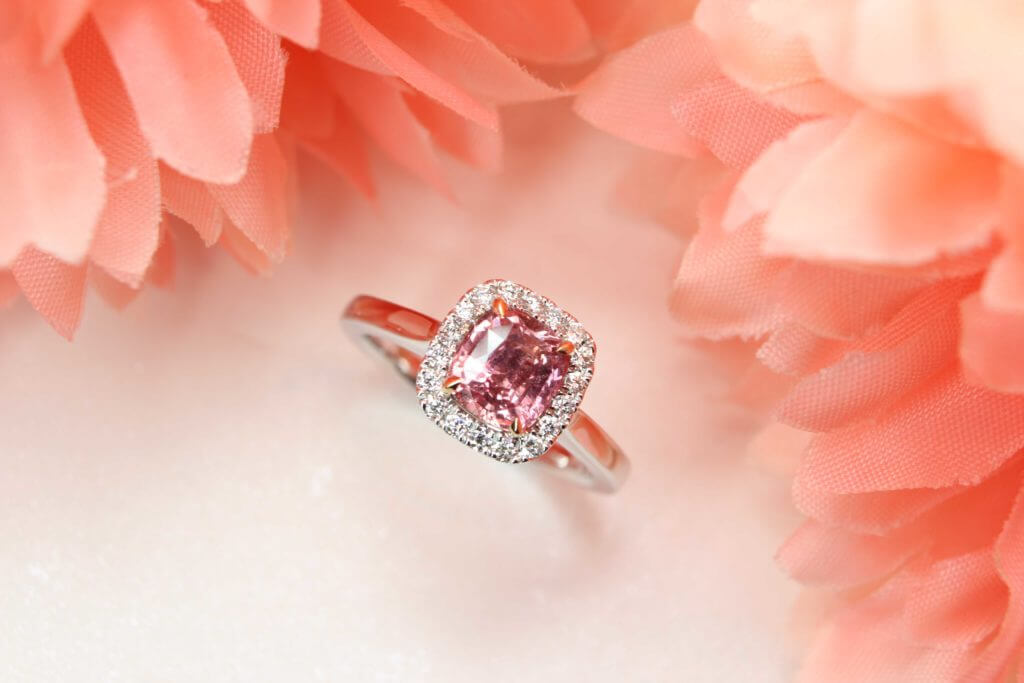 What words fail of saying, the shine and colour of precious gems do that. The Padparadscha sapphire have life in them and always take everyone's mind off your wrinkles. Since the pre-historic times, this rarest of rare coloured gem is the most sophisticated and found in royal pieces of jewellery. It is the oldest form of a jewel, which gets adapt well with a woman's adornment. Any ring festooned with a Padparadscha sapphire and diamonds is a combination of the richness of art and nature as it is concentrated with the quintessence of light and brilliance.
Congratulation and best wishes to Kean and Esther! May the years to come be filled with blessing, love and happiness!
Padparadscha Sapphire
The aura of Padparadscha sapphire gemstone ring have unique charisma. Padparadscha – the colour of a lotus flower! Represents an extraordinary colour shade between orange and pink, this stone has its own subtlety "like no other" stone. Prized throughout the ages, your proposal ring will be more special and one-of-a-kind when adorned with this beautiful stone. This customised proposal ring was created around an exquisite cushion cut Padparadscha sapphire. It is further ornate with sparkling round cut brilliant diamonds from the sides, which are fixed in a prong setting.
Customised Proposal Ring
You can get this ring customised in your favourite design, cut shape, and in precious metal – Rose gold, Natural white gold, Yellow gold, White gold or Platinum. What's more? All the things you get in this masterpiece when looking for a perfect proposal ring. Get your jewel designed, customised and cherish the beautiful memories of a lovely day forever and always. This Padparadscha sapphire got selected by the couple, and thereafter have the ring customised for a proposal ring. Having both the couple together in the process is something much memorable and nothing can be more special than this.