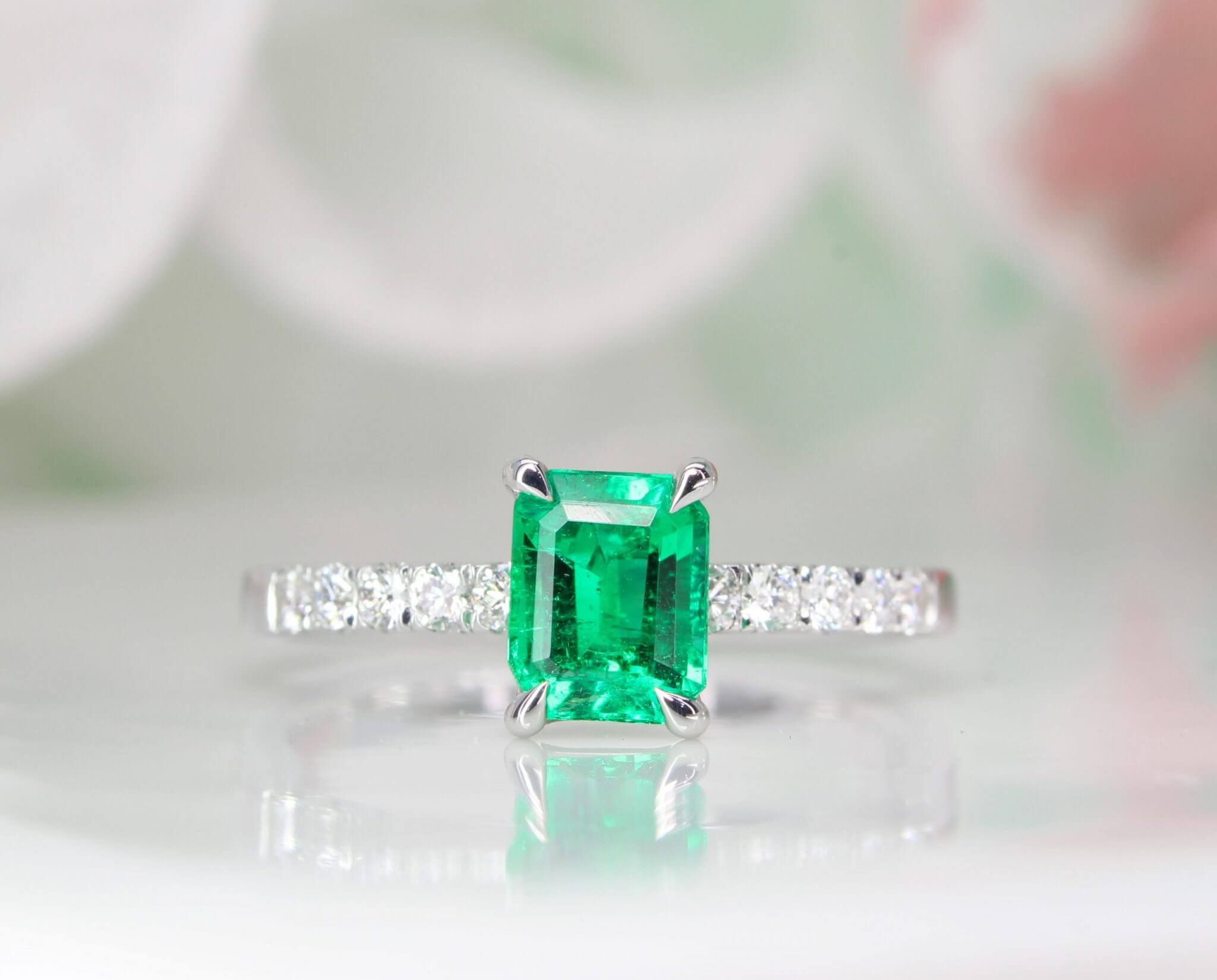 This bespoke ring features one such rare and exquisite minor oil Colombian emerald. It has an exceptional bright vivid green hue. The emerald was set in 18k (750) white gold to contrasts the gem beautifully. The micro-pave diamonds set on the ring band glimmer stunningly. This emerald ring design has been chosen by a couple together. It is in fact a present from a loving husband to his dearest wife. The warm and innovative design of this gemstone ring is simply spellbinding. Celebrate everlasting emotions with this spending emerald ring. It is truly an elegant representation of the timeless bond of affection and love that bonds two people together.        
If you are planning to mark a special occasion with a bespoke jewellery that represents uniqueness and finest quality, then this exquisite emerald ring is all you need to consider. It is one of the most valuable big gems mined from South America; Colombia.
Emerald Gems
Prices of emerald vary from $600 to $10,000 per carat. The value of emerald is influenced by various parameters such as its origin, carat, colour shade, and the oil treatment it receives.
Bluish-green colour is the most sought after emerald shade. It is also popular for its vivid saturation. Oil treatment of emeralds is a common enhancement as it can have natural inclusions or fractures such as embedded crystals and veils which can result them in appearing opaque or cloudy. Emeralds are oiled for enhancing their overall appearance. Primarily, cedar wood oil is used for filling tiny fissures from the surface to internal inclusion. This process enhances the colour and clarity of the emerald significantly.        
Oil Treatment
Usually, high-pressure oil is forced into the emerald based on the degree of filling. Getting quality emeralds that have not undergone any treatment is simply next to impossible. About 95% and above of emeralds available in the market are oil-treated. Small percentage of emeralds are insignificant to minor oil as they have less surface-reaching fissures and natural inclusion. At GIOIA Fine Jewellery, we source the finest emeralds available in the world that have undergone minor to no oil treatment.