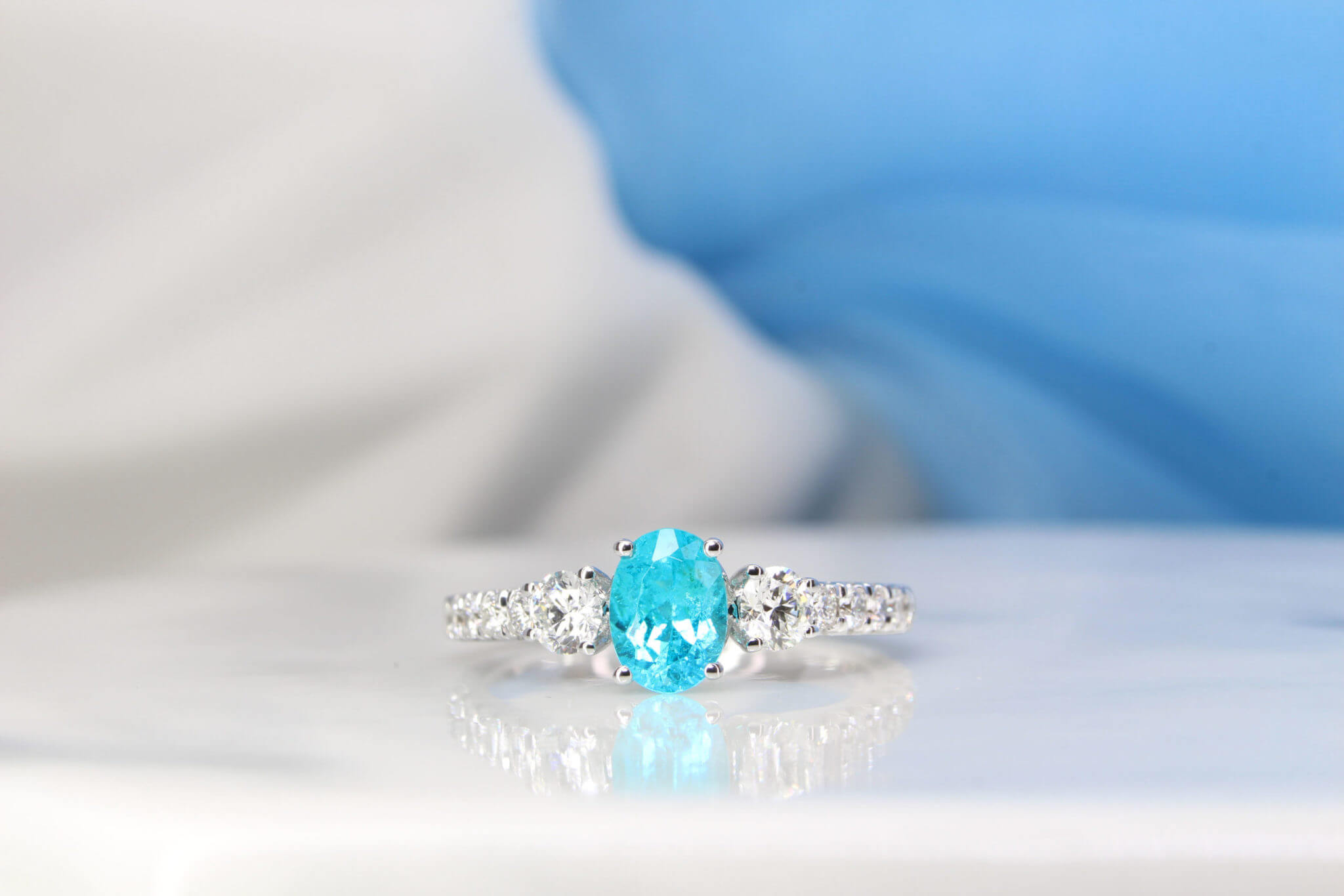 Brazil Paraiba Engagement Ring Statement Jewellery

Step into a world where rarity meets radiance with our exquisite Brazil Paraiba engagement ring, a bespoke creation that transcends the ordinary. Crafted as a unique symbol of love, this dazzling Brazil Paraiba gem takes center limelight stage. Adorned with side round diamonds that dance in harmony with its vibrant beauty. Designed for a lady with a taste for the extraordinary, this engagement ring is more than just a piece of jewelry; it's a manifestation of her vivid imagination brought to life.
An exceptional engagement ring that goes beyond the conventional. Where the stylish and sassy essence of Brazil Paraiba meets the timeless allure of round diamonds. The pave of shimmering smaller round diamonds elegantly not only enhances the enchanting design. It also create a visual symphony that captivates the beholder.
Brazil Paraiba Tourmaline
At the heart of this captivating creation lies the Brazilian Paraiba Tourmaline, a gem that defies expectations with its sensational colour. Renowned for its signature neon greenish-blue hue, it stands as one of the rarest gems globally. A fine quality Brazilian Paraiba easily command a premium three times and above that of a natural diamond. Also known as Rio Grande Do Norte Paraiba Tourmaline, it hails from the northeastern part of Brazil in the state of Paraiba. Its vivid shade shocked gem collectors when it was first exhibited in 1989. This irresistible shade of electric blue spiralled up this coloured gemstone, beating all other variants of tourmaline that were once popular.
Rarest of Rare Paraiba Tourmaline
Because of its exorbitant pricing, only experienced and trained cutters can work on the gem. It is to prevent unnecessary damages or wastage to this precious rare gem. Collector are acceptance to the inclusion in Paraiba tourmaline considering its rarity and strong vivid intensity. It is rare to come across this gemstone even in 1.0 carat weight. Particularly in a jewellery auction held in November 2019, a Paraiba tourmaline of 1.77 carats was realised at $64,000 USD, which is estimated to be $36,000 USD per carat.