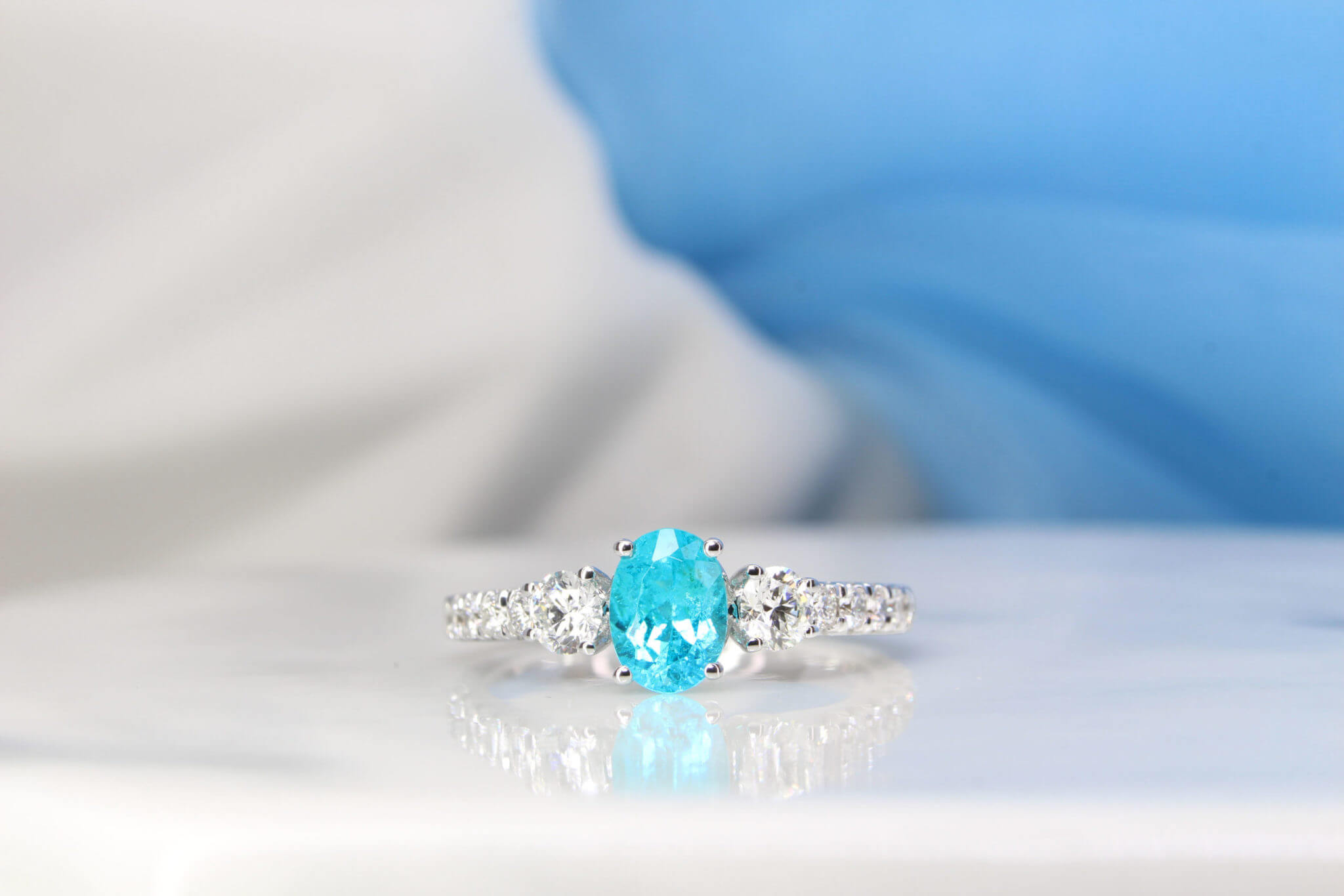 This dazzling Brazil Paraiba diamond ring is an epitome of rare beauty. It was customised as an engagement ring for a lady. Stylish and sassy, this Brazil Paraiba ring accented with side round diamonds is something what she have picture in mind and would certainly adore. The pave of shimmering smaller round diamonds beautifully complements this enchanting ring design. This luxury customised design ring is modern, and would certainly make a memorable choice. Overall, the look is truly impressive and makes a fantastic statement piece. 
Brazil Paraiba Tourmaline
Brazilian Paraiba is a fascinating rare gem that exhibits a sensational colour. The signature neon greenish-blue colour makes it one of the rarest gems in the world, priced a premium of three times a natural diamond. It is also renowned as Rio Grande Do Norte Paraiba Tourmaline. It is found in the north-eastern part of Brazil in the state of Paraiba. Its vivid shade shocked gem collectors when it was first exhibited in 1989. This irresistible shade of electric blue spiralled up this coloured gemstone beating all other variants of tourmaline that were once popular.
Rarest of Rare Paraiba Tourmaline
Because of its exorbitant pricing, only experienced and trained cutters can work on the gem. It is to prevent unnecessary damages or wastage to this precious rare gem. Not much importance is given to the clarity of Paraiba tourmaline considering its quite rare and features a shade so intense. It is rare to come across this gemstone over 1 carat. At a recent auction held in November 2019, a Paraiba tourmaline of 1.77 carats was featured in a diamond ring. Its worth is estimated to be 36,000 USD per carat.