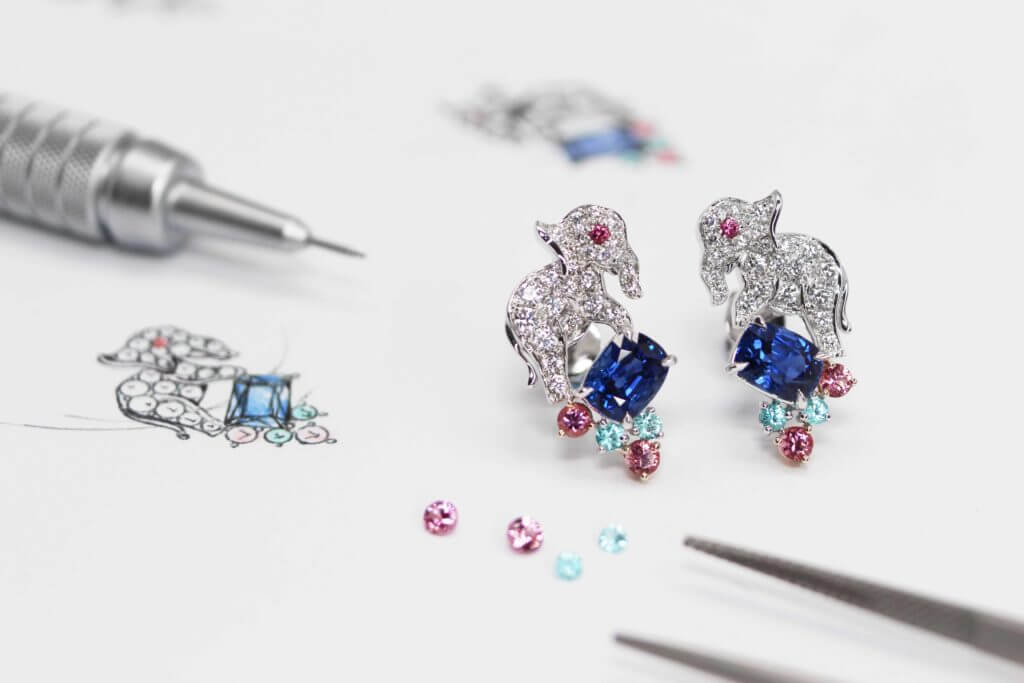 The design is rendered unique with the incredible amalgamation of 18k (750) white gold, perfectly matched with round diamonds and coloured gemstones in timeless styles. The brilliant diamonds exude a sophisticated look which is certainly going to capture the hearts of the onlookers. The ardent hues of the bright colourful gems impart a celestial grandeur to these earrings. Everything about this pair of elephant earrings is mesmerising.
The style can be considered to be more of a seamless match of an elegant setting and stunning colours. This marriage brings out the full brilliance in the earrings. If there is any design that can reflect the uniqueness and style of the wearer, then it has to be this one. Customised design represent your true spirit. If there is anything else that you feel that symbolises who you truly are, then you can always request for a customisation option. It is more like celebrating who you are and your beliefs.
Elephant Earring
Elephants are majestic mammals that speak to us about determination, loyalty and sensitivity. Symbolically elephants signify honour, stability, strength and tenacity. If you are a person who just adores everything about these magnificent mammals, then you would certainly wish to add this pair of exquisite earrings to your collection. This customised pair of earring features playful elephants featuring diamond accents and rare pair of unheated Burma (Myanmar) blue sapphire. Elephants have a rich and long history in Burma, white elephant in particularly regarded as the symbol of status and royal in the country.
The eye has been designed with a Red Spinel. Brazil Paraiba Tourmaline gems have also been featured along with red spinel stones at the base. The design is alluring beyond words and has been design from sketch and customised together with Matthew, who wanted to surprise his beloved wife.
Customised Jewellery
This perfectly crafted pair of earring is worth flaunting every day. The finesse with which the design has been crafted speaks of superior craftsmanship that has been put to bring the design into life. The stunning pair of customised earring helps you convey your deepest emotions to your loved one. The brilliance with which this design has been crafted renders it perfect for all occasions and can make a great present for anniversaries, weddings or birthdays. If you have somebody special to surprise on a unique and memorable date, then you cannot go wrong with our gorgeously designed and crafted customised jewellery.