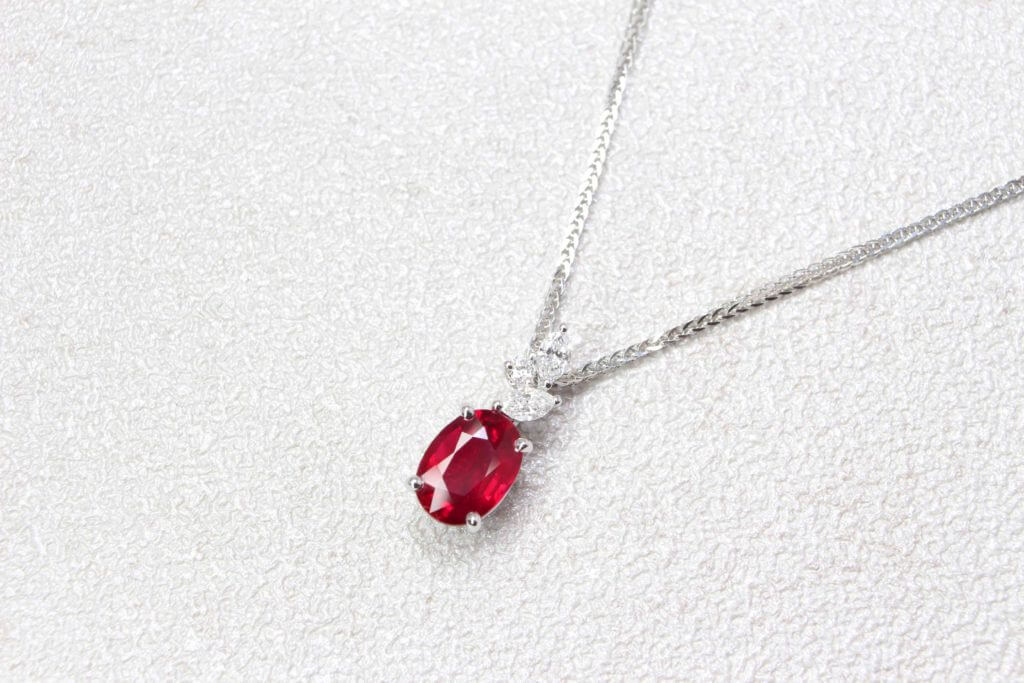 Natural Pigeon Blood Ruby
"Pigeon blood" is a term often used to describe the colour of the finest ruby in colour shade. Pigeon blood ruby are highly coveted for their intense, pure red colour without purple nor blue, which is considered the most desirable colour for rubies. This term was initially associated with Burmese ruby, as Myanmar (formerly Burma) has historically been a significant source of some of the world's most exceptional rubies.
Subsequently ruby source from Mozambique follow by Madagascar are graded with Pigeon Blood term without strong fluorescence. Pigeon blood ruby considered some of the rarest and most valuable gemstones in the world due to their extraordinary colour and exceptional clarity.
The more closely a ruby's colour matches the ideal pigeon blood red, the more valuable and sought after it is in the gem market.
Customised Ruby Pendant
Customised by a gentleman for his beloved wife on their wedding anniversary, this sweet and delicate pendant features a vivd red ruby gem. Crafted to exude refined elegance, the ruby used in this design is warm and fiery. The center stone is natural unheat and is one of the most valued gemstones owing to its deep pigeon blood red hue. As red is the colour of passion and love, the gentleman considered this ruby gemstone pendant a perfect present for his beloved wife.
Delicate in design, this elegant pendant is customised to revel a glamorous look. This vivd and beautiful coloured gemstone was custom made in natural white gold 18k (750) and with pale yellowish colour in the claws to bring out intensity in the gem. This timeless customised pendant is simple yet features a unique design.
Customised Pendant
The exceptional gemstone and beautiful designing featured in this pendant is an example of skilled artistry. This elegant pendant would make a great choice no matter what the occasion is. It is apt for daily wear because of the simplicity retained in the overall designing.