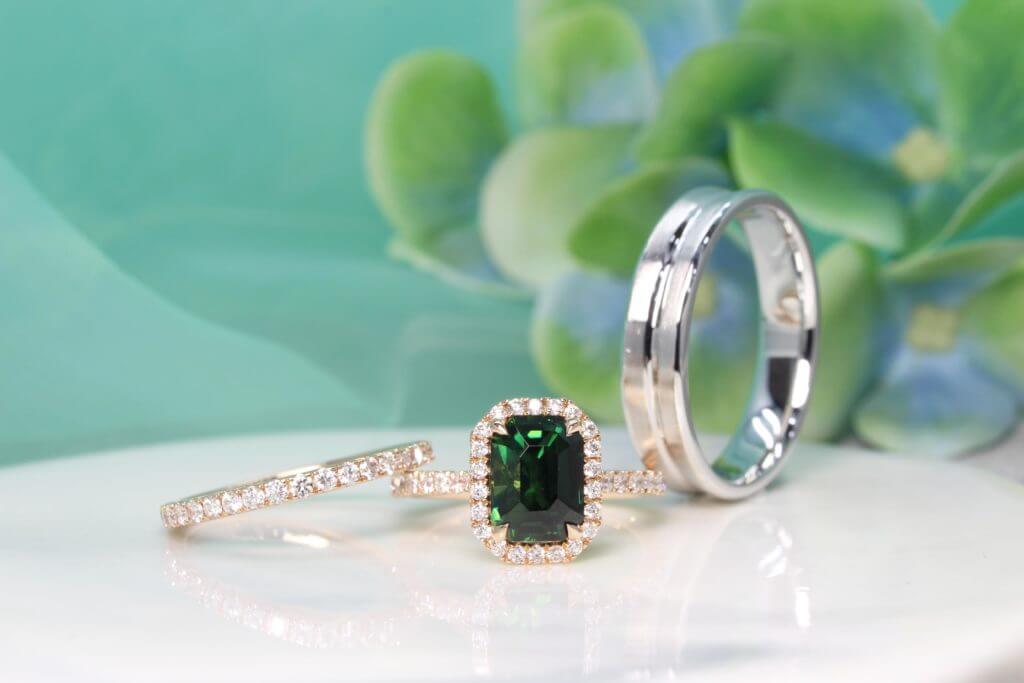 Teal Sapphire Wedding Rings – Platinum & Rose Gold
Dive into the world of enchantment with our extraordinary teal sapphire wedding rings. A celestial union of Platinum and Rose Gold that transcends traditional boundaries. This mesmerising set is not just a testament to love and also individual style. At the same time showcasing a teal sapphire that is as unique as the bond it represents.
Teal Sapphire Engagement Ring
Bespoke Design Teal Sapphire Wedding Rings
The teal sapphire engagement ring is a symphony of elegance and non-conformity. The unheated teal-coloured sapphire takes center stage. Revealing a captivating teal green hue under indoor lighting, while basking in the daylight reveals its magical bluish-green undertones. This distinctive gem is precision-cut into an octagon shape, surrounded by a halo of round brilliant diamonds set in rose gold. The result is a non-traditional masterpiece jewellery that captures the essence of uniqueness.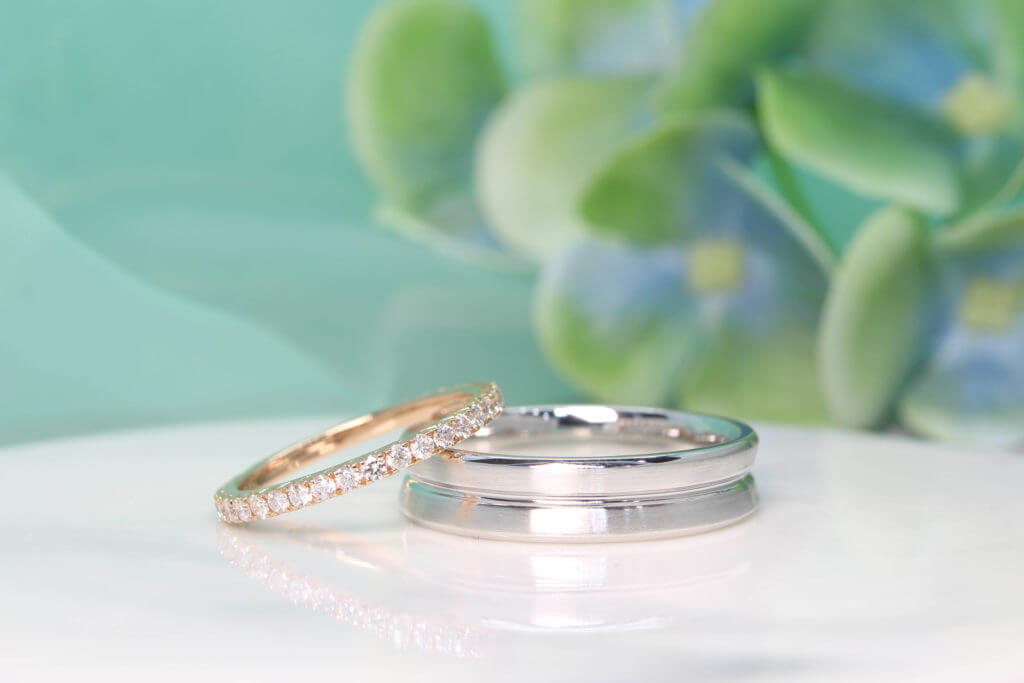 Customised Wedding Bands
Step into the realm of personalised luxury with our custom-designed wedding bands. The ladies' band is a dazzling display of ¾ micro-set diamonds, at the same time promising flexibility with future resizing. Its shimmering diamond accents create an illusion of a full eternity. In addition making it a truly captivating piece tailored to perfection for individual preferences.    
On the other hand, the men's wedding band is a fusion of platinum, showcasing a contemporary design that stands apart from the conventional. The tapered ends meet at a central groove, creating a classic yet modern look. The brushed matte finish adds a touch of sophistication, giving the band a one-of-a-kind allure rarely found in commercial designs. This bespoke creation symbolises the acceptance of differences in styles and choices within the couple, a harmonious blend of individuality and unity.
Unique Wedding Rings with Unique Love Story
These teal sapphire wedding rings are not just everyday jewellery accessories. They are also a visual representation of a unique love story. Every detail, from the teal sapphire's distinct hues to the custom-designed wedding bands, speaks volumes about the couple's journey together. Embrace the extraordinary, celebrate individuality, and embark on a lifelong adventure with a symbol as rare and exceptional as your love.