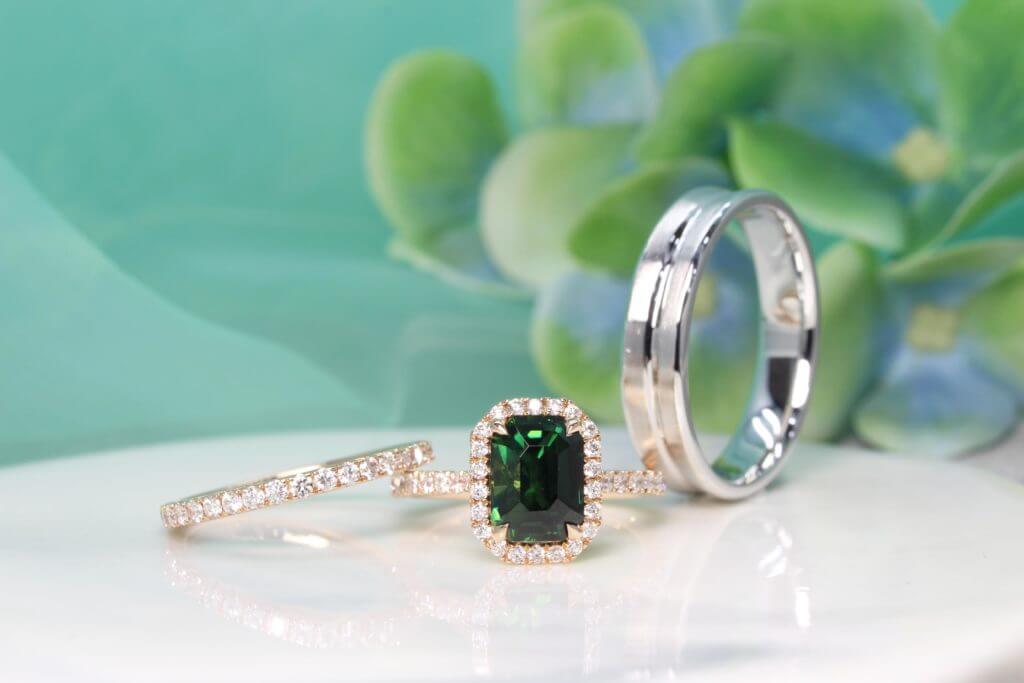 Teal Sapphire Wedding Rings – Platinum & Rose Gold
This set of teal sapphire wedding rings is a perfect choice for a couple who prefers clean and elegant designs that can be incorporated into everyday life. The engagement ring features a majestic, unheated teal-coloured sapphire gemstone. The colour shade of the gemstone is unique and it looks teal green under indoor display lighting. What is mesmerising about this unheated sapphire is that it exhibits a unique bluish-green shade under broad daylight.
Teal Sapphire Engagement Ring
The round brilliant diamond halo band was crafted in rose gold featuring a teal sapphire in the centre. The main sapphire features a unique precision cut gem, which was cut and polished into an octagon shape. Non-traditional engagement ring designed with round brilliance diamond surrounding the teal coloured gem.
Customised Wedding Bands
The ladies' wedding band was set in ¾ micro setting diamonds which promises future resizing. The ladies' band with shimmering diamond accents looks like a full eternity. The band is truly alluring and has been customised to perfection to suit individual tastes.      
The men's wedding band was crafted in platinum featuring a white gold base. Tapered look on both end of the band meets at the center groove design. This classic design was finished in a brush matt look which showcases a modern design and one-of-a-kind look which you would barely see in commercial designs. Customisation has imparted uniqueness to the design. Although the pair does not resemble a couple pair, it is a symbol of acceptance of the differences in styles and choices that the couple has. This stunning couple band is complete despite all the differences in choices.