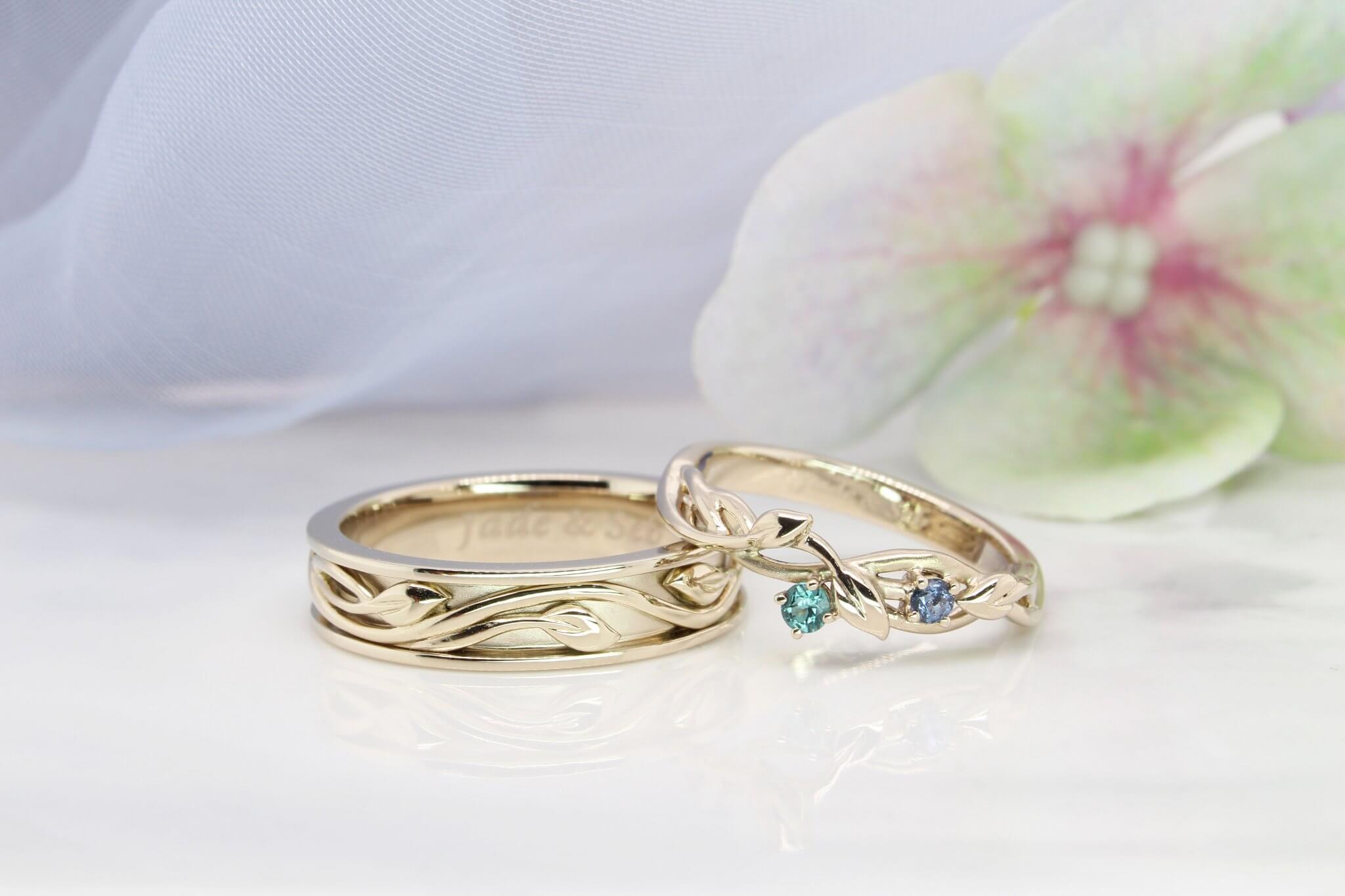 Natural Leaves Inspired Design
Unique Wedding Bands with One of a Kind Design
Is your wedding on the cards? Well, then it's time to pamper yourself with a precious pair of unique wedding bands that can be treasured for a lifetime. These uniquely designed natural leaves inspired wedding bands has been perfectly crafted to beautify your hand for any occasion. Crafted with a strong band in unique champagne gold, the wedding band makes a statement of love and eternal bond.
The men's ring is designed with bold pave lines to give an overall muscular look with leaves details between. This personalised wedding band can be integrated into a matching engagement ring with the main gemstone being featured at its centre.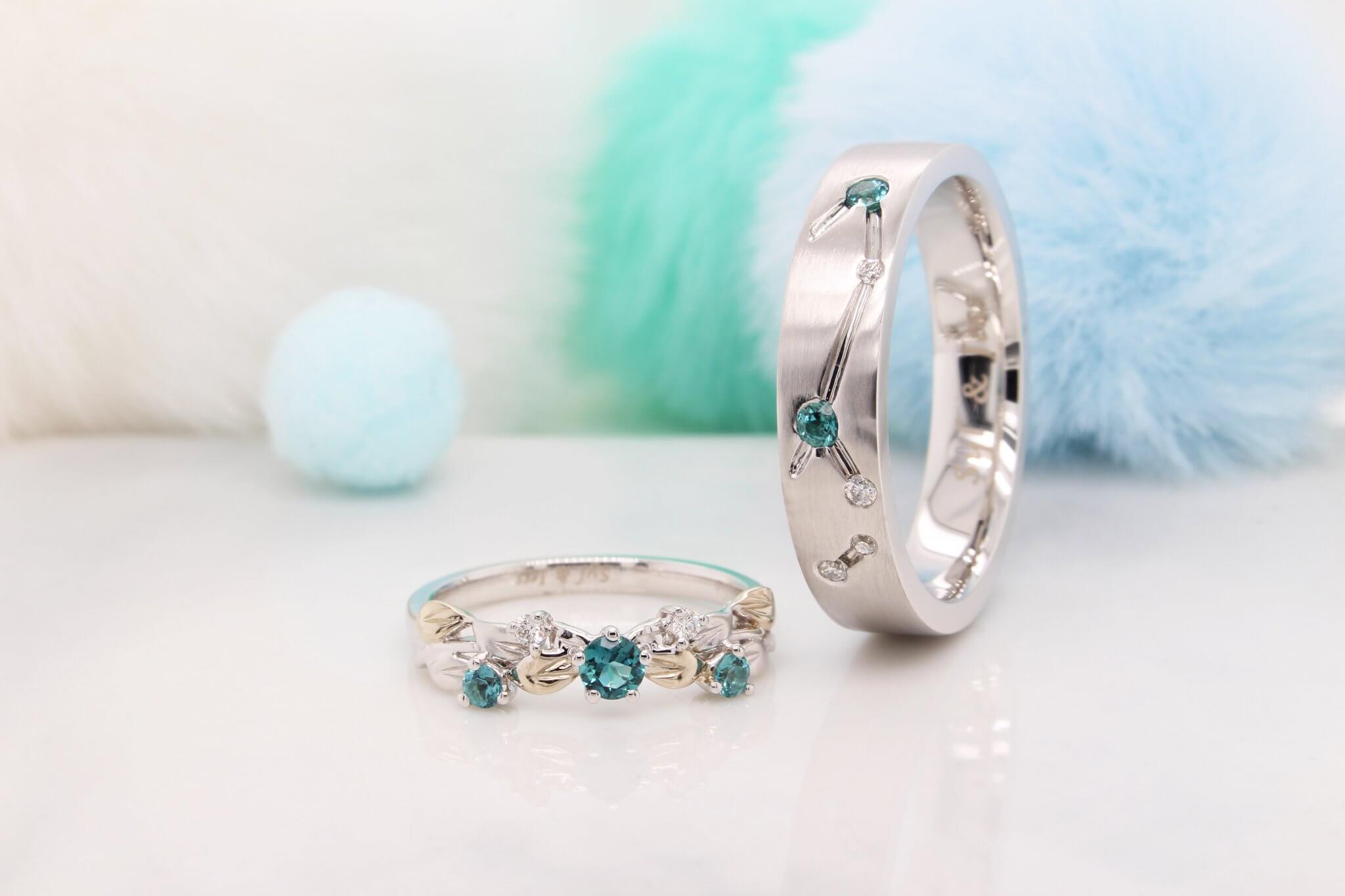 Natural Wedding Bands Design
Unique Wedding Bands with Personalised constellation & Natural Floral
If you are an admirer of radiant jewellery, you can choose the gorgeous white with champagne gold-hued gold contrast design. The subtle colour renders an exquisite aura to this ornament designed with fine bluish green tourmaline. Oozing exceptional vibrance, these personalised wedding bands sparkle a smooth finish.
Natural floral-inspired ladies' ring customised with gemstones and round brilliance diamond exude brilliance with all the attractive colours. Couple with the personalised constellation men's ring making both the jewellery a unique gleam.
The splendid diamonds add incredible flair to the flora ring, while the tourmaline birthstones elevate the elan of this arty jewellery twosome. Making a memorable piece, the beautiful ornament is perfect to embellish your special occasion. The chic and modish wedding bands reflect meticulous craftsmanship combined with minute details moulded into an artistic creation.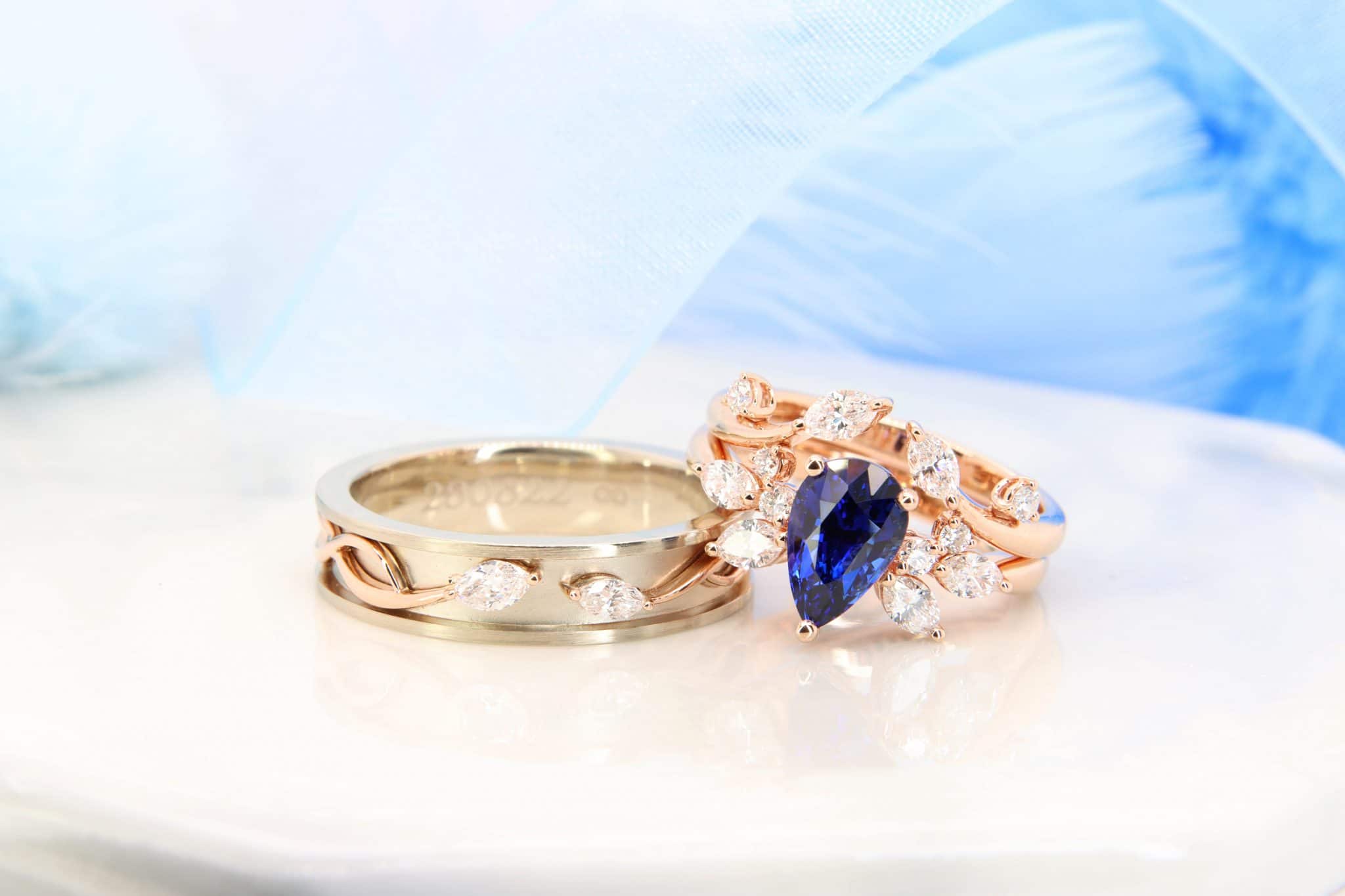 Personalised Wedding Bands
Personalised wedding bands are for a lifetime and it is best to invest in a piece of ornament that lasts forever and does not lose its sheen too soon. With a signature ornament, not only will you treasure the moments of exchanging a ring but will also cherish it as a symbol of love and eternity.
For couples looking for ideas to eternalise their wedding with a matching piece of jewellery, unique wedding bands for the couple can make a stylish ensemble. Is customising wedding bands complicated and tedious? You can plan the design to get a custom ornament ready for your beloved partner and yourself. Once you've decided on a specific design and placed the order, it would take anywhere between 8-10 weeks to deliver your fine jewellery pieces.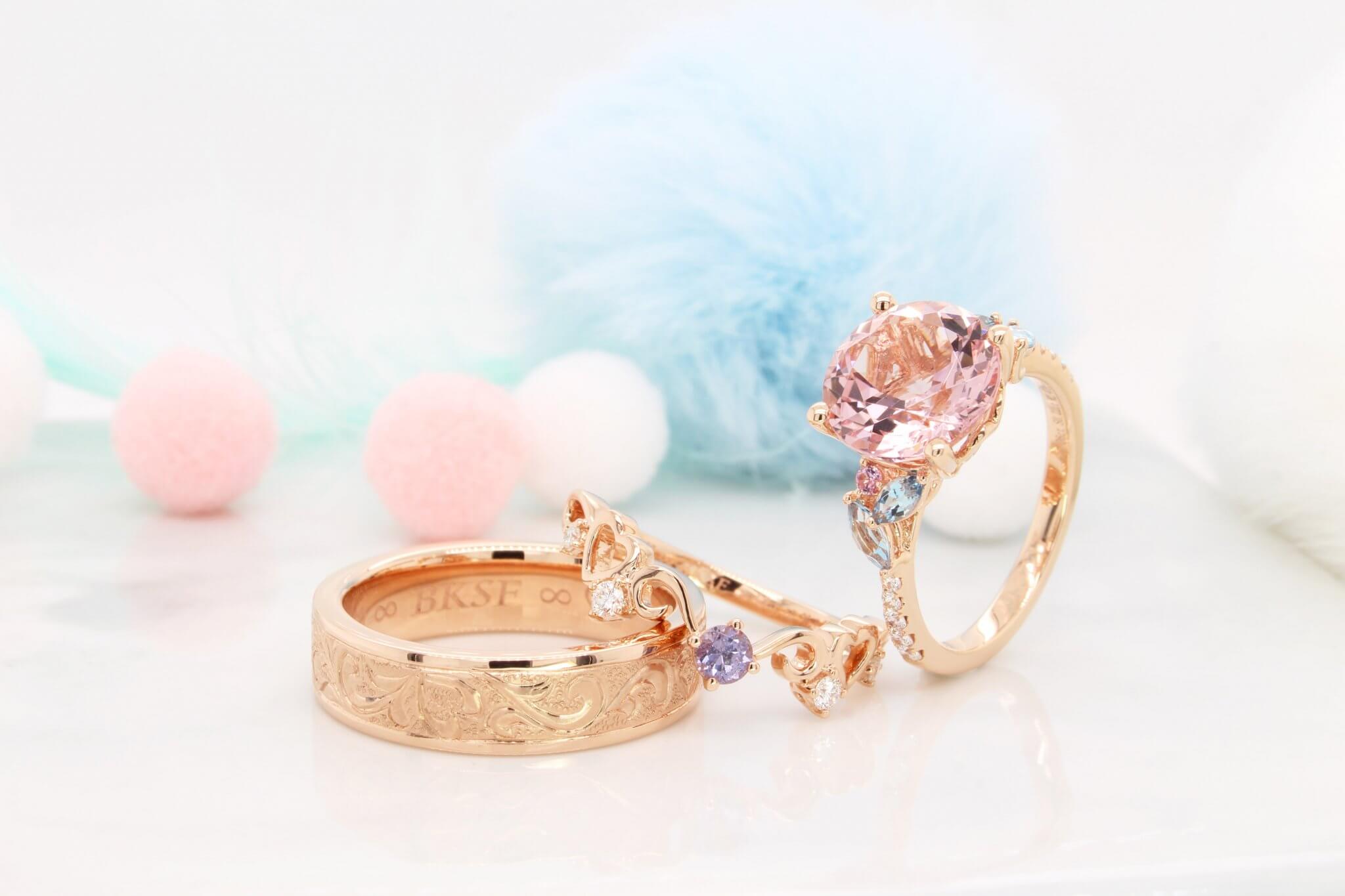 Morganite Filigree Wedding Bands
Intricate filigree design wedding bands that last forever
The filigree works on the wedding bands is representative of fine vintage jewellery and can be passed on as an heirloom piece for generations ahead. The elaborate design dribbles grace in every inch of its lace-like filigree design. Twining your rings with each other can make a piece of perfect complementing jewellery. The nifty and sleek design encases a minimalistic look to the wedding band enabling you to wear it every day.
Pair the unique ring's design as you choose a similar tone and design to coordinate it seamlessly. You can get the same vine-like filigree or get a custom design in floral lattice, hearts or other creative detailing. The design forsakes milgrain beads for the natural design to allow the floral filigree vines to resplendently integrate into the broad and solid band.