Make this Father's day a special one with a personalise and contemporary custom-made modern men's ring. This ring encased in champagne gold oozes style. With a yellow sapphire sitting neatly on the gleaming band, this finger ring is set to define one's unique style statement. Wish to gift your man an ornament of love for daily wear? Jewellery does not necessarily be solely a ladies thing, crafted for men of all ages, this one-off bespoke piece is worth the buy!
Featuring an unheated vivid Royal Blue sapphire modern men's ring. Design with element of astrology with trio amethyst on both side with round brilliance diamond.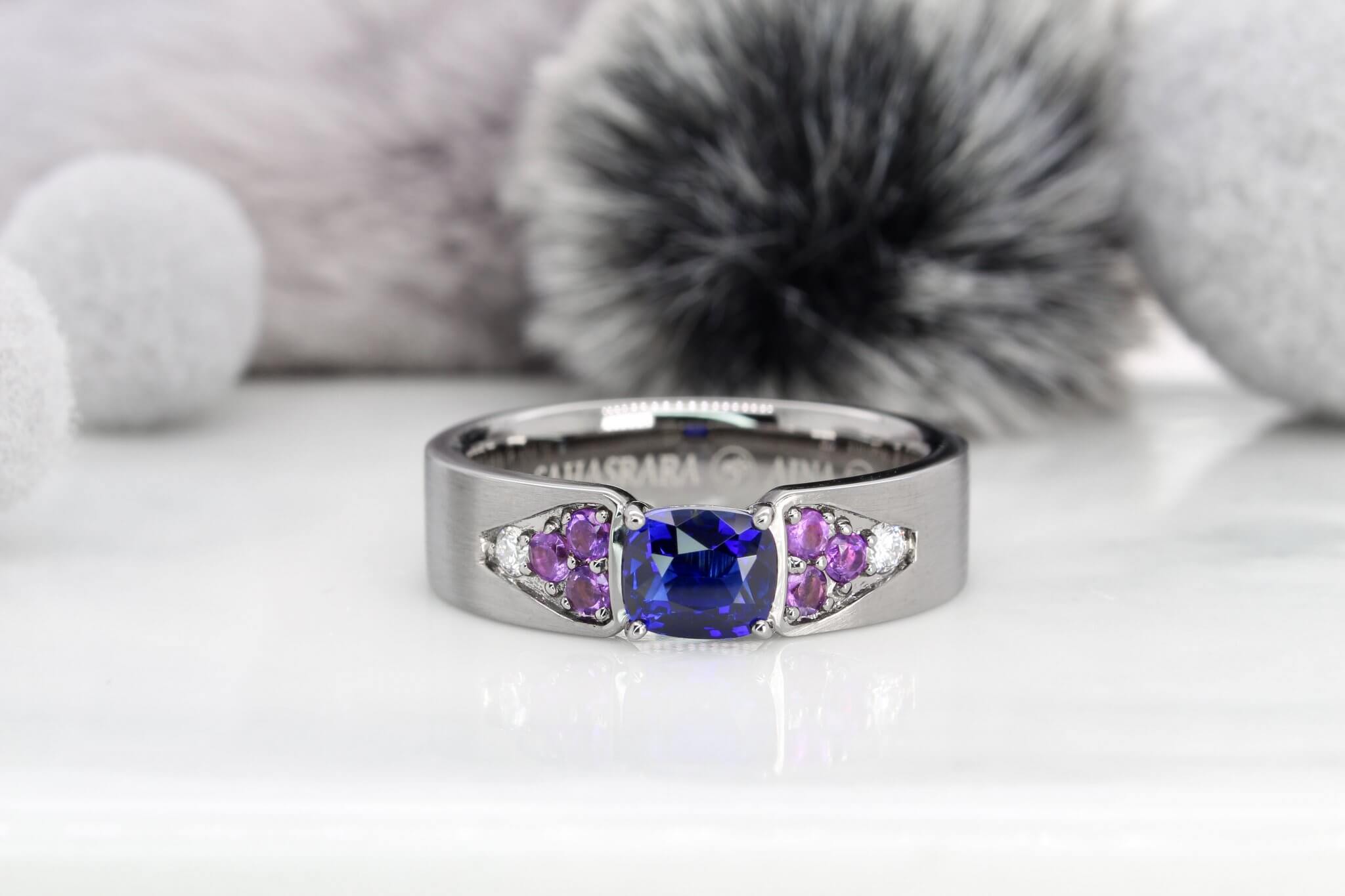 Custom made Ring
The light tone of yellow adorns the ring-like peaking streams of sunlight at dawn. The smooth contour of the symmetrically carved out ring makes adds to its brilliance. The band's finishing in a brush matt tone exuberates a trendy and sleek polish to the organic jewellery piece. Blended with champagne gold polish, the ring offers a dapper look to the masculine hands. Be it for any occasion, this men's jewellery ring qualifies as a stellar choice regardless of who wears it.
Sapphire Men's Ring
The modern sapphire ring for men has been customised with a yellow-coloured high-grade sapphire cut in an octagonal shape. Unlike the classic cushion, this modified emerald step-cut exhibits a prominent brilliance from its rectilinear facets. While the shape of this precious crowning gem adds to the dimension of the ring, the unheated sapphire glistens in its character. The non-conventional positioning of the yellow sapphire adds valour to this exclusive piece of men's jewellery. 
Contemporary modern men's ring that complement any outfit
If you are searching for gifting options, this sapphire men's ring can make a stunning accessory to be gifted to your beloved. Neither too broad nor too dainty, this classy design is a perfect choice to match your man's style and modern sense. The best part is that it can complement any outfit without making one look out of place. A ring any day makes a safer option, especially when you're shopping for personlised jewellery for men or a custom-made ring yourself.