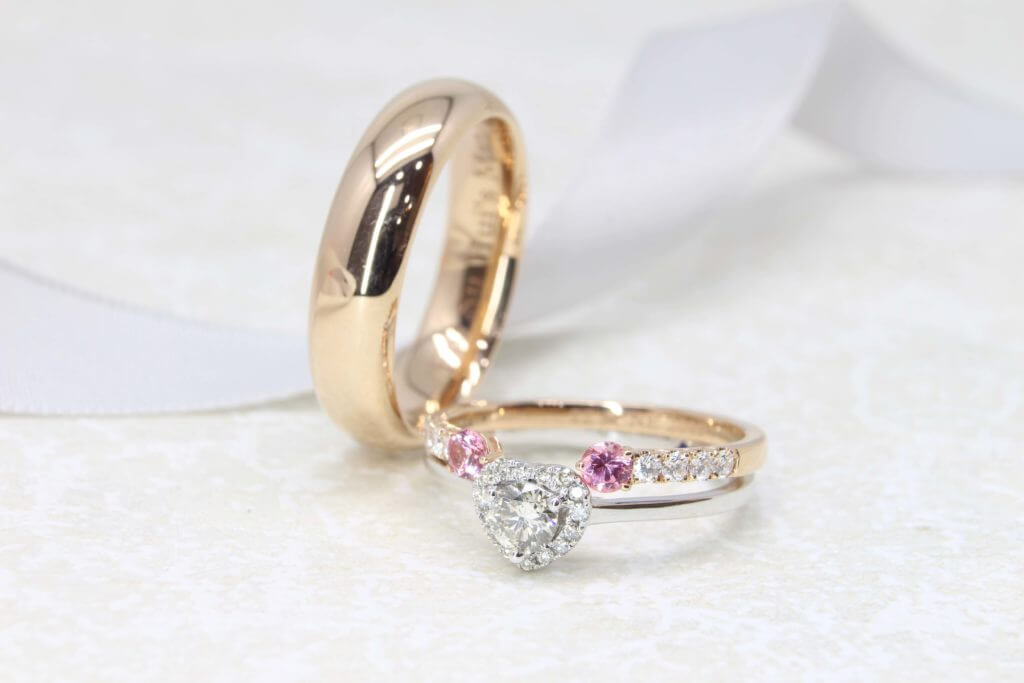 The wedding ring features a heart shape diamond solitaire ring. It is something unique to have on a wedding band along with coloured gemstones and diamonds. This design has been customised in rose gold band, to give the solitaire diamond a touch of warm look.
Customised Wedding Rings
Unconventional in its own sense, it would be hard not to notice the ladies band in this design. The bright polished appeal of the base metal amidst diamonds and coloured gemstone does not fail to captivate the onlookers. The unusual look is accentuated with elegant accents in this design.
The men's band is truly a perfect foundation for a lifetime of style. The handcrafted polished 18k (750) band for men can be customised in multiple finished and fits as per your requirements. The solid rose gold wedding band makes a perfect statement of lasting love. The design is for sure going to promise you lifelong comfort. The classic look of the completed look is something that cannot be ignored. Customisation is truly the key to stand out when it comes to proposal ring and wedding bands.
Customised Jewellery
Solidify your love with classic wedding bands with designs that have never been sported before. Gone are the days when the bride and the groom opted for commercial designs. This is the era of customisation and bespoke rings, demand for uniqueness in almost everything. Which is applicable to proposal rings and wedding bands as well.