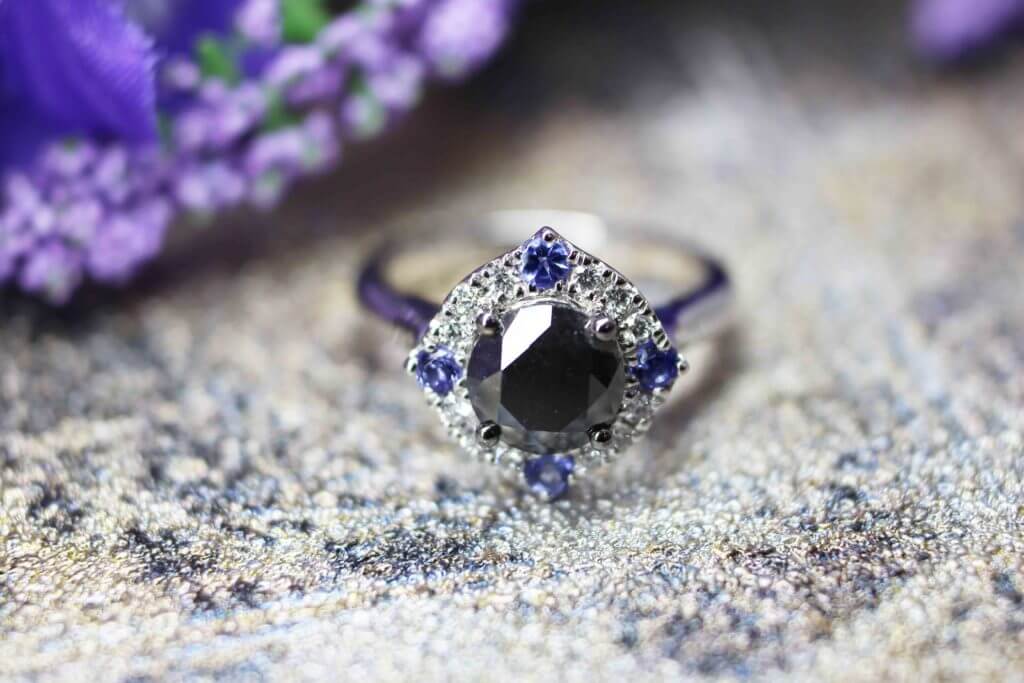 This alluring design features diamonds and tanzanite gemstones in the periphery of the round black diamond in the centre. This design has specifically been customised as a proposal ring for the couple. The main stone was proposed with a temporary ring holder, subsequently custom made to one of the rarest designs to come across. Drama and elegance come alive in this extraordinary design which renders it perfect as a special occasion or an engagement ring. The design is a perfect blend of refined style and uniqueness. Elegant in form and delicate in design, this ring epitomizes timeless designing and exceptional craftsmanship. This glittering ring is apt for those who possess a refined sense of style.

Heartiest congratulation to Stan Lee and Ann! May your wonderful journey be filled with love and happiness each day!

Black Diamond
Distinctly glamorous, this black diamond engagement ring features multiple tanzanite gemstones with diamonds set in the periphery. This chic yet classic design features an untreated black diamond which is simply a rare gemstone to come across. Although the treated ones can still be found, an untreated black diamond is a rare gem to add to your collection. Black diamonds are usually coloured because of the impurities present in them. However, the black diamond results due to massive inclusions. Most of these are treated to ensure even colour throughout the stone. This is the reason why unheated black diamonds are rare to come by.
Customised Engagement Ring
Engagement ring does not necessary be a total surprise, knowing that she will be wearing it for a lifetime, it is a total new experience to have both the couple custom made a perfect engagement ring with both your effort. From the selection of precious gemstone to the design and final creation, every details is customisable and well look after by us in GIOIA Fine Jewellery.