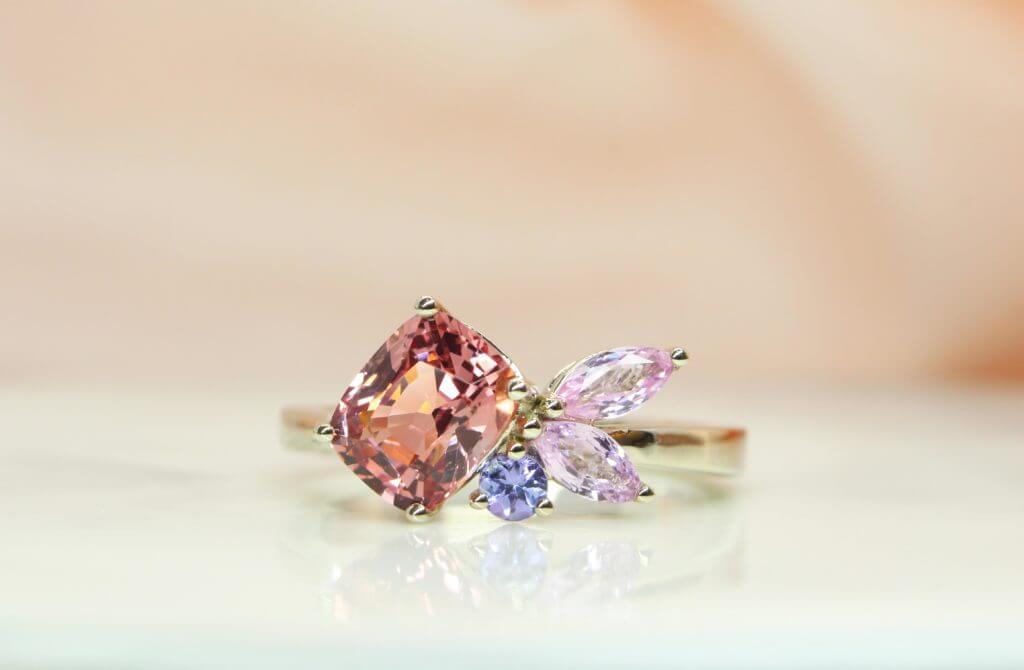 Cluster Spinel Ring with Sapphire Gemstone
Engagement Ring Jewellery with Cluster Multi-Coloured Gemstones
The couple who opted for this cluster gemstone ring had a penchant for something extraordinary. Looking for personalised and handcrafted jewellery representing their everlasting love together. They decided on a cluster spinel ring instead of the classic solitaire for their wedding engagement.
This nature-inspired delight was chosen to mark the beginning of a beautiful relationship. Customised design boasts structural magnificence featuring a dazzling orange-pink spinel occupying the prime spot. The unique shade of this spinel resembles the rarest of all sapphire, Padparadscha sapphire which is known for its subtle shade of orange and pink.
Customised Cluster Ring
With a thorough understanding of their request and our creativity in customised jewellery, we clustered the design with round brilliance diamond, marques shaped blue sapphire, and pink sapphire which brings an air of artisanal elegance to this flora design ring.
Bursting with enchanting design, this splendid cluster spinel ring was crafted in a champagne gold band with a faint yellow shade to impart a warm feel. Radiant with exquisite gemstones, this engagement ring exudes a charming style in every sense. The glamorous setting creates an effect of a magical shimmer.