Hoarding is a hobby usual for the passionate. Only vehemently zealous people show such vitality and spiritedness that reflect their interests. This composition is an outcome of such sincere determination, that was only possible through a bespoke customised design. It is common for regular clients to accumulate various kinds of coloured gemstones in order to custom made to their ideal piece of jewellery according to their wishes. The client who customised this flora jewellery pendant and ring set, brought along a parcel of gemstones, used in the composition.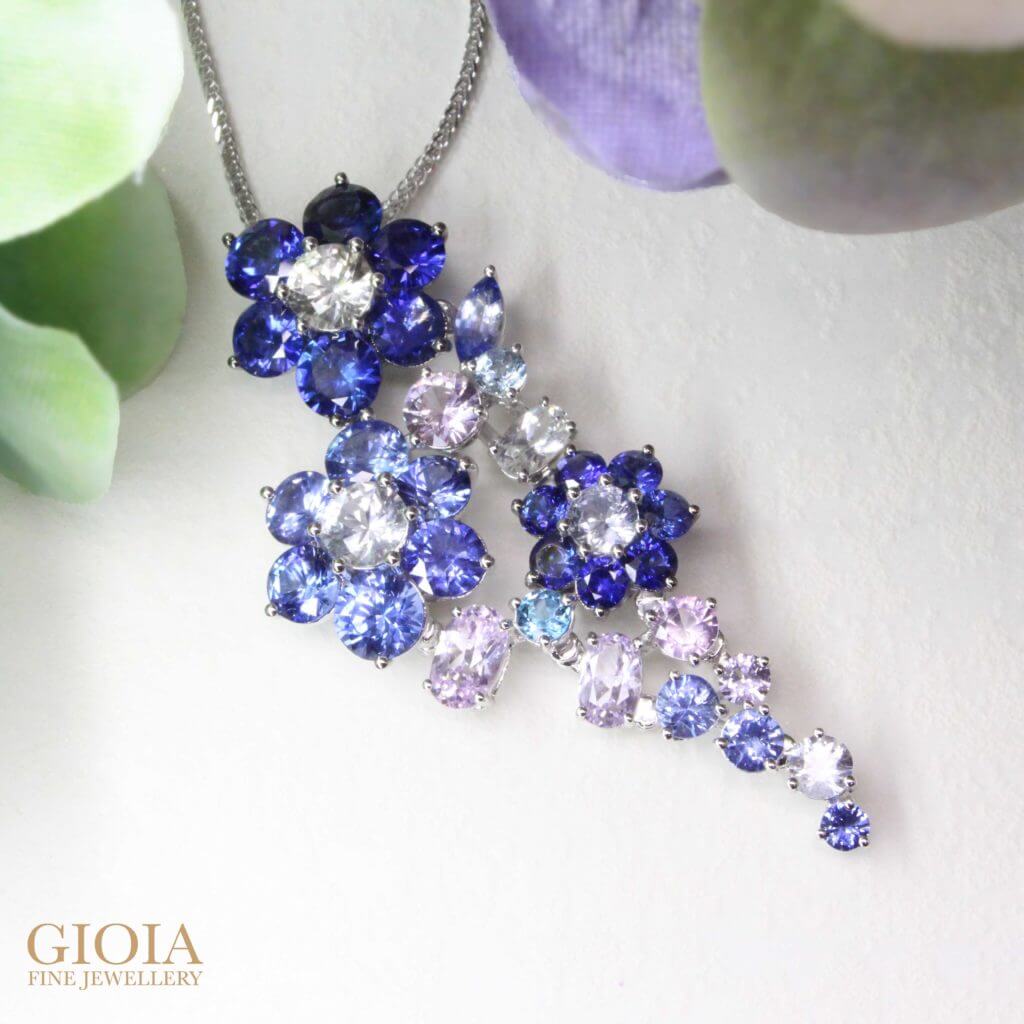 Customised Flora Jewellery
A diversity in work can be seen in this lovely piece of fine jewelry. This pendant not only showcases the customer's passions but also incorporates several kinds of sapphire in distinctive shapes and colours. There are many different prong settings that hold the gems intact in their places. The colours vary on a spectrum, contrasting with one another, making a mildly soothing appearance. The gemstones form various shapes like that of a flower, emphasise a gentle and modest customised design. Upon hearing her concept for the pendant's arrangement, we achieved a result that surpassed the initial planning. The skill in mirroring the client's design turned out to be impeccable. The craftsmanship in producing such a beautiful pendant lay the customer's imagination into reality.
Flora Pendant
This exclusive floral pendant set is one-of-a-kind design featuring brilliant diamonds crafted in 18k (750) white gold. This iconic flora pendant and ring is a beautiful amalgamation of white and blue sapphires. Our experience master craftsman handcrafted this breath-taking design, imbuing it with a lifetime of value. The alluring design was customised for the client who habitually hoards the finest available gemstones. The design is more of a culmination of pure passion and skilful artistry.   
Flora Ring
Modern elegance shines from the twisted finger ring which effortlessly glides over the finger. Hence this stunning sapphire pendant and ring set would make a perfect addition to any jewellery wardrobe. The fancy floral design emanates a brilliant sparkle and is exceptionally captivating. This flora elegance imparts truly a lush touch for any look. If you are looking to exude a feminine look, then this timeless flora design is what you must rely on.      
Having your own bespoke flora jewellery custom made allows you to express your individuality, incorporate personal meaning, achieve a perfect fit. As well as, to enjoy the craftsmanship of skilled artisans, making it a worthwhile choice for those looking to own unique and meaningful personalised jewelry.