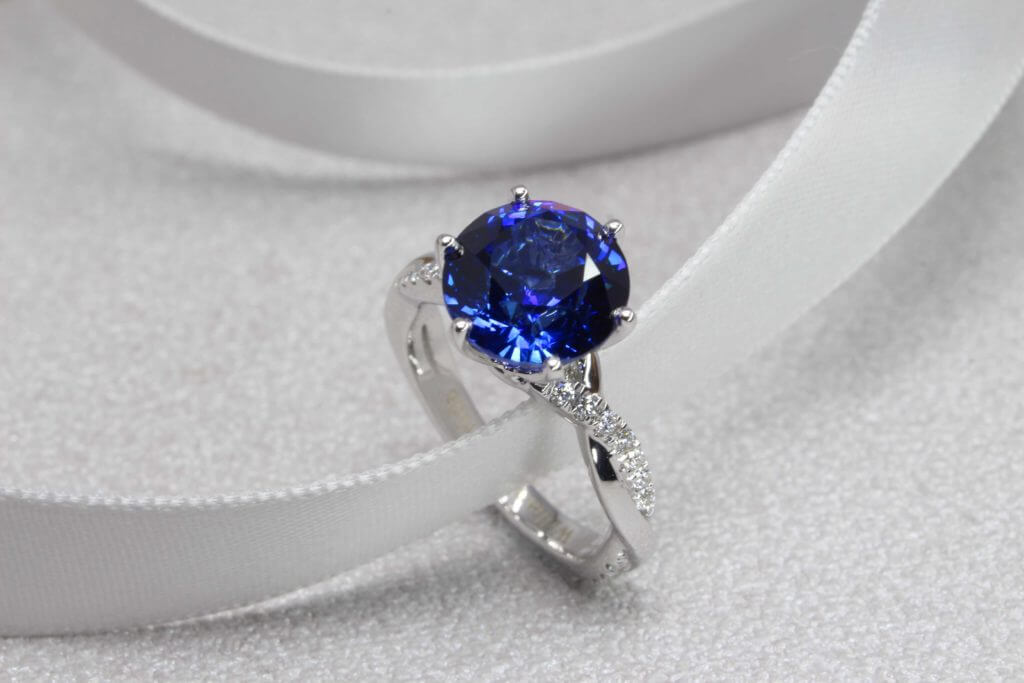 If your heart yearns for blue sapphire, then this bold blue beauty will steal your heart in no time. crafted from sketch, with round brilliant diamonds, the blue hue to the gemstone comes on quite strong in this design. The twisting band set with all the round diamonds delivers brilliant sparkle to this ring design. This touch of blue and twist of brilliance add a sophisticated sparkle to the engagement proposal. The gorgeous display of colour in this ring is what sets it apart from the rest.
Coloured gemstones come in different shapes. They are cut and polished from their crude form into something extraordinary and worth cherishing. As gemstones are usually available in irregular rough shapes, we commonly get then in either oval or cushion shapes. The cushion shapes are immensely popular because of their classic halo design. Gemstones that are oval in shape look classy and simple in 4 prong setting. The most brilliance is imparted to a gemstone through a round cut. This is why colourless diamonds are cut in perfect proportion to render them the most brilliance.
Congratulation to William and Melda on the engagement! Wishing you both a wonderful journey filled with love and happiness.
Cutting coloured gemstones in round shape results in more wastage than in any other form. This design features a round gemstone which itself renders it unique. The vivid royal blue colour of the sapphire gemstone and its rare shape renders it distinctive. To bring out the vividness of this gemstone, we shaped the gemstone round and gave it a clean six prongs setting. The twisted band around the gemstone dazzles with a halo of mirco diamonds setting.
Customised Engagement Ring
This particular ring has been chosen by a couple as an engagement ring. The lady for whom this ring was intended to be was given a freedom of choice to pick her gemstone and desired design. She made a classy choice by opting for a rare design and cut which brought out the brilliance of the gemstone. This sophisticated ring is a symbol of brilliant craftsmanship. This stunning design is certainly going to be a show stealer.