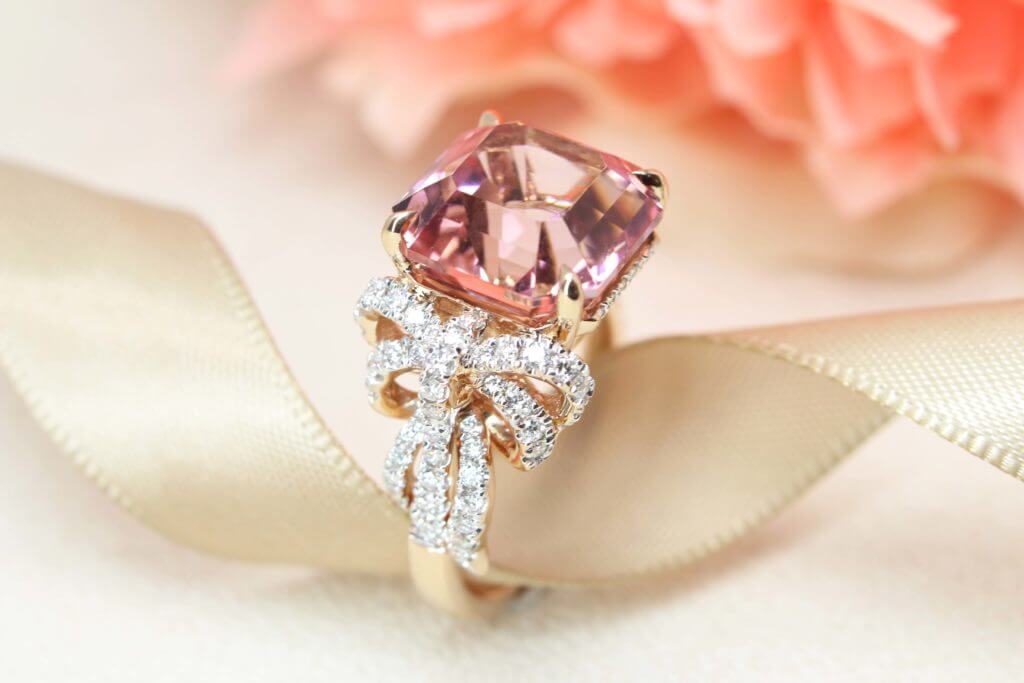 This unique asscher step cut pink tourmaline gemstone set amidst diamonds renders the design truly romantic. Numerous hours of detailed planning and precision cutting have imparted the charm to the gemstone featured in this glamorous ring. This customised ribbon ring was opted by a lady who had always wanted to add a ribbon designed ring to her accessory wardrobe. Customised in rose gold (750) 18k, to impart a warm feeling to the central gem and the diamond side plating in white gold. Extreme detailing has gone into ribbon end crafting which give a rare sparkle to the overall design.
Customised Fine Jewellery
This timeless and one of a kind ribbon ring, feature a stunning pink tourmaline is a serious scene stealer. The soft and subtle hue of this glimmering design creates a feminine statement. A sweet and demure style statement is promised by this customised enthralling design.
Gone are the days when women settled for the retail store designs that were common and similar. It is the era of customisation and uniqueness owing to the deepest desire to stand out from the crowd. This pink tourmaline gemstone ring was designed for one such individual with a burning desire to flaunt an exotic ring bearing a unique customised design. Could be a luxury fine jewellery or Si Dian Jin custom set with coloured gemstone for daily wear.