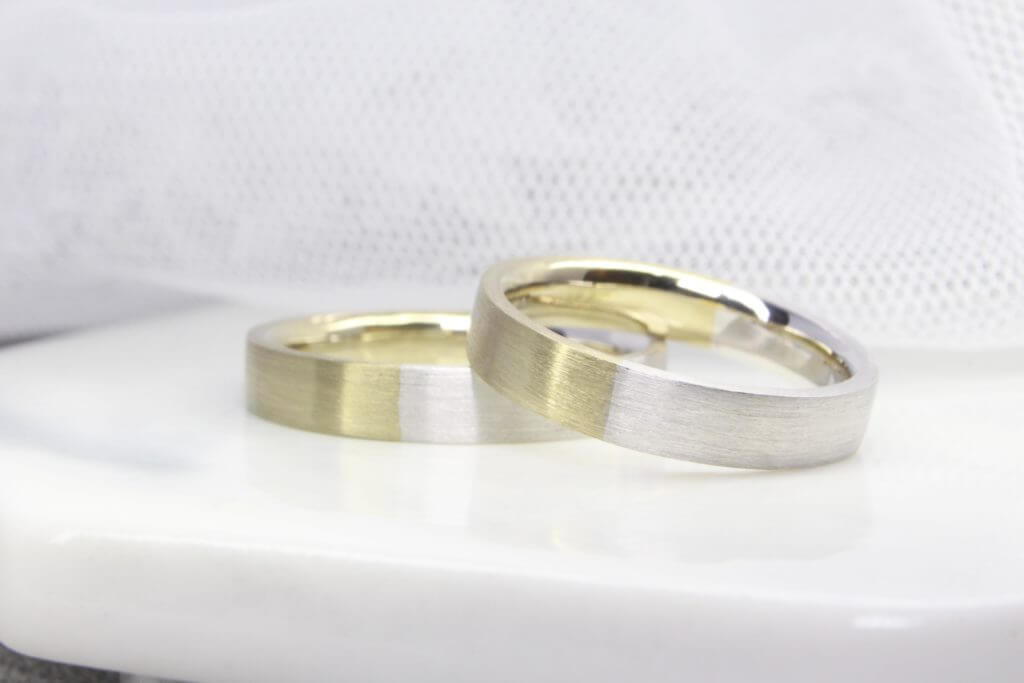 Platinum Gold Wedding Bands with Champagne Gold
Sophisticated and stylish, these platinum gold wedding bands symbolises the acceptance of two souls to surrender to each other. This customised wedding band was custom-made with Platinum (PT950) and Champagne gold (750). Most of the wedding bands are designed from platinum owing to several reasons.
Platinum is denser in nature, giving you a much solid weight feel
In its natural form, it is white in colour and does not develop a yellowish tinge over time
Is more durable than gold and higher purity platinum alloy can be used in designing jewelleries, usually in PT950.
Platinum requires expert craftsman to work on shaping the metal which makes it pricier than white gold
Platinum PT950
Platinum is much superior in hardness in comparison to white gold. However, a metal composite is always used while designing any customised jewellery. Gold is always mixed with 25% metal alloy known as Au750. Platinum jewelleries are designed with PT950 which is a combination of 95% platinum and 5% metal alloy. When both the composites are compared, PT950 is softer than gold and this is the reason why platinum jewelleries are usually designed thicker for compensating for being lower strength. We have utilised both gold and platinum in this bespoke design with their unique set of properties to impart sophistication. Sleek and elegant, this wedding band creates a contemporary and delicate look all at once. 
Gold Au 750 18K
Gold elements are known also for their high value due to its rarity and are highly malleable. In the modern century, gold represents wealth and status. Older folks believe in keeping gold as heirloom jewellery, it is also a form of investment vehicle. 
This is also why fine jewellery is commonly crafted in gold. Higher concentrations of gold such as 24K (999) and 22K (916) are lower in hardness, therefore they are made into Si Dian Jin wedding jewellery. In 18K (750) gold, we have options from Yellow Gold, Rose Gold to Champagne Gold. With a higher alloy content, the 18K gold has better hardness and strength for jewellery.