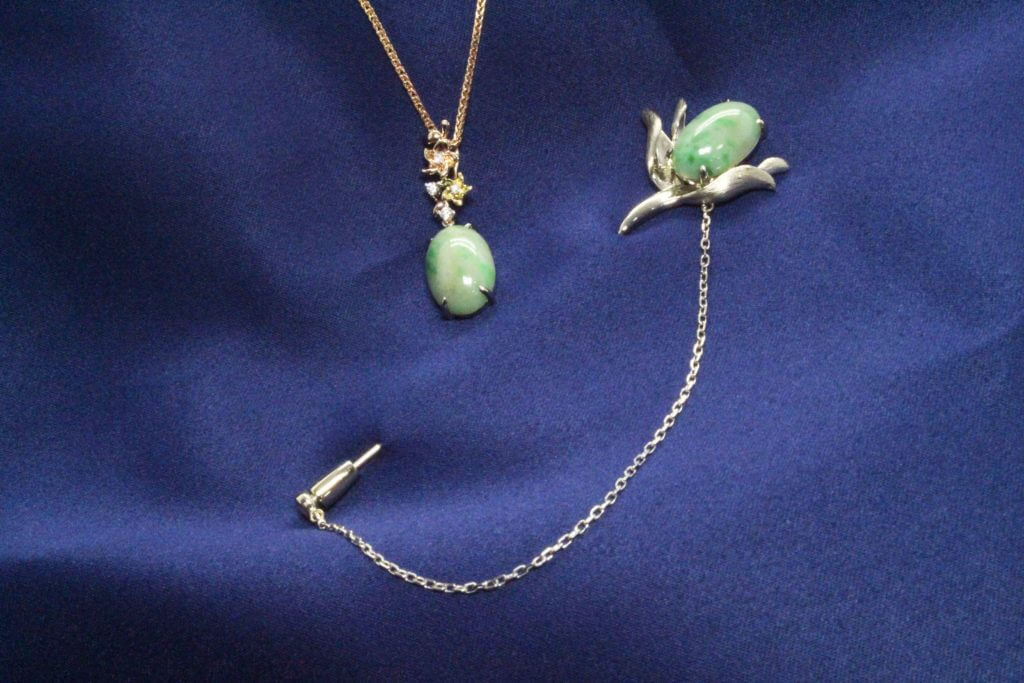 This wedding jewellery set is a gift from a mother to her daughter and son-in-law. What is unique about this set is that it is a creation of an heirloom statement jewellery with sentimental. The lady sat with us while brainstorming the design and had GIOIA work on the exquisite jades and have it designed to a Sakura flora pendant for her daughter and a lapel pin for her son-in-law. It wouldn't be wrong to call this set a blessing from a mother for the married couple.
Heirloom Jewellery
Customisation is the key to unique designs. If you are someone who is not fond of retail store jewellery design and looking to have customised jewellery with a personalised touch, then customisation is just the right thing for you. This is what the lady did for her married daughter. She beautifully chose a unique modern heirloom jewellery that can be passed on to the couple for generation to come.
Customised Wedding Jewellery
This special design has a more emotional touch to it. It is more than any ordinary wedding jewellery set. It carries the blessing of a mother. We customised the design in champagne gold metal, sublte light faint yellowish shade. We were careful and ensured that the set complemented each other while designing. This custom-made jewellery exudes an oriental feel in modern style.
Pendant & Lapel Pin Jewellery
Pendant wedding jewellery for the beautiful bride, to be worn on wedding and daily wear. Lapel pin personalised to the groom style, complement to his smart formal wear. Opt for a wide selection of rare gemstones while designing a jewelry set or your proposal ring from us. Our designers would listen to your requests and design a statement jewellery that you would certainly cherish for years to come.