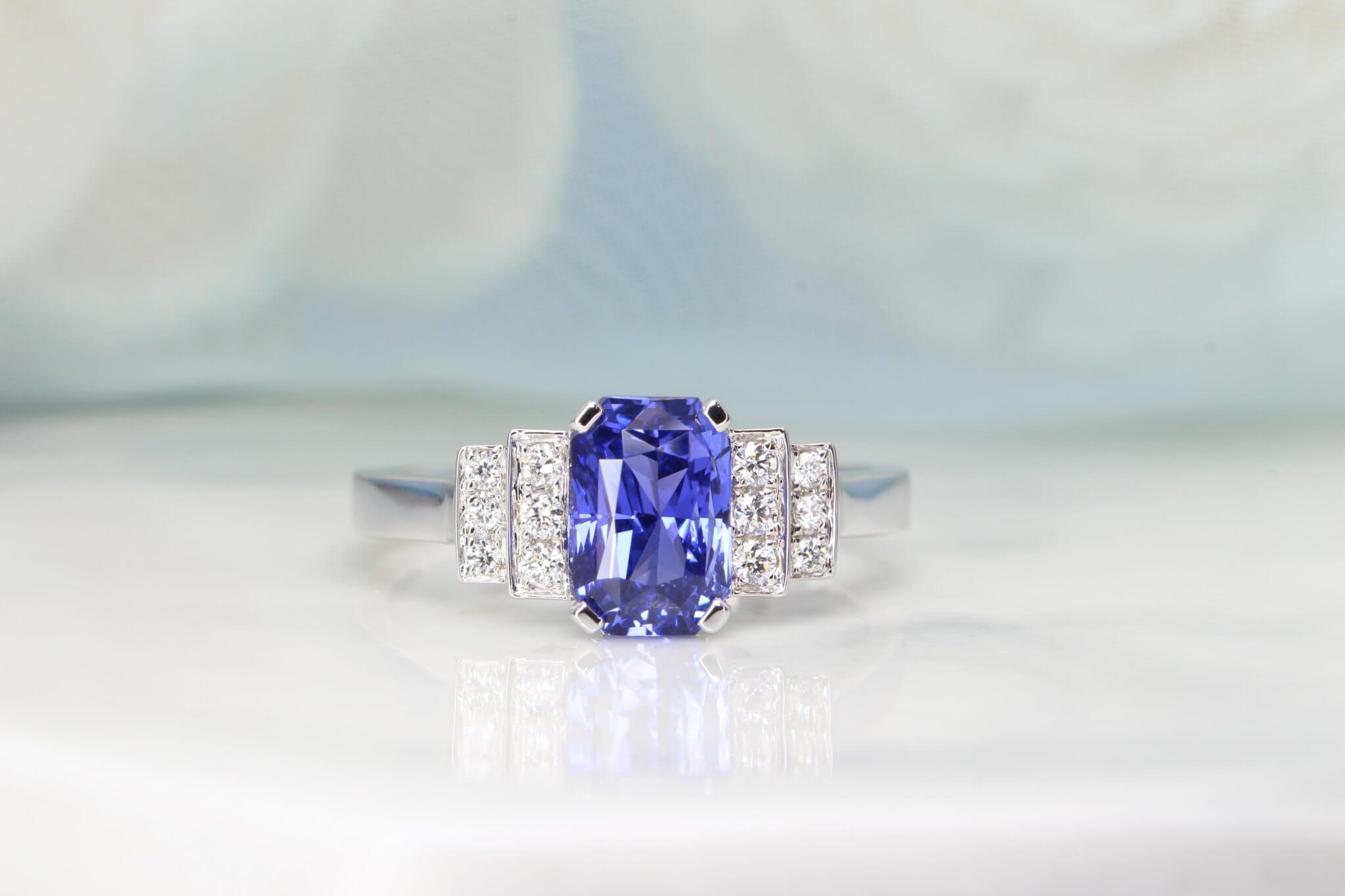 Art Deco Ring Sapphire with side Diamond
Beguiling and bold, this art deco ring features a sapphire gemstone in a unique shape. The rarity of the gemstone is due to its near to flawless clarity and also being unheated with no heat treatment; without enhancement to its colour and clarity. The captivating octagon shape of the blue sapphire has several cuts. It has been cut and polished with unique facets thereby exuding a rare kind of brilliance.
The art deco design ring and this unique fine gem is simply a perfect match. The overall vintage look of this art deco ring makes it a perfect accessory for a sophisticated lady. The two steps of side diamonds arranged in an array of three mesmerisingly complement the central gemstone.
Art Deco Design
Art Deco design has long been a timeless muse for the world of jewellery. Inspiring handcrafted masterpieces that encapsulate the essence of opulence and sophistication. Within this design movement, fine polished line details serve as the guiding light, shaping each piece with precision and grace.
These lines not only create visual interest but also draw the eye in. It also allowing the observer to appreciate the sheer mastery of the craft. In handcrafted Art Deco jewellery, every piece carries a story, a reflection of an era that valued both luxury and design. 
Surprise anniversary gift
The stunning look of this sapphire diamond ring would dazzle and delight the wearer. The spectacular arrangement of this customised jewellery required some time as the design was customised from scratch and handcrafted to the final piece. The sketch of this resplendent ring was presented by a gentleman to his lady love in the anniversary card while the ring was concurrently being crafted by us.
It's never too late to add an element of surprise and uniqueness while celebrating a special occasion with your loved one. You can customised the design and present the sketch to your beloved while we breathe life into the art deco jewellery.